« 4/8: Kickoff Reception Welcoming Emerge NM's Class of 2011 | Main | State Rep. Mary Jane Garcia Applauds Enactment of Anti-Bullying Bill »
Monday, April 04, 2011
Javier Gonzales: Summing Up the 2011 NM Legislative Session

This is a guest blog by Javier Gonzales of Santa Fe, who is chairman of the Democratic Party of New Mexico.
If I had to sum up the 2011 legislative session it would be this: Democrats were focused like a laser beam on jobs, education, ethics, and preserving our land and water, while Gov. Susana Martínez spent her historic first legislative session pushing wedge issue after wedge issue. Her promise to New Mexicans to focus on jobs never materialized, and our state and its struggling families are paying the price.
Most new governors use their first 60-day legislative session to drive an aggressive agenda to make an indelible mark on the state in an effort to move New Mexico forward. Rather than take advantage of significant political stock to bring forward a jobs initiative for New Mexicans, Susana Martínez spun her wheels and engaged in divisive campaign tactics.
Her difficulty in transforming her role from prosecutor to governor was evident by where she focused her priorities. While the dialogue over driver's licenses for foreign nationals and voter ID have a place in public discourse, no one believes either addresses the issue of the historically high unemploy-ment rate New Mexicans are facing.
And when Democrats came to the table to address this legislation and seek compromise on these divisive issues, she took to her courtroom methods and chastised legislators and demonized those who would be impacted by the legislation. Her "my way or the highway" approach caused her driver's license and voter ID pet projects to be shelved, while all along, New Mexico's most pressing problem — a lack of jobs — continued unabated and unaddressed. Hardly gubernatorial.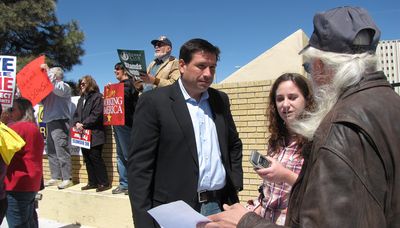 Javier at today's pro-workers rally in Albuquerque
As a result, when the final bell tolled on the 2011 legislative session, New Mexicans were left wondering if the governor's priorities were the same as theirs — or was there a national agenda that was being played at the Roundhouse?
The Republican playbook is very clear. And Susana Martínez has proven to be a very good study practitioner of the politics of division. Put divisive and wedge issues on the front of the debate, cut government funding to education, health care and workforce training all in the name of keeping taxes low for the wealthiest 1 percent. Attack environmental regulations in the name of job creation. Govern by creating fear among those you lead.
This session was a perfect opportunity to put aside partisan politics and focus on what really matters to New Mexicans. Instead, we got endless debates on driver's licenses and Martínez making political attack ads against legislators whose only offense was disagreeing with her positions.
Democrats proposed numerous jobs bills to help get New Mexico's economy back on track. They passed a balanced budget while cutting the size of state government and fought tooth and nail to keep the film credits in place. Democrats also passed a bill to remove the governor from the State Investment Council.
Meanwhile, Martínez's only action on jobs will likely kill jobs in the state. During the course of the session, Martínez actively fought to slash a film incentive that has been responsible for the creation of 12,000 jobs and has supported hundreds of local businesses that have thrived servicing film productions by offering everything from catering to lodging to construction services.
And while Martínez fought to kill film incentives, she largely ignored trimming the tax breaks given to other industries more closely associated with her political benefactors.
The lack of leadership shown by Martínez this session was surprising to say the least and disappointing for many New Mexicans who truly hoped for bold leadership. Her inability to articulate even the simplest agenda related to jobs would be comical were it not for the tens of thousands of New Mexicans who need their governor out front on economic issues — devising incentives to draw new business here and investing in our workforce.
Those New Mexicans received no such hope from Gov. Martínez this year.
This is a guest blog by Javier Gonzales, who is running for his second term as chairman of the Democratic Party of New Mexico. You can contact him via his website or Facebook page. To submit a piece for consideration as a guest blog, contact me by clicking on the Email Me link at the upper left-hand corner of the page.
April 4, 2011 at 05:39 PM in Democratic Party, Guest Blogger, NM Legislature Special Session 2010, Susana Martinez | Permalink
Comments
It would have been nice to hear more of this during the actual legislative session. The blogs were also awash with divisive issues with very little ammunition from Democrats to defend our need to address real problems.
Next time you guys go to Santa Fe a bit of strategic optics before the fact would help the Democrats frame the conversation for a change.
Posted by: qofdisks | Apr 5, 2011 8:49:56 AM
I will represent a rural county at our party's state convention in April, and I am hard pressed to find a single reason to support the incumbent chairman. He has been "a day late and a dollar short," and his recent "re-involvement" as a leader of the state party smacks of panic and posturing. I do not doubt for a moment his commitment to Democratic philosophies and traditions, but that is not the issue. Leadership and energizing New Mexico Democrats, that's the issue, and our chairman's track record lends itself to the observation that he lacks the ability to live up to party expectations. Everybody deserves a second chance, but the stakes are too high in 2012 to place our hopes with Javier Gonzales.
Posted by: Young Dem | Apr 5, 2011 9:53:10 AM