« Sen. Michael Sanchez to Gov. Susana Martinez: Stop Campaigning and Start Governing | Main | Sen. Feldman's Bill to Control Health Insurance Costs Passes NM Senate »
Monday, March 14, 2011
State Rep. Gail Chasey: Why I Support the Current Drivers' License Law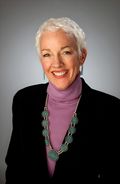 This is a guest blog by New Mexico State Representative Gail Chasey, D-18, Bernalillo.
During the heated 2010 election, the Albuquerque Journal published results of a survey that showed a large majority of voters in favor of ending the practice of allowing "illegal immigrants" to get drivers' licenses in the state. What if the question had been: Should foreign nationals pay the same car registration fees and be required to carry the same car insurance as NM residents? I believe the majority of New Mexicans would have answered "yes." But, the debate was framed to play on people's fears rather than focusing on reasonable differences and possible solutions.
Our Governor calls the law dangerous, but it isn't the law that's dangerous -- it's the rhetoric. It divides us as a society.
Public Safety:
When the legislature passed the law in 2003, public safety was the most compelling reason to do so. Law enforcement officials from throughout the state argued persuasively that public safety would improve greatly if all drivers in the state were licensed, insured and in the MVD database. They also explained that investigating and solving crimes would improve if undocumented workers felt safe in coming forward as victims or witnesses. In a four-and-a-half-hour hearing of the House Consumer and Public Affairs Committee on Saturday, February 19, 2011, attended by more than 300 people, testimony by victims' rights organizations, the Santa Fe Sheriff and Chief of Police overwhelmingly confirmed these benefits to public safety.
With a driver's license, immigrants are more likely to do the following:
Stay or render aid at the scene of an accident and exchange insurance information;
Pay fines for traffic violations;
Cooperate with investigations; and
Report incidents of domestic violence – because victims need a valid form of ID to go to court and request restraining orders.
Even more important, the law helps prevent DWI by requiring that all such individuals under the age of 25 take a DWI prevention course and pass an exam before they can apply.
The law also helps track crime. All law enforcement, including federal immigration agents, can access MVD records to obtain photos, information and last known addresses for individuals with outstanding arrest warrants.
Benefits to the Economy:
Because immigrants can now buy auto insurance, the uninsured motorist rate has decreased and a result, car insurance premiums have dropped for all New Mexicans. In order to get a license, immigrants must obtain an IRS-issued Individual Tax Identification Number (I-TIN). Immigrants, as a result, must file their federal income taxes. Immigrants also use the I-TIN to pay state income taxes, contributing millions to New Mexico's tax base. In the last eight years, immigrants without Social Security numbers, but with I-TINs, have paid over $17 million in license and registration fees to MVD and $320 million in auto insurance premiums.
Since the law was passed in 2003, 83,000 drivers have taken the visual, written and road exams and registered their vehicles.
Other Considerations:
About Fraud
It is true that the state must be vigilant about fraud and abuse related to the issuance of all drivers' licenses, and particular attention must be paid to those applicants who do not have a Social Security number.
MVD has seriously tightened its regulations, making them far more rigorous. Recent reports of arrests for fraud and abuse suggest that the increased security is working. In fact, fraud has been detected in only 5% of MVD applications.
Consequences of Repealing the Law
Even if we change the law, these individuals will still drive. But they won't have car insurance, and, as a result:
Our rate of uninsured motorists would no doubt increase; and
Premiums for everyone would also likely increase.
These individuals would be less likely to have I-TINs and thus less likely to pay their state and federal taxes.
They won't be in the MVD database.
At the Committee hearing, we were reminded by Allen Sanchez, Executive Director of the New Mexico Conference of Catholic Bishops, that Jesus was an immigrant, as was the Good Samaritan who showed compassion to Jesus. Mr. Sanchez also asked us to examine our consciences and ask ourselves if this debate is about fraud or is it really about who we want as our neighbor.
There is more to the story than any sound-bite, robo-call or edited video of a committee meeting can provide.
I stand by my vote.
Rep. Gail Chasey is from District 18 in Albuquerque. She is the Chair of the Consumer and Public Affairs Committee, and is a member of the Judiciary and Rules and Order of Business Committees. Last week she voted against House Bill 78, which would have repealed the law permitting immigrants to apply for driving licenses.
If you'd like to submit a piece for consideration as a guest blog, contact me by clicking on the Email Me link at the upper left-hand corner of the page.
March 14, 2011 at 12:05 AM in Border Issues, Guest Blogger, Hispanic Issues, Immigration, Law Enforcement, NM Legislature 2011 | Permalink
Comments
Great arguments but where were they when needed? Citizens are being won over with emotional tactics fostering hate and fear and Liberals get the script after the vote. Please archive this for the next round.
BTW, I am proud of our Democratic led legislators for defanging this divisive debate with reasonable compromise.
Posted by: qofdisks | Mar 14, 2011 10:50:31 AM
This info has been out there for a long time. The problem is that the media won't publish these kinds of facts. How do we overcome that hurdle? Why wasn't the Democratic Party pummeling the news media with these facts? Why weren't we demanding air time for discussing these facts? We have to get much more assertive to get our story told.
Posted by: Robert | Mar 14, 2011 11:17:36 AM
" Why wasn't the Democratic Party pummeling the news media with these facts? "
In the meantime, I got a robocall from Suzanna Martinez telling me how the dangerous South American crime syndicates were gaming our system and coming over here to murder American citizens. According to Heath's site, Governor paid for that media bombardment with taxpayer money and campaign money.
Posted by: qofdisks | Mar 14, 2011 3:31:33 PM
Thank you Rep. Chasey for standing up on this issue. Your reasons for doing so are strong and clear. We need more of this!
Posted by: Old Dem | Mar 14, 2011 3:36:32 PM
Its mind boggling that there seems to be no unity within the Democratic caucus on issues like this and no action on the part of the party to mount a strong and effective messaging campaign to counteract Susana Martinez's never-ending political campaign. What the hell does the party think it's role is? We need effective spokespeople from the legislature and the party to be getting the facts out there frequently and consistently.
If we keep sitting on our hands while the right wing echo chamber booms on, we're going to lose everything in 2012.
Posted by: Atty. | Mar 14, 2011 3:41:58 PM
Kansas legislator suggests using hunters in helicopters to control illegal immigration, likens immigrants to feral hogs
http://www2.ljworld.com/news/2011/mar/14/legislators-comment-illegal-immigration-criticized/
Posted by: qofdisks | Mar 14, 2011 11:02:31 PM
The "feral hogs" thing is the kind of rhetoric being used by repubs everywhere including right here in NM. Divide and conquer. Breed hate. That is the gop's main message.
Posted by: Silver City | Mar 15, 2011 2:30:50 PM