« Terry Brunner: Winning the Future in Rural New Mexico | Main | 4/4: Join Union Rally to Save Our Jobs and Economy in Albuquerque »
Sunday, March 27, 2011
Otero County Democrats Elect Officers, State Central Committee Members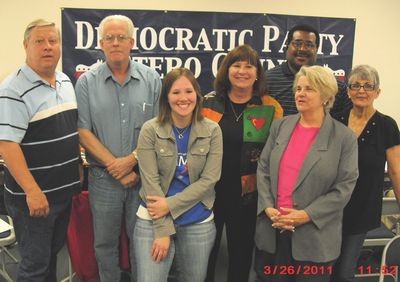 From the Democratic Party of Otero County (DPOC):
The DPOC held its elections on Saturday, March 26. New officers and State Central Committee members are, from left to right: Chair Wally Anderson, Steve Brockett (former Alamogordo mayor), Liz Watson (ran coordinated campaign in 2010, husband stationed at Holloman), Nadia Sykes, A.J. Williams, Vice-Chair Kay Stone, and Minerva Jimenez-Torrez.
Congratulations to the new officers, and thanks to outgoing chair Dawn Provencher (who is running for Democratic Party of New Mexico secretary) and outgoing Vice-Chair John Cowart.
The SCC members will represent the county party at the Democratic Party of New Mexico's State Central Committee meeting set for April 30 at the Albuquerque Convention Center.
March 27, 2011 at 11:09 AM in Democratic Party, Otero County | Permalink
Comments
Sorry, that should be Minerva Jimenez-Torrez.
z, not s.
Posted by: Ellen Wedum | Mar 28, 2011 10:03:04 AM