« 3/27: Meeting of Gay/Straight Alliance at UU Westside Congregation | Main | Sen. Keller's Job Creation Bill Goes to House Floor for Final Vote »
Wednesday, March 16, 2011
Defenders Action Fund Poll: Martin Heinrich Tops in NM Senate Dem Primary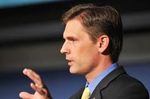 Rep. Martin Heinrich (D, NM-01) would win the Democratic nomination for the U.S. Senate seat being vacated by Sen. Jeff Bingaman, according to a new statewide poll of New Mexicans released today by the Defenders of Wildlife Action Fund (DAF). The poll shows that in a hypothetical four-way matchup between Heinrich, Rep. Ben Ray Lujan (D, NM-03), former Lieutenant Governor Diane Denish and State Auditor Hector Balderas, Heinrich would win the nomination with 32% of the vote:
Martin Heinrich 32%
Diane Denish 25%
Ben Ray Lujan 15%
Hector Balderas 5%
About 24% of those polled were undecided. Click to see the polling memo (pdf).
"Although it is early in the process, it is clear that New Mexico's Democratic voters like what they see in Martin Heinrich," said DAF President Rodger Schlickeisen. "We do too and we urge him to consider running. To be sure, we would be one of his strongest supporters if he enters the race, much as we backed then-Rep. Tom Udall, another conservation champion, when he ran for the Senate in 2008."
"Based on our recent statewide survey, Martin Heinrich is the best positioned candidate to win the Democratic primary for U.S. Senate. He has a solid lead in a field where we tested several other well-known Democrats, and his support is both broad and deep as Heinrich leads with both younger and older voters as well as with both men and women," said Ben Tulchin, President of Tulchin Research, which conducted the poll for DAF.
DAF has played a significant role in New Mexico during the last two elections cycles. In 2008, it worked to elect Tom Udall to the Senate and Martin Heinrich to the House, while also helping the Obama campaign win the state. In 2010, DAF was there again to help re-elect Martin Heinrich in NM-01, as well as mounting a campaign to assist Rep. Harry Teague in NM-02, with a major independent expenditure campaign.
The statewide telephone survey was conducted from March 8 to March 10, 2011 by Tulchin Research in New Mexico among 213 likely 2012 Democratic voters. Interviews were conducted by live professional callers. The margin of error for this survey is +/- 6.71 percentage points.
The (Defenders of Wildlife Action Fund) provides a powerful voice in Washington to Americans who value our conservation heritage. Through grassroots lobbying, issue advocacy and political campaigns, the Action Fund champions those laws and lawmakers that protect wildlife and wild places while working against those that do them harm.
March 16, 2011 at 10:42 AM in 2012 NM Senate Race, Diane Denish, Environment, Hector Balderas, Polling, Rep. Ben Ray Lujan (NM-03), Rep. Martin Heinrich (NM-01) | Permalink
Comments
This poll has a huge margin of error, and I shudder at what the cross tabs must look like. Still, it's interesting that Martin is tops and Hector is on the bottom. I want Martin to run, so...
I have heard speculation recently that Diane might be interested in the seat, (or CD-1 if martin runs.) After her poor performance in the last election I have little appetite for a Denish-Weasel race. I love Diane, but I fear that the voters have a sour taste in their mouths.
Martin would be a better candidate (10K more votes in Bernalillo Co. than Diane in 2010 is quite significant, IMHO), and probably a better Senator. He's also young enough to keep the seat long enough to amass significant seniority, which would greatly benefit the state.
Posted by: Proud Democrat | Mar 17, 2011 12:21:52 AM
Hector Balderas is HISPANIC,young honest and he is who all of the hispanics both democrats and republicans want and thats coming from a Majority Hispanic State of New Mexico!!! We deserve to have an honest young hardworking Hispanic Senator representing the Majority Hispanic State of New Mexico! When was the last time NM had a Hispanic Senator? over 40 years is right!!! Minorities are fet up with not being given a chance because we deserve a Young Hispanic Leader and want The Honorable Hector Balderas. You're about to awaken a sleeping giant because all the Hispanics and other minority races as well will load Hector Balderas up nicely with as much funding as necessary to get the type of leadership that we deserve and are long overdue for!!!!! By the way, this poll is seriously hilarions/pathetic; yeah lets just call the ones you know supported Hangrich in past elections to put Hangrich at the top of this joke of a poll and our beloved Young Hispanic Prize Winner that makes us So Proud to Be Who We Are: The honorable Hector Balderas at the bottom. This poll was ran and rigged just to try and hoping to scare him off because you know if Hector Balderas enters the race, you're done! All Hispanics both democrats and republicans know that Mr.Balderas is the best man for the job. The honorable courageous honest young hardworking Hector Balderas: we love and support you!!!!
Posted by: Majority Hispanic State of NM need and deserve a Young Honest Hispanic Leader: Hector Balderas | Apr 7, 2011 10:12:29 PM
Being a good leader and a good Senator has nothing to do with ethnicity. It has to do with experience, intelligence and honesty, regardless what the person's last name is. To say a hispanic candidate is better than an anglo one mostly because they are hispanic is reverse racism. We don't need more of that in this state. Should black people support only black candidates? Should gay people support only gay candidates?
All candidates need to pay their dues. To go from auditor to Senator is a big leap. You don't even mention Balderas' positions on the issues. What are they? What experience does he have with foreign policy, economic and science?
I don't have anything against Mr. Balderas but to tell people to vote for him because he is hispanic is not something I'd be proud of.
Posted by: Qualifications please | Apr 7, 2011 10:41:42 PM
If being a good leader has nothing to do with ethnicity then why are there over 100 anglo senators and only 2 hispanic senators nationwide?! For a change, the people of NM would like to see Mr. Hector Balderas who has the experience, intelligence, and honesty needed to make a great Senator as he has done with his current Auditor position! Auditor to Senator, there isn't a book of laws in which position one has to follow, that's simply your idea and in your books (and thats where it stops!) because that is what you would like to see, as we would like to see an honest, intelligent senator (and yes who happens to be hispanic) as well for a change! Everybody has things they would like to see and Mr. Balderas is one that the State of NM agrees on. The people of New Mexico would also like to see an honest, intelligent, experienced, hispanic in there as well, what's wrong with that (there are only 2 hispanic senators of >100 Senators! so whats wrong with that picture?) Just as we finally have our first Black president and love it who by the way is doing a superb job despite what some racist insults for life may say! How do you think a majority Hispanic state feels knowing that we have honest, intelligent, strong, experienced hardworking people that we would love to see in great top leadership positions too, not just the same ones all the time. We need a panel of various intelligence in there that represent the various walks of life that make up our society to get some kind of balance. It's time to give others a chance as well, and if you refuse you will awaken a sleeping giant because we are more than prepared to fund as much as necessary to make certain that this happens! Again, we kindly state it's time to allow ALL qualified individuals (from all walks of life) regardless of race, sexual prefererence, religion, etc. a chance at the good opportunities as well not just the same group of people all the time! We love and respect everybody but love, respect, and give us opportunities to! By the way nobody owes anyone any dues, but if you insist, then pay your dues by kindly allowing someone else who is also experienced, intelligent and more than capable of making New Mexicans proud, and yes that would be The Honorable Hector Balderas! WE WANT YOU, WE LOVE YOU, AND WE SUPPORT YOU! And yes you should always be very proud, never let someone (like the clown above) tell you not to be proud of who you are.
Posted by: State of NM seeking honesty, intelligence, and experience: Yes, that would be Mr. Hector Balderas! | Apr 13, 2011 1:42:27 AM