« Susana Martinez Repays Robert Aragon with Appointment to State Finance Board | Main | HBIC Keeps NM Renewable Energy Standards, Protects Jobs in New Energy Industries »
Tuesday, March 01, 2011
3/6: 100th Anniversary International Women's Day Celebration in Albuquerque
From the March 8th Women's Committee and AFT NM:
PLEASE COME, BRING A FRIEND
INTERNATIONAL WOMEN'S DAY
100th Anniversary Celebration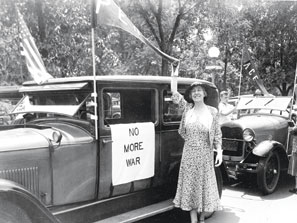 Jeannette Rankin
Chautauqua Performance
by Mary Jane Bradbury (from Colorado)
March 6, 2011, 1:00 PM
AFT New Mexico, 530 Jefferson NE, Albuquerque
Suggested Donation $5. Come early for the Silent Auction. Refreshments will be served. Click for flyer.
Jeannette Rankin, at age 36, was the first woman elected to the U.S. Congress. Jeannette was a pacifist and voted against World War I and World War II in Congress. After leaving office she also opposed the Korean War, and the Vietnam War. "You can no more win a war than you can win an earthquake," Rankin said.
Sponsored by the March 8th Women's Committee and AFT NM. For more information contact: Debi Saylor Pierce at 505.293.3636 or march8thwomenscommittee@gmail.com.
March 1, 2011 at 10:32 AM in Events, Peace, Women's Issues | Permalink
Comments