« Susana Martinez Vetoes Program Accountability-Transparency Bill | Main | Rep. Jim Trujillo: An Idea Whose Time has Come for Funding Public Schools »
Friday, March 18, 2011
3/19 at 11AM in Albuquerque: March and Rally to Stop the Wars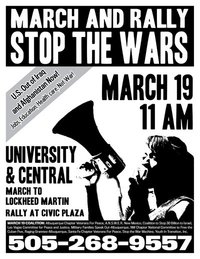 From ANSWER Coalition: Join veterans, students, activists, union members and thousands of others here and across the country to protest against the U.S. war machine. March and Rally in Albuquerque to Stop the Wars on Saturday, March 19, from 11:00 AM to 2:00 PM.
Meet at Central and University and march to Lockheed Martin and a Rally at the Albuquerque Civic Plaza. Sponsored by the March 19 Coalition. Contact Stop the War Machine at 505-268-9557 or the ANSWER Coalition at 505-268-2488 for more information.
March 19 is the 8th anniversary of the invasion and occupation of Iraq. It will be a national day of action against the war machine.
End Occupation: Afghanistan, Iraq, Palestine & Everywhere! 
Fund Jobs, Healthcare & Education, Not Militarism! 
Stop Budget Cuts, Tuition Hikes & Attacks on Working Families!
Iraq today remains occupied by 50,000 U.S. soldiers and tens of thousands of foreign mercenaries. The war in Afghanistan is raging. The U.S. is invading and bombing Pakistan. The wars abroad are directly connected to the war on working people at home. While the United States will spend $1 trillion for war, occupation and weapons in 2011, 30 million people in the U.S. remain unemployed or severely underemployed, and cuts in education, housing and healthcare are imposing a huge toll on the people. Now, new rounds of cutbacks in vital public services and jobs are underway at every level. The most affected are working and poor people -- especially people of color -- students and veterans.
Racism and immigrant bashing are on the rise, and civil rights and civil liberties are under attack. Now is the time to step up the struggle against U.S. wars and to demand money for people's needs at home.
Join us. Protest and resistance actions will take place in cities and towns across the United States. Demonstrations are scheduled for Los Angeles, San Francisco, Chicago, Washington, D.C., and more.
March 18, 2011 at 02:57 PM in Afghanistan, Economy, Populism, Events, Iraq War, Military Affairs, Peace | Permalink
Comments
Glad I drop by! This is a great site and contains fantastic contents. Thanks for sharing this to us.
Posted by: employment genius | Mar 20, 2011 4:45:53 AM