« (Updated) Fusion Voting: Sen. Eric Griego's Bill to Open Up Election Process to Get First Hearing Friday | Main | Secretive Climate Change Denier Harrison Schmitt Forced to Withdraw as NM Energy Sec. Nominee »
Thursday, February 10, 2011
State Rep. Moe Maestas Speaks Out for Fullly Funding Domestic Violence Services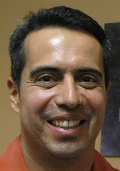 Go, rally peeps and Moe! At a domestic violence rally at the State Capitol today Rep. Moe Maestas (D-Albuquerque) took a hard line against Governor Susana Martinez's proposed funding cuts to critical domestic violence services. Maestas, who prosecuted domestic violence cases for 5 years as a Bernalillo County assistant district attorney, pledged to do everything in his power to ensure the dangerous cuts proposed by the Governor are not enacted.
"If domestic violence victims have the courage to stand up to their abusers, then we must find the courage to not cut a single dime of services for those victims," said Rep. Maestas. "Countless studies show that economic recessions like the one we are in now only spur more domestic abuse. There is no better return on government funding than fighting domestic violence and keeping New Mexicans safe in their own homes."
Take Action: Representative Maestas is encouraging leaders and members of the domestic violence community and other concerned citizens to contact the Governor's office and encourage Martinez to fully fund domestic violence services.
Rep. Maestas is a member of the House Judiciary Committee, the House Courts, Corrections and Justice Committee and vice-chair of the House Consumer and Public Affairs Committee.
February 10, 2011 at 06:39 PM in Economy, Populism, Justice, Law Enforcement, NM Legislature 2011, Susana Martinez, Women's Issues | Permalink
Comments
Wow! Is this really what this country has come to take heat from our eldery our grandparents, mothers, fathers, people with diss. These are our families. Should we let them freeze to death or die because its too hot out. Find some where else to take money from why not the rich they may have less money but at least they'll live!! Take this heat & engery from the poor they will die! yes they will die!! If this new government is'nt for the people then they shall fall by the people! God help us all!! Melissa B. Hopefully not the olny person with morals
Posted by: melissa | Feb 20, 2011 3:28:01 PM