« State Rep. Moe Maestas Speaks Out for Fullly Funding Domestic Violence Services | Main | Environment New Mexico Report: Four Corners Power Plant 12th Worst Mercury Emitter in Nation »
Thursday, February 10, 2011
Secretive Climate Change Denier Harrison Schmitt Forced to Withdraw as NM Energy Sec. Nominee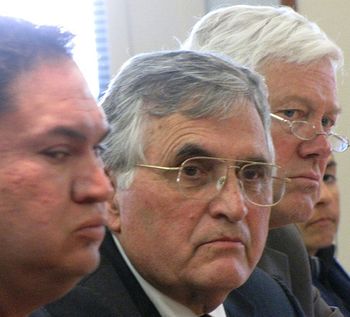 Harrison Schmitt (c) at 2/3 Senate Finance Committee hearing
What a fiasco. Early this evening, Republican Governor Susana Martinez was forced to give up one of her key cabinet nominations after he refused to submit to a background check required of all cabinet nominees by the New Mexico Senate.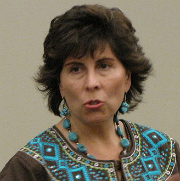 Controversial climate change denier, former astronaut and congressman, Harrison Schmitt -- who has equated environmentalists with "communists" -- had been tapped to serve as Martinez's Secretary of New Mexico's Energy, Minerals and Natural Resources Department (EMNRD). He withdrew his name from consideration after Senate Rules Committee Chair Linda Lopez (right) announced her opposition to his confirmation earlier today saying, "At this time, Mr. Schmitt's refusal to comply with the background check process has left me with no choice but to oppose his confirmation."
Martinez issued the following statement in response to the snafu:
"Senator Schmitt is a former NASA astronaut who underwent a complete background check by the Department of Public Safety as part of his nomination process.
"Senator Schmitt was willing to allow a private investigator access to his personal information, but he was not willing to waive that investigator's liability for any improper actions or use of that information. While one can understand Senator Schmitt's concerns, complying with the Legislature's request is necessary to restore public confidence in state government. That's why I am requiring all of my cabinet secretary designees to comply with that request and this has led to Senator Schmitt withdrawing his nomination.
"I wish Senator Schmitt the best in his future endeavors and I will work swiftly to find a qualified replacement to lead New Mexico's Energy, Minerals and Natural Resources Department."

According to reporter Steve Terrell, Gov. Martinez responded to a question about this afternoon's revelation that Schmitt had requested a meeting with Sen. Linda Lopez and informed her he wouldn't comply with the required background check by saying she'd just found out about it a few minutes beforehand. The meeting between Schmitt and Lopez had taken place three days earlier, but Schmitt evidently had never mentioned his refusal to comply to the governor. Or else Martinez knew about it but figured he could get away with it, Schmitt being a famous former moonwalker and all. No dice.
You'd think Gov. Martinez and Schmitt would have worked all this out weeks ago, when Schmitt was first named as the EMNRD Secretary-designee. Very telling as to the inexperience and disorganization of Susana and her staffers in the new administration. This will definitely be considered as a public pratfall marking a less than professional start in Martinez's first statewide office.
Sen. Lopez described the background check as an "extensive review that includes a search for any prior criminal convictions and of the Federal Civil Court Records; verification of appointees' assertions related to financial circumstances or improprieties such as bankruptcies, tax liens, and outstanding loans; and a review of disclosure statements related to potential conflicts of interest and ownership in business entities." Who knows what Schmitt is so intent on hiding.
Schmitt had already attended one legislative hearing as EMNRD Secretary-designee -- a preliminary budget discussion before the Senate Finance Committee on February 3rd. Oddly enough given Gov. Martinez's insistence on making further cuts to state government rather than raising revenues, Schmitt expressed concerns at the hearing that his department appeared to be understaffed. No kidding.
DPNM Chair Javier Gonzales had this to say about Martinez's latest misstep: "From Harrison Schmitt refusing to submit to a basic background check and withdrawing his nomination to the increasing criticism of her handling of a gas crisis that left thousands of people in the cold, New Mexicans are starting to wonder just what kind of leadership they're getting with this new governor."
You might say.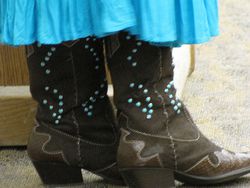 Sen. Linda Lopez wears boots:
These boots are made for walkin' and one of these days ...
All photos by M.E. Broderick.
February 10, 2011 at 08:22 PM in Democratic Party, Energy, Linda Lopez, NM Legislature 2011, Science, Susana Martinez, Transparency | Permalink
Comments
Repubs/Tea Partiers can campaign, but can they govern? Not from the looks of it.
Posted by: Terry Schleder | Feb 10, 2011 9:12:31 PM
Dedicated to Sen. Lopez: http://www.youtube.com/watch?v=SbyAZQ45uww
Great job, Senator, in standing your ground and making this happen! Kick it!
Posted by: LS | Feb 10, 2011 9:16:58 PM
The boots photo is fabulous!! MEB you nailed that one!!
Otherwise... once again I'm merely giggling.. It's becoming somewhat apparent that the new Gov is having a bit more of a learning curve than she expected,,,
Like gee.. did she really think that there were no checks and balances in New Mexico??
Posted by: Claudia Anderson | Feb 10, 2011 9:43:56 PM
What a waste of time, that all of us had to be subjected to this nut case for the last month. Thank goodness he is gone.
Fail.
Posted by: bg | Feb 11, 2011 8:54:58 AM
My guess is that he didn't want the payments from oil and gas for his climate change nonsense publicized.
Shill.
Posted by: Proud Democrat | Feb 11, 2011 11:19:03 AM
He is probably smoking pot to ease his aching joints and decided to forgo the drug test.
Legalize for the elderly. It makes sense.
Posted by: qofdisks | Feb 11, 2011 12:40:22 PM
Yeah, smoking pot or eating green moon cheese and hiding from the "communists." Good riddance to bad rubbish!
Posted by: Sean | Feb 11, 2011 1:05:23 PM