« New Mexicans Stand in Solidarity With Wisconsin Workers (With Photos, Videos) | Main | TONIGHT: Important Debate in Santa Fe-Cut Education and Services or Raise Revenues? »
Wednesday, February 23, 2011
Otero Mesa Targeted by Mining Industry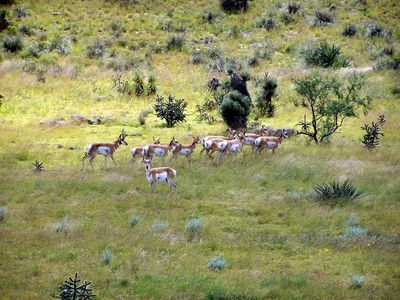 From the Coalition for Otero Mesa:
For nearly a decade, the Coalition for Otero Mesa has worked to safeguard the fragile grasslands, abundant wildlife, and freshwater resources of Otero Mesa from full-scale oil and gas drilling. Now, a new and more volatile threat has emerged for America's largest and wildest grassland –- hardrock mining.
During the months of October and November 2010, over 50 new mining claims were staked in the heart of the Otero Mesa region, by Geovic Mining Corp, based in Denver, Colorado, and also majority owner of the largest cobalt-producing operation in the world, based in Cameroon, Africa. The company is seeking to mine for cobalt nickel magnesium, and has staked claim to a surface area equivocal to 2,178 football fields. This type of hardrock mining operation could significantly alter the landscape and have serious impacts on wildlife habitat, soil composition and underground aquifers in Otero Mesa.
"Without the permanent protection that it deserves, Otero Mesa is always going to be one drill bit, one mine shaft, or one spill away from being lost to us," said Nathan Newcomer, Associate Director of the New Mexico Wilderness Alliance. "This new threat of hardrock mining in Otero Mesa, underscores the urgency of providing permanent protection for this wild and beautiful grassland."
Hardrock mining on public lands is governed today by the General Mining Act of 1872 -- a law that has changed little since it was first signed by President Ulysses S. Grant to encourage development of the West. Under this Civil War-era statute, hardrock mining is considered the "highest and best use" for public lands, regardless of the impact on watersheds, wildlife, landscapes or local communities.
"Hardrock mining is a significant cause of water contamination across the West and New Mexico," said State Senator Steve Fischmann. "In 1979, 94 million gallons of radioactive, acidic mine tailings spilled into the Rio Puerco. Thirty years later, the impacts of that spill still linger. At the very least we must protect habitat and minimize pollution risks to the Salt Basin Aquifer from hardrock mining activities."
Otero Mesa is an ecologically rich area home to 1,000 native wildlife species, including mule deer, mountain lion, black-tailed prairie dogs, golden and bald eagles, over 200 species of migratory songbirds, and boasts the state's healthiest and only genetically pure herd of pronghorn antelope. Otero Mesa sits above the Salt Basin Aquifer, which is suspected to be the largest, untapped, fresh water aquifer left in the state of New Mexico. The area also has a long history of cultural use and significance, which includes the estimated 20,000 petroglyphs on Alamo Mountain, historic ruins of the Butterfield Overland Stagecoach, and numerous archeological sites.
Speaking on behalf of the Apache Advocates for Otero Mesa, Ted Rodriguez said, "To us Apaches, Otero Mesa is sacred. It holds a very special place in our history and must be treated as a Holy site, not a mining site. It deserves no less than national monument status." Mr. Rodriguez is also the Headman of the Mescalero Apache Traditional Elders Council.
Widespread Support
Protection for Otero Mesa enjoys broad support locally and nationally. Former New Mexico Governor Bill Richardson previously proposed a more than 600,000-acre National Conservation Area and has called on the BLM to conduct a new inventory of the area's wilderness potential. Resolutions of support have come from the cities of Las Cruces and El Paso, Dona Ana County, and the Ysleta del Sur Pueblo Tribe. Permanent protection has also been endorsed by former Lt. Governor Diane Denish, former State Secretary of Energy, Minerals & Natural Resources Joanna Prukop, and many state representatives, state senators, county commissioners, city councilors, archaeological societies, religious leaders, and local residents. Furthermore, Governor Bill Richardson asked the Obama administration to designate the area a national monument before leaving office.
"Sportsmen and their families have a long legacy of using Otero Mesa and every acre we lose to development, of any kind, robs us of passing on that legacy," said John Cornell of the New Mexico Wildlife Federation. "The long term values of its cultural, recreational, hunting, and ranching and water resources far outweigh any short term benefits of mining."
For more information on the values of Otero Mesa and efforts to ensure its protection for future generations, visit www.oteromesa.org.
Member organizations of the Coalition for Otero Mesa include the New Mexico Wilderness Alliance, The Wilderness Society, Southwest Environmental Center, New Mexico Wildlife Federation, National Wildlife Federation, Sierra Club, The Audubon Society, Theodore Roosevelt Conservation Partnership, Restoring Eden, Environment New Mexico and Apache Advocates for Otero Mesa.
Photo courtesy Coalition for Otero Mesa.
February 23, 2011 at 09:44 AM in Environment, Land Issues, Mining | Permalink
Comments
Again, sigh. Well, this time they want to go after rare earths. The Mesa may lose this time. The best we can hope is that our water is protected and the processes are as heavily regulated as possible. If there are rare earth there, NM has the electronics industry and the electric car batteries and possible alternative energy industries over a barrel. These rare earths are of such strategic importance that this state is in a position to negotiate for extremely effective environmental protections and restorations. Let's not be cheap whores.
Posted by: qofdisks | Feb 23, 2011 11:58:55 PM