« Speaker Ben Lujan Re-Elected in NM House | Main | House and Senate Dems Respond to Susana Martinez NM State of State Address »
Tuesday, January 18, 2011
Susana Martinez Repeats Campaign Talking Points in State of State Speech

AFT's Christine Trujillo and kids: stop education cuts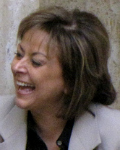 Republican Governor Susana Martinez, in her first State of the State address to a joint session of the New Mexico Legislature today, mostly repeated the same talking points she had already reiterated many times during her campaign. (Click for text, excerpts or video.) And she did it with minimal additions of anything resembling details to fill in the blanks on her generic proposals. At times, I thought she got downright snarky and supercilious in her remarks, speaking in a rather patronizing way to the lawmakers and others present -- as if they were children with little or no understanding of the challenges we face, how we got here or possible solutions.
You know the script. Most of all -- read her lips -- NO NEW TAXES! And get rid of the "luxury jet." It's not that we are lacking adequate revenue due to the most serious economic fail since the Great Depression -- it's that we're simply spending too much. Still. After several rounds of spending cuts have already been applied. She disingenuously claimed the budget deficit was "almost a half a billion dollars" when her own budget, as well as that of the Legislative Finance Committee, propose only about $200 million in cuts. There's a reason for that. The other $250 million has already been cut by prior legislative actions. Nevertheless, she seemed to savor ringing the alarm bells at high volume: "And we must not sugarcoat it: New Mexico is in a state of financial crisis."
She wants to cut out "waste and fraud" from the education "bureaucracy," but she didn't say how she'd do that or who, exactly, these unnecessary bureaucrats were. No classroom cuts, but no details on how that would be achieved in school district budgets that have already been cut to the bone in previous sessions. Bring back the death penalty (wild, ghastly cheers from the right-wing parts of the crowd). Create a unit within the Public Safety Department (which is directly under her command) to find corruption (but only the kind she okays). Apply mandatory jail time to convicted government officials. Require photo identification from all voters (more wild cheering -- Rs like nothing better than making it harder for low-income folks to vote).
Hollywood No!
She got, shall we say, a rather lukewarm reception to her rather snotty remarks about the film industry tax rebate and again said she wants to cut it from 25% to 15%. Although she likes to trumpet that New Mexico is now, suddenly, "open for business," it's apparent that she has little value for the jobs and other economic benefits provided by filmmakers here. Subsidies for oil and gas cronies -- yes. Fair and adequate help for the so-far highly successful movie and TV production business -- an emphatic no.
Like many Republicans before her, she mocked alleged Hollywood excess. She might as well have said, "Did you know that many in the film biz are L-I-B-E-R-A-L-S?" Martinez revealed that, at least in her own mind, we are "subsidizing the expense of Hollywood by cutting programs like child care services for working moms." And here I thought it was because Repubs and conserva-Dems won't agree to rescind the tax cuts given to the wealthy during boom times. Or tax alcohol, which ends up costing New Mexicans untold dollars due to the damaging impact alcohol has on so many. Or close the big-box corporation tax loophole. Etc.
Space Aliens in Charge?
I could go on but you get the drift. For now, I'll just say she ended the speech by saying, "As I said during the campaign, it's our state and working together, we will take it back." Hmmm. Since we'll all be working together, in what I guess will be nonpartisan bliss, who the heck will we be taking back the state from? La Llorona? Space aliens? Your guess is as good as mine.
Bad Grammar
One more thing: Although early on in the text of her speech it mentions "Democratic and Republican leaders," Martinez made a point of saying "DEMOCRAT and Republican leaders" when she recited it at the Roundhouse. You know how Republicans like to pretend they don't know grammar when they talk about Dems. It's just another of their childish pleasures that has spread from the upper echelons of their party "consultants" to the nether regions of our world -- and to our new governor.
Not Mentioned
What she didn't mention? The Spaceport, medical marijuana, LGBT rights or the Rail Runner. I guess that's a good thing. The only thing she said about health care? That it was one of her "core priorities" to protect health care for "those most in need." I wonder how she defines that phrase ....
Still to Come
Soon I'll be posting an annotated copy of the text of Martinez's speech, marked up with pointers to the deceptions, omissions and wrong-headed pronouncements it contains. Until then, check out her speech for yourself and see what you think.
January 18, 2011 at 04:35 PM in Children and Families, Economy, Populism, Education, Film, NM Legislature 2011, Susana Martinez, Taxes | Permalink
Comments
Nasty petty campaign speech. She appears out to somehow "get even" with the Richardson administration.
Return the death penalty? On what grounds?
And am I ill-informed, doesn't the local school board make the ultimate decision about what will get cut if their state funding is cut?
Oh, If I go on any more this will turn into a guest blog not a comment.
Posted by: Claudia Anderson | Jan 18, 2011 4:47:21 PM
The shouts regarding the reinstatement of the death penalty were ghoulish. Dont you think?
Posted by: mary ellen | Jan 18, 2011 4:50:28 PM
I want to kill. I want to kill. Just give me a death penalty so I can kill.
Posted by: bg | Jan 18, 2011 6:46:36 PM
Susannadanna is really something else, in her pointing out the problems, but adding no positive solutions. Maybe she'd come to realize that bucking Medical Marijuana, the Spaceport with its potential millions, LGBT Rights, or the RailRunner, because she realizes she will face HUGE opposition on any one of these issues. If anyone dan find reason for malfeasence against her, according to the New Mexico Constitution, that's good enough for grounds for impeachment. Stay sharp and keep on your toes.
Posted by: Mike Kitts | Jan 18, 2011 8:01:11 PM