Thursday, August 19, 2010
First NM Governor's Debate Goes to Denish for Content and Style (With Video)

Entire debate: KNME's online video coverage
Here's my first take on tonight's gubernatorial debate. More to come. You can check out the video above to see for yourself and/or read the transcript of the live blog conducted tonight by the New Mexico Independent and the Santa Fe New Mexican. Thanks to all who helped provide the live coverage.
At tonight's debate with Dem Diane Denish on education hosted by APS, Susana Martinez, the GOP candidate for governor, did what she's become known for doing -- she recited canned talking points instead of answering the question at hand, stayed in attack mode and kept pretending that Denish has been governor for the last eight years. Instead of directing her comments to the audience, she kept looking at Denish accusingly, as if interrogating a witness at a prosecution or lecturing an employee. At times, Susana's voice took on a melodramatic and whiney tone -- almost tearful -- as she stared at Denish and talked about things like the immorality of every child not getting a quality education. (Remember Heather Wilson whining and crying about Janet Jackson's "wardrobe malfunction" at the Super Bowl in 2004?)
No kidding, Susana. That's why Democrats have been trying to get the system out of the doldrums for eight years, after GOP Governor Gary Johnson made cutting taxes and everything else in state goverment a personal vendetta. Mr. Veto Power put New Mexico in a big hole in almost every department. Catch up isn't easy, especially when New Mexico and the nation is experiencing the worst economic crisis of my lifetime thanks to the deregulation/pyramid scheme party thrown by Bush and the Republicans in Congress for eight years. We don't need another Johnson in the form of Martinez at the helm here.
Denish spent most of her time directing her comments to the audience in the small, rather intimate, El Dorado performing arts center. At one point she turned to the crowd and said something along the lines of, "you're all teachers and educated folks so I know you're not going to fall for Martinez's rhetorical tricks." Precisely.
Denish: Best Zinger
Later in the debate, Denish fired off the best zinger of the night, in my opinion, when she challenged Martinez's professed passion about making sure schools get properly funded. "Susana Martinez didn't care enough about education in September 2003 to go to the polls and vote," said Denish. That tidbit of information about Susana's lack of participation in a vital special election on education solicited much moaning and groaning from the audience. Better late than never in caring about school funding, eh Susana? (See fact sheet distributed by the DPNM on Martinez's failure to vote.)
Martinez Dishonest About Her Support For Vouchers
One of the main wrangling points between the candidates centered on public schools vs. private school vouchers. Denish kept blasting Martinez on her plan to have school funding "follow the child" and to institute a voucher-type program that would given tax breaks to individuals and businesses that give scholarships to take kids out of public school and send them to private schools. Despite previously saying publicly that she supports vouchers, Martinez now claims her plan is really not about vouchers, and that it wouldn't take money away from public education. She never does explain where the taxpayer money would come from to pay for the tax breaks.
Denish characterized Susana's proposal as just another voucher plan -- but with a middle man, so to speak. The tax dollars would pass through the hands of those making donations for "scholarships" before paying for private school. Voucher programs provide taxpayer money directly to the private schools when a child opts to go there. Bottom line: the funding still comes from taxpayer dollars and goes to educate kids in private schools instead of going to support and improve public schools.
"For months, Susana Martinez told Republican audiences that she supports a voucher plan that takes money out of our public schools and gives it to wealthy private schools, but tonight she had trouble defending her position. That's because taking money from our public schools is simply indefensible," Denish said in a statement released after tonight's debate. "Unable to defend her position on school vouchers, Martinez resorted to national Republican talking points and tried to sell it off as her own plan. New Mexico families won't be fooled."
"As someone who has worked with New Mexico teachers and parents for years, I know what it's going to take to strengthen and transform our public schools," Denish continued. "We must fully fund our public schools and give our teachers the support they deserve and need. We must expand early childhood education opportunities, hold schools accountable for performance, and make sure our high schools give students a clear pathway to either the workforce, college or a career in the military. But one thing is clear: we will not strengthen our public schools by taking money out and giving it to private schools, as Susana Martinez has proposed doing time and time again."
Susana's response to this charge? "You know Diane, you can say it over and over and over again, and it's not gonna make it true." Except that it IS true, as you can see in this video of an appearance by Martinez a few short months ago in front of Republican insiders where she said outright that she supports vouchers:
Martinez's Lack of Relevant Experience
During the debate, Denish also called Martinez out on her lack of experience in fighting for education dollars -- referring to her own experience with pushing for increases for early childhood education. She suggested Martinez doesn't know what she's talking about when she says she will increase funding in the classroom by cutting funds for other education costs. She criticized Martinez for never making clear exactly what she would cut -- funds for school janitors, mental health counselors, hard-working administrative assistants or something else.
At one point, Martinez ignored a question on education to talk instead about the state plane and how Denish had abused her access to it. It went over like a lead balloon with the crowd of educators and school personnel, and for two good reasons. First off, it was clear that the attendees wanted to hear more detail about Martinez's positions -- not some off-topic accusation. Secondly, over the past seven plus years, since 2003, Denish has used only $170,000 worth of airtime on the state plane in carrying out her outreach duties around the state as lieutenant governor. Is there any large state where government officials don't use planes to get around when it makes sense? Much ado about nothing, but since Martinez seems to have zero in-depth knowledge about how the state education system works, it's a ready fallback talking point.
Denish's Suggestions
The Denish campaign released a statement after the debate underlining several major points Diane made tonight about her strategy to strengthen and transform New Mexico schools:
Making sure that every child has access to quality early-childhood education opportunities to help close the achievement gap at the start of school. A majority of positive learning habits and brain development occurs before children turn 5. This is also the best time to engage parents in their children's education. Data from the first years of Pre-K in New Mexico show children have made clear improvements: Such as increases in literacy and math, over the first three years alone pre-k kids scored 24% higher in early literacy. [National Institute for Early Education Research Rutgers University, The New Mexico PreK Evaluation, 2008]
More accountability for school districts, including putting independent audits on the Sunshine Portal to ensure that the majority of dollars are being spent in the classroom.
Raising the bar through more stringent academic standards such as the Diploma of Excellence, which provides more math, science and career-oriented learning.
Redesigning the final years of high school. Too often, the last years of high school are when kids check out. Diane believes the last years of high school should be focused on allowing kids to earn college credit, gain real-world workforce or gain volunteer experience, and obtain the vital skills necessary for the next steps in life. New Mexico has recently seen some improvement in graduation rates -- from 60 percent in 2008 to 66 percent in 2009.
I certainly hope that New Mexico voters get to see more of Susana Martinez in similar debate settings. When pushed to go beyond her memorized talking points, Martinez comes up short, and it's obvious. In contrast, Denish comes off as down to earth and into the nitty gritty of what it takes to make government work for the people. Let's see if Martinez has the guts to go head to head with Denish in a series of debates, not just one or two. New Mexicans really need to see her in action to get a clear picture of just how uninformed and negative she is on the debate podium.
August 19, 2010 at 09:17 PM in 2010 NM Lt. Governor Race, Diane Denish, Education, Susana Martinez | Permalink | Comments (11)
Reminder: Join Brian Colón for Mexican Food & Mariachis at Fundraiser Tonight at ABQ Country Club
Come on down. Everyone's invited to a fundraiser for Brian S. Colón, Democratic candidate for Lt. Governor, on Thursday, August 19, with a Mexican food buffet and mariachi music. Cocktails are at 5:00 PM and dinner at 6:00 PM at the Albuquerque Country Club, 601 Laguna Blvd. SW, in Albuquerque.
Come Support the Statewide Coordinated Campaign while having a great time with wonderful friends. Family and friends are all WELCOME! As always, any and all donations are appreciated. Click For more info.
August 19, 2010 at 02:55 PM in 2010 NM Lt. Governor Race, Brian Colon, Events | Permalink | Comments (0)
Wednesday, August 11, 2010
8/19: Fundraiser with Mexican Food and Mariachi Music for Brian Colón at Albuquerque Country Club
From Brian Colón for Lt. Governor:
Turner W. Branch, Margaret Moses Branch
Ambassador Ed Romero and Cayetana Romero

Cordially Invite You to Attend a Fundraiser for
Brian S. Colón
Democratic Candidate for Lt. Governor
Thursday, August 19
Mexican Food Buffet and Mariachi Music
Cocktails at 5:00 PM, Dinner at 6:00 PM
at the
Albuquerque Country Club
601 Laguna Blvd. SW, Albuquerque, NM

Come Support our Statewide Coordinated Campaign
while having a great time with wonderful friends.
Family & Friends are all WELCOME!
Suggested Contributions:
Sponsor $500 Host $250 Guest $100
Click for Flyer
August 11, 2010 at 09:45 PM in 2010 General Election, 2010 NM Lt. Governor Race, Brian Colon | Permalink | Comments (0)
Monday, August 02, 2010
Denish Campaign Proposes 8 Debates for Governor, 3 for Lt. Governor

Democratic Ticket: Diane Denish, Brian Colón
GOP gubernatorial candidate Susana Martinez likes to talk in sound bites and use bumper-sticker rhetoric to address complex issues, instead of offering detailed proposals or nitty gritty policy analysis. So it should be interesting, to say the least, to see how she responds to a new proposal by Democrat Diane Denish for 8 gubernatoral debates, as well as 3 debates between the candidates for Lt. Governor -- Democrat Brian Colón and Republican John Sanchez.
Oh, Susana -- are you ready to let New Mexico voters learn who you really are?
With less than 100 days until the election, New Mexicans need as much information as possible about the gubernatorial candidates to decide who is most qualified to lead our state through these tough times. The Denish for Governor campaign has proposed eight debates in different regions of the state that cover a range of topics important to New Mexico families.
Martinez Balks at Agreeing to Debate Schedule
The first debate, hosted by Albuquerque Public Schools on August 19, has been agreed to by both campaigns. However, the Denish campaign says it has repeatedly contacted the Martinez campaign to discuss the release of a full debate schedule, but the Martinez campaign has thus far declined to agree to a schedule of debates. The Denish campaign first approached the Martinez campaign about debates on June 2, the morning after the primary.
"The stakes couldn't be higher for New Mexico families in this election and voters deserve to hear how each candidate for Governor would address the challenges facing our state," said Denish campaign manger Oren Shur in a statement released today. "Most New Mexicans aren't familiar with Susana Martinez and she's been virtually silent on a wide range of issues that directly impact families like education and jobs. Debates are always a critical part of the electoral process and that's particularly true in this campaign."
Denish Proposal
The debate schedule proposed by the Denish campaign (below) includes three televised debates and five other debates in communities around the state such as Las Cruces, Taos and Santa Fe. More than 15 organizations from across the state have invited the candidates to debate and this proposed schedule includes sponsors from a range of business groups, media organizations and education institutions. The campaigns have also agreed to participate in the Domenici Public Policy Conference at NMSU on September 2, 2010 -- but the event will be a joint appearance, not a debate.
The Denish campaign says their objective was to find non-partisan sponsors that would agree to a format that allowed the candidates to have a thoughtful debate on key issues. The proposed schedule below is not a list of the only debates the Denish campaign is willing to do, but rather a proposed schedule based on thoughtful debates and availability on the schedule.
Times and formats for each debate are TBD and will be announced prior to the debate.
Proposed schedule of Governor's debates:
August 19
APS Board of Education Candidate Forum (Confirmed by both campaigns)
Eldorado High School
11300 Montgomery Blvd., NE Albuquerque
Week of Sept. 6 or Sept. 13
NM Business Weekly Candidate Debate
National Hispanic Cultural Center, Albuquerque
September 17
UNM-Taos Candidate Debate
1157 County Road 110
Ranchos de Taos, NM 87557
Week of September 20
League of Women Voters Las Cruces
Good Samaritan Auditorium
September 26
Congregation Albert
3800 Louisiana Boulevard Northeast
Albuquerque, NM 87110-1476
Week of October 4
Live Network Television Debate (station and format TBD)
Week of October 18
Live Network Television Debate (station and format TBD)
October 22
KNME/KUNM debate
Studios: 1130 University BLVD
What about it, Susana? Are you ready for prime time or intent on hiding in the shadows?
August 2, 2010 at 06:41 PM in 2010 NM Governor's Race, 2010 NM Lt. Governor Race, Brian Colon, Diane Denish, Susana Martinez | Permalink | Comments (6)
Friday, July 02, 2010
NM Federation of Labor, AFL-CIO, Endorses Denish-Colón Ticket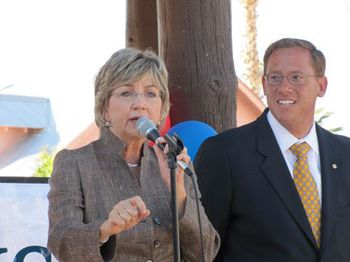 Denish and Colón at recent rally in Mesilla
Yesterday, the Democratic gubernatorial ticked of Diane Denish and Brian Colón accepted the endorsement of the New Mexico Federation of Labor, AFL-CIO, and the 162,000 hardworking men and women it represents.
"This endorsement is extremely important to me as I commit to creating jobs and expanding educational opportunities for all New Mexicans," Denish said in written statement. "I have always stood on the side of New Mexico's working families and as governor will continue to take on the powerful interests so that they do not take advantage of our most vulnerable citizens."
"We are going to work hard to make sure the people of New Mexico know who's on their side," Colón said. "While our opponents line their pockets with big checks from Texas developers, Diane and I are going to be focused on innovative ideas to create economic opportunity for all New Mexicans."
Click for a list of unions and others that have endorsed Denish for Governor of New Mexico.
July 2, 2010 at 12:16 PM in 2010 NM Governor's Race, 2010 NM Lt. Governor Race, Labor | Permalink | Comments (0)
Tuesday, June 29, 2010
7/8: Denish-Colón Fundraiser Reception at Judith Espinosa's in Albuquerque
Please Join
Isaura Andaluz ◊ Matthew Baca ◊ Janet Bridgers ◊ Felicia Casados ◊ Ron Curry ◊ Rose Custer ◊ Consuelo Espinosa ◊ Judith Espinosa ◊ LaLa Garcia ◊ John Geddie ◊ LaDonna Giron ◊ Judith & Bill Holm ◊ Jeanne Logsdon ◊ Maria Teresa Martinez ◊ Linda Valencia Martinez ◊ Dolores J. Martinez ◊ Diana Montoya ◊ Mauro Montoya ◊ Charlotte Roybal ◊ Kent Salazar ◊ Alan Sanders ◊ Lester Swindle ◊ DeAnza & Joseph Sapien ◊
Linda Vigil-Lopez ◊ Michelle Welby ◊ Tasia Young

For a Reception in support of
Diane Denish & Brian Colón
to benefit their campaign for Governor & Lt. Governor
Thursday, July 8, 2010
5:30 P.M. to 7:00 P.M.
At the Home of Judith Espinosa
1501 Vista Larga Ct NE, Albuquerque NM 87106 (map)

Suggested Contribution: $50 Per Person
Refreshments & Hors D'oeuvres Provided
Artwork Door Prizes Provided by Linda Valencia Martinez
Please RSVP to: Robert Lara: (505) 255-1282 or rlara@dianedenish.com
Click for Flyer (pdf)
Contributions may be brought to the event or be made payable and sent to: Committee to Elect Diane Denish, PO Box 30561, Albuquerque, NM 87190. If you are unable to attend you may also contribute online at www.dianedenish.com
June 29, 2010 at 06:26 PM in 2010 NM Governor's Race, 2010 NM Lt. Governor Race, Brian Colon, Diane Denish, Events | Permalink | Comments (0)
Thursday, June 03, 2010
New Mexico's Democratic Ticket Hits the Ground Running in Southern NM

Mesilla Plaza Rally (Click for photo album)
This is a post by contributing writer, Stephen Jones, who is a progressive political activist and a resident of Las Cruces, New Mexico. He IS our Southern NM Bureau.
A day after the New Mexico Democratic Primary election the Diane Denish/Brian Colón team hit the ground running with stops in the southern New Mexico communities of Hobbs, Carlsbad, Mesilla and Deming. "These are tough times and New Mexicans want a Governor who stands up for families," Diane Denish said at their Mesilla stop. Denish, New Mexico's incumbent Lt. Governor, is the Democratic candidate for Governor.
"What New Mexico wants is jobs," Denish said. "My opponent talks about jobs. I have got the job done." Denish pointed to her background as a small business owner and the micro-lending initiative she led in the Lt. Governor's office that brought new jobs to New Mexico by acquiring access to capital for 1800 small businesses. She also talked about her work to expand educational opportunity, including her efforts to expand pre-Kindergarten programs across the state. "My opponent doesn't talk about education at all," Denish said.
Denish also pointed out Susana Martinez' failed record as a prosecutor, "She promised never to plea bargain a DWI," Denish charged, "then she did 800 DWI plea bargains. If you want a better job, you better have done the job you were elected to do!" Martinez, the Republican nominee, presently holds the office of District Attorney in Doña Ana County.
"It's good to be home in Doña Ana County," Brian Colón said in Mesilla. Colón was a resident of Las Cruces for ten years, where he attended college. He thanked Doña Ana Democrats for helping to "put him over the top" in the Lt. Governor Primary contest and thanked his four opponents for Lt. Governor for a principled campaign. He promised to take the same energy into the general election campaign. "Are you ready to work for the next 153 days?" Colón asked an enthusiastic, affirmative crowd at the historic Mesilla Plaza.

Deming Meet and Greet (Click for photo album)
From Mesilla the Denish/Colón team headed to Deming to meet residents and supporters from Luna County, repeating the themes of hard work, ethics, education, jobs and opportunity at Deming's La Fonda Restaurant. "I'm not going to make any promises I can't keep," Denish told the Deming crowd. "With a great Lt. Governor like Brian Colón," Denish said, "I promise to bring leadership and vision to the Governor's office."
Comparing the Denish/Colón team to the opposition, Denish added, "Unlike us, my opponent is, as they say back in my hometown of Hobbs, all hat and no cow!"
All photos by Stephen Jones. To read more posts by Stephen, visit our archive.
June 3, 2010 at 11:22 AM in 2010 NM Governor's Race, 2010 NM Lt. Governor Race, Brian Colon, By Stephen Jones, Contributing Writer, Diane Denish | Permalink | Comments (10)
Day Two: Diane Denish Goes North, Brian Colón Travels South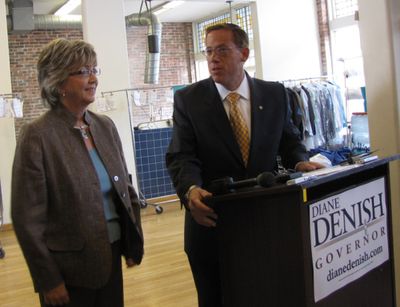 Denish and Colon at yesterday's press conference in ABQ
Dem gubernatorial candidate Diane Denish and her running mate Brian Colón are on day two of their post-primary tour, with Denish visiting Northern New Mexico and Colón visiting South-Central communities. Today, Denish will be at events in Taos and Espanola, while Colón will be meeting voters in Silver City and Truth or Consequences.
Check below the break for all the details and come on down if you're in the area.
Thursday, June 3:
11:30 AM
Diane Denish visits Ancianos Senior Center
601 Lovato Pl., Taos
12:30 PM
Diane Denish meet and greet in Taos
Quality Inn, 1043 Paseo del Pueblo Sur, Taos
1:00 PM
Brian Colón meet and greet in Silver City
Javalina's, 201 N. Bullard, Silver City
2:30 PM
Diane Denish meet and greet in Espanola
Inn of the Delta, 233 N. Paseo Del Onate, Espanola
4:30 PM
Brian Colón meet and greet in Truth or Consequences
Main Street Studio, 108 Main St., Truth or Consequences
June 3, 2010 at 09:20 AM in 2010 NM Governor's Race, 2010 NM Lt. Governor Race, Brian Colon, Diane Denish, Events | Permalink | Comments (1)
Wednesday, June 02, 2010
2010 New Mexico Primary: Dem Winners (and Losers) Must Unite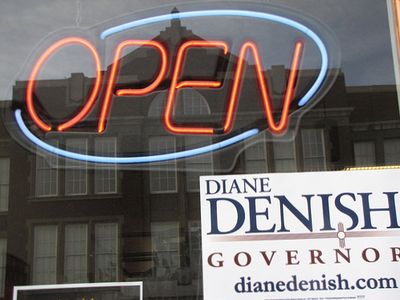 All the unofficial results are now in, the victory laps have been taken, the defeats are being absorbed and Democrats must unite with enthusiasm and determination in order to keep right-wing Republicans out of office up and down the ticket in November's critical contests. There were a number of hard-fought primary battles on the Dem side, but now it's imperative that all the candidates and their supporters put those clashes behind them.
It's time to work together on A New Way Forward with the Diane Denish-Brian Colón ticket and dedicate ourselves to furthering core Democratic values in a combative and nasty political environment typified by Tea Parties and smear campaigns coming from the right -- all of them well funded.
"I would like to congratulate each of the stellar nominees who truly bring excellence to New Mexico, along with the unity and strength they lend the Democratic ticket," said DPNM Chairman Javier Gonzales in a statement released today. "New Mexico Democrats are united behind Diane Denish and her focus on creating jobs and helping our state become more competitive. As Democrats we will work hard as a unified party and always put our state's working families first."
You can check out the unofficial results of all the primary races at the Secretary of State's website.
The results for key Democratic contested races include:
LIEUTENANT GOVERNOR
BRIAN S. COLON: 35934, 28.7%
LAWRENCE D. RAEL: 30537, 24.4%
JOSE A. CAMPOS II: 25618, 20.4%
GERALD P. ORTIZ Y PINO: 14992, 12.0%
LINDA M. LOPEZ: 18219, 14.5%
COMMISSIONER OF PUBLIC LANDS
RAY BENNETT POWELL: 48071, 39.7%
HARRY B. MONTOYA: 43629, 36.0%
SANDY R. JONES: 29536, 24.4%
JUDGE OF THE COURT OF APPEALS - POSITION 2
LINDA M. VANZI: 62283, 53.5%
DENNIS W. MONTOYA: 54045, 46.5%
STATE REPRESENTATIVE - DISTRICT 8
JULIAN R LUNA: 1395, 53.1%
ELIAS BARELA: 1231, 46.9%
STATE REPRESENTATIVE - DISTRICT 13
MATTHEW E ARCHULETA: 721, 43.2%
ELEANOR CHAVEZ: 949, 56.8%
STATE REPRESENTATIVE - DISTRICT 14
MICHAEL A ATLER SR: 521, 30.5%
MIGUEL P GARCIA: 1185, 69.5%
STATE REPRESENTATIVE - DISTRICT 43
PETER T. SHEEHEY: 879, 40.4%
STEPHANIE M. RICHARD: 1298, 59.6%
STATE REPRESENTATIVE - DISTRICT 46
BEN LUJAN: 2129, 51.0%
CARL P. TRUJILLO: 2049, 49.0%
STATE REPRESENTATIVE - DISTRICT 70
BARBARA A. PEREA-CASEY: 1643, 38.1%
ERIC M. CUMMINGS: 278, 6.5%
RICHARD D. VIGIL: 2065, 47.9%
CHRIS LOPEZ: 323, 7.5%
PUBLIC REGULATION COMMISSIONER - DISTRICT 4
HANK HUGHES: 5123, 21.4%
ANDREW LEO LOPEZ: 4890, 20.4%
GEORGE J. GALANIS: 5269, 22.0%
THERESA BECENTI-AGUILAR: 8640, 36.1%
DISTRICT JUDGE - 1st JUDICIAL DISTRICT, DIVISION 7
DAVID K. THOMSON: 10322, 45.0%
T. GLENN ELLINGTON: 12598, 55.0%
DISTRICT JUDGE - 2nd JUDICIAL DISTRICT, DIVISION 11
GERARD J. LAVELLE: 15830, 52.8%
EDWARD ARNOLD PADILLA: 14172, 47.2%
DISTRICT JUDGE - 2nd JUDICIAL DISTRICT, DIVISION 23
SHANNON BACON: 18890, 63.9%
LORI L. MILLET: 10679, 36.1%
BERNALILLO COUNTY COMMISSIONER - DISTRICT 1
LORETTA A. NARANJO LOPEZ: 2453, 27.7%
MICHELLE LUJAN GRISHAM: 4215, 47.5%
DAN SERRANO: 2199, 24.8%
BERNALILLO COUNTY ASSESSOR
MARK J CARRILLO: 13846, 43.2%
KAREN LOUISE MONTOYA: 18200, 56.8%
BERNALILLO COUNTY SHERIFF
PATRICK M DAVIS: 6815, 21.1%
FELIX I NUNEZ: 3624, 11.2%
MANUEL GONZALES III: 8601, 26.7%
MARIE SISI MIRANDA: 7687, 23.8%
GERALDINE M AMATO: 2132, 6.6%
JOSHUA R TIMBERMAN: 1186, 3.7%
JOE R. WILLIAMS: 2193, 6.8%
Below is the list of candidates that make up the Congressional and statewide 2010 Democratic ticket:
So many Dems worked so hard during these primaries and now it's time to take a short rest -- and then gear up to volunteer, donate and talk to friends, neighbors, coworkers and family members about the importance of Dem victories in November. How well we strategize and work for our candidates in the coming six months will affect our future for years to come.
June 2, 2010 at 04:03 PM in 2010 Democratic Primary Results, 2010 NM Governor's Race, 2010 NM Lt. Governor Race, Brian Colon, Democratic Party, Diane Denish | Permalink | Comments (5)
Tuesday, June 01, 2010
Denish, Colón to Launch Fight for New Mexico's Future at Small Business in Albuquerque
Democratic gubernatorial nominee Diane Denish and Brian Colón, her running mate, will make their first joint appearance together at Route 66 Cleaners, a small business based in Downtown Albuquerque at 308 Central Ave. SE. The joint press conference will take place tomorrow, June 2, at 10:00 AM, and start what will no doubt be a long and hard-fought campaign in a mid-term election year against foes who'll be funded by all the wrong people.
"New Mexicans everywhere are feeling the pain of this difficult economy and they want to know what the candidates are going to do about it," Denish said in a statement released this evening. "We are launching our fight for the future of New Mexico in a small business, because my focus every day of this campaign is going to be on creating sustainable small business jobs in every corner of our state."
If you didn't get to hear Diane's acceptance speech, click to read excerpts. I especially like these lines:
There's a lot of uncertainty out there these days. New Mexicans are tired of politicians who promise them the world – deliver very little – and then find someone else to blame. 


I may not be the flashiest candidate out there. I don't overpromise. I won't sell you a load of bull.

I'll look you in the eye and tell you what I know and what I don't. What I can do and what I can't. Where we are and where we need to go. And how we get there.

... My record -- and my ideas for the future -- are very different than what you'll hear from Susana Martinez.

New Mexicans will have a very clear choice in November.

Susana Martinez talks about change; I have a record of delivering it.

She talks about job creation; I've helped make it happen.

Susana Martinez so far has only offered sound bites and empty promises. I've put forward solutions and new ideas for the future.

During these tough times New Mexicans don't want the sizzle, they need the steak.
June 1, 2010 at 11:08 PM in 2010 NM Governor's Race, 2010 NM Lt. Governor Race, Brian Colon, Diane Denish | Permalink | Comments (0)
Brian Colón Wins Dem Lt. Governor Race; Rael 5 Points Back, Campos 9 Points Behind
Video above: Ten days before the election, Mary Ellen got to talk with Brian Colón who described the grueling schedule and statewide grassroots campaign that won him the lieutenant governor spot on the Diane Denish ticket. Well done, Brian, Aleli, Rafael and all the hardworking staffers and volunteers!
Also, congratulations and thank you to all our Democratic lieutenant governor candidates and their families and supporters, who worked so hard and put so much of themselves into this primary contest.
Per KRQE News:
DEMOCRATIC PRIMARY LT. GOVERNOR
88% OF PRECINCTS REPORTING
> BRIAN COLON 30,765 29%
LAWRENCE RAEL 25,833 24%
JOSE CAMPOS 21,064 20%
LINDA LOPEZ 15,558 15%
GERALD ORTIZ Y PINO 13,324 13%

Are you ready to work your heart out for the Diane Denish - Brian Colón ticket? You'd better be or we could have a right-wing governor funded by the Swiftboat scam boss and oil companies. On the GOP side, the ticket will be Susana Martinez - John Sanchez, and work starts tomorrow to make sure they don't get anywhere near the Roundhouse. It's gonna be a barn burner ...
June 1, 2010 at 10:43 PM in 2010 NM Governor's Race, 2010 NM Lt. Governor Race, Brian Colon, Diane Denish | Permalink | Comments (3)
(Updates x 4) 2010 NM Primary Election: Early Results Have Colon 32.15, Rael 30.30 for LG, More
Liveblog now at NMI!
3.2% turnout on election day at 2:00 PM per BernCo County Clerk Maggie Toulouse Oliver
8:52 PM: Rep. Eleanor Chavez declares victory vs. Matthew Archuleta! Won by about 100 votes. Congratulations Eleanor! Results:
STATE REPRESENTATIVE - DISTRICT 13
MATTHEW E ARCHULETA Democratic 308 43.1%
ELEANOR CHAVEZ Democratic 407 56.9%
Early and absentee voting ONLY results from Bernalillo County:
DEM LT. GOVERNOR
BRIAN S. COLON Democrat 2,138 2,863 5,001 32.15%
LAWRENCE D. RAEL Democrat 1,842 2,872 4,714 30.30%
JOSE A. CAMPOS II Democrat 618 923 1,541 9.91%
GERALD P. ORTIZ Y PINO Democrat 677 1,549 2,226 14.31%
LINDA M. LOPEZ Democrat 836 1,238 2,074 13.33%
(15,556 Total Votes) 0 Out Of 424 Precincts Counted % calculated to +-.03%
Video: Rafael Colon commenting on his dad's campaign tonight.
DEM LAND COMMISSIONER
RAY BENNETT POWELL Democrat 3,106 4,744 7,850 52.86%
HARRY B. MONTOYA Democrat 1,463 2,258 3,721 25.06%
SANDY R. JONES Democrat 1,318 1,962 3,280 22.09%
JUDGE OF THE COURT OF APPEALS 2 - Democrat
LINDA M. VANZI Democrat 4,050 6,354 10,404 70.76%
DENNIS W. MONTOYA Democrat 1,742 2,557 4,299 29.24%
BERNCO SHERIFF-DEMOCRAT
PATRICK M DAVIS Democrat 0 1,285 1,960 3,245 22.17%
FELIX I NUNEZ Democrat 0 409 987 1,396 9.54%
MANUEL GONZALES III Democrat 0 1,773 2,329 4,102 28.03%
MARIE SISI MIRANDA Democrat 0 1,264 2,009 3,273 22.36%
GERALDINE M AMATO Democrat 0 322 640 962 6.57%
JOSHUA R TIMBERMAN Democrat 0 238 293 531 3.63%
JOE R. WILLIAMS Democrat 0 530 596 1,126 7.69%
JUDGE OF THE COURT OF APPEALS 2 - DEMOCRAT
LINDA M. VANZI Democrat 4,050 6,354 10,404 70.76%
DENNIS W. MONTOYA Democrat 1,742 2,557 4,299 29.24%
Bernalillo County results here.
June 1, 2010 at 07:04 PM in 2010 Democratic Primary Results, 2010 Judicial Races, 2010 NM Land Commissioner Race, 2010 NM Lt. Governor Race, Brian Colon | Permalink | Comments (0)