Wednesday, November 10, 2010
DPNM Calls on Albuquerque Mayor Berry to be Accountable for Susana Martinez Transition Chairs
City of Albuquerque Chief Public Safety Officer Darren White and City Attorney Rob Perry have been selected to serve on Governor-elect Susana Martinez's transitions teams. Darren White will serve as the Chair for Public Safety and Homeland Security and Rob Perry as the Chair for Corrections.
The Democratic Party of New Mexico's Executive Director, Scott Forrester, called on Albuquerque Mayor Richard Berry to pledge that Darren White, Rob Perry and any other city employees who are participating in the transition teams work be unpaid, off the clock, and fully accounted for.
"In these tough financial times when departments and employees are asked to do more with less, tax payers should have the right to know two city public employees and all other city employees serving on the transition team will be not be serving while on tax-payers' dollars and all of their time will be accounted for while serving on the Governor-elect's transition teams," said Executive Director Forrester in a statement released today.
November 10, 2010 at 03:39 PM in 2010 General Election, 2010 NM Governor's Race, City of Albuquerque, Democratic Party, Susana Martinez | Permalink | Comments (0)
The Nightmare to Come: Susana Martinez Names Her Husband, Oil & Gas Producers to Environmental Search Committee
Be prepared for the possibility of an environmental disaster, New Mexico. We will soon have a governor beholden to the oil and gas industry who is bent on freeing her campaign donors and other moneyed interests from environmental oversight. Prepare to watch our state's reputation as a green energy and environmental protection leader go down the drain if the new governor and her cronies get their way.
Yesterday, Republican governor-elect Susana Martinez released the names of individuals who will make up a search committee for top energy and environmental jobs in her administration. The committee will be headed by Pete Domenici Jr., who was a not-very-successful challenger to Martinez in the GOP gubernatorial primary who ended up donating $6,000 to the Martinez campaign. Domenici, the son of former Sen. Pete Domenici, is an environmental lawyer who has defended a number of polluters.
The committee is dominated by oil and gas producers and includes -- wait for it -- Susana's husband, Chuck Franco, a Doña Ana County undersheriff who is being described as an "avid outdoorsman." Besides Domenici and Franco, the group is comprised of:
T. Greg Merrion, the president of Merrion Oil & Gas in Farmington, past president of the Independent Petroleum Association of New Mexico and past chairman of the New Mexico Oil & Gas Association. Merrion OIl and Gas donated $16,000 to the Martinez campaign.

Merrion serves on the board of the Western Energy Alliance (WEA), formerly the Independent Petroleum Association of Mountain States. The WEA website says the lobbying group provides "Comprehensive representation in Washington and across the West focusing on: access to government lands for exploration and production, federal agency permitting, air and water quality, reform of the National Environmental Policy Act (NEPA) and Endangered Species Act (ESA), wildlife conservation, health and safety, taxation, and other issues."
Mark Murphy of Strata Production Company, an oil and gas company based in Roswell. Murphy donated $8,000 to the Susana Martinez campaign and Strata gave $24,000.
Joel Carson, general counsel to Mack Energy, an Artesia-based oil and gas company. Carson donated $2,500 to the Martinez campaign and Mack Energy contributed $117,500.
Dennis L. Hjeresen, division leader for Environmental Protection at Los Alamos National Laboratory;
Rance Miles, Executive Director of Select Milk Producers, which donated $42,500 to the Martinez campaign. Miles was one of the targets of an insider trading suit brought by the U.S. Securities and Exchange Commission in 2004, which was settled by the parties. Select Milk is the parent company of the Southwest Cheese LLC
Roy Farr, who owns the Farr Cattle Company in Datil in Catron County, New Mexico.
During her campaign, Martinez promised to get rid of a number of environmental regulations, including the so-called pit rule that protects ground water from drilling pollution. When Martinez becomes governor on January 1, she will control the Energy and Natural Resources Department, the Energy Department and the Environmental Improvement Board (EIB). Last week the EIB issued regulations for a cap-and-trade program Martinez has said she opposes, and on which she has said she will try to place a moratorium.
The names of the individuals named to the search committee are from a New Mexico Independent article. I am not currently receiving press releases from the Martinez transition team, despite having requested that I be added to the email list. Martinez made "transparency" a big deal in her campaign but apparently is into picking and choosing who is on her release list.
November 10, 2010 at 11:40 AM in 2010 NM Governor's Race, Energy, Environment, Susana Martinez | Permalink | Comments (5)
Monday, November 08, 2010
Martinez Names Search Committee for Public and Higher Education; What About Heather Wilson?
Susana Martinez, New Mexico's Republican governor-elect, has announced the makeup of a search committee tasked with finding candidates to serve as cabinet secretaries and in other roles in the Departments of Public Education and Higher Education:
Dr. Jose Garcia, associate professor in political science at NMSU, who will serve as chairman of the search committee; formerly served two terms as chair of Democratic Party of Dona Ana County; helped create Democrats for Martinez;
Jack Fortner, Farmington attorney and UNM regent;
Michelle Garcia, Santa Fe elementary school teacher;
Bradley Hosmer, former president of the National Defense University from 1986 to 1989, and former superintendent of the Air Force Academy from 1991 to 1994, who commanded the 479th Tactical Training Wing at New Mexico's Holloman Air Force Base from 1978 to 1979;
Kari Mitchell, manufacturing executive at Las Cruces Machine who helped to develop the Regional Education Initiative, a project that emerged from the Education Committee of the Greater Las Cruces Chamber of Commerce and is now known as The Bridge;
Mike Phipps, superintendent of the Artesia Public Schools, who also serves on the board of the New Mexico Activities Association.
Heather Wilson as PED Secretary?
Rumors have been floating around about Heather Wilson's interest in heading the public education department, but Wilson has said publicly she doesn't want a job in the Martinez administration beyond her current role as head of the transition team. We'll see. Wilson just might consider the job to be a comfortable perch while awaiting her rumored 2012 run for the Senate seat now held by Sen. Jeff Bingaman. Remember how Dick Cheney decided he was the best guy to serve as Vice President when he headed George Bush's vice presidential transition team in 2000?
Wilson has ties to the Air Force Academy, where she was a Distinguished Graduate, as well as to the defense establishment, once serving as Director for European Defense Policy and Arms Control on the National Security Council, among other things. Note the inclusion of Bradley Hosmer on the search committee. Lieutenant General Hosmer headed both the Air Force Academy and the National Defense University. Like Wilson, he was a Rhodes Scholar. Even if Wilson has no plans to seek an education post in the Martinez administration, her stamp on the search process can be seen in Hosmer being named to the committee.
Let's hope Heather Wilson means what she says about not having any interest in serving in Martinez's education cabinet. It's bad enough that she's involved with the naming the education search committee.
Wilson's Record on Education
In the past, Wilson has advocated abolishing the Federal Department of Education, as well as the New Mexico State Board of Education, the forerunner of the current Department of Public Education. Instead, she backed a plan to have the Children Youth & Families Department monitor our schools. I'm not kidding (Human Events 4/10/98: Roll Call 5/25/98: For the Children's Sake: Reforming Public Education in New Mexico 1/98). Moreover, as chief lobbyist for former Govemor Gary Johnson's education plan, Wilson touted a school voucher program that would take away much needed money from our public schools and give it to wealthy private schools (Albuquerque Journal 11/7/98) -- a plan also strongly supported by Susana Martinez in her primary campaign for governor.
In addition, while serving as CYFD Secretary, Wilson concentrated on building prisons and putting kids in jail instead of helping to improve their education (Albuquerque Journal, 9121/95). Also while at CYFD, Wilson cut an average of 10% from the overall budgets of more than 75 day care and children agencies, including Esperanza, Inc.; Peanut Butter & Jelly; UNM-Young Children's Center; COPE, Inc.; La Buena Vida, Inc.; Families & Youth, Inc. and Ayudantes, Inc.
In other words, not good.
November 8, 2010 at 08:28 PM in 2010 NM Governor's Race, Education, Susana Martinez | Permalink | Comments (9)
How Much DID the Albuquerque Journal Help Susana Martinez and What Should We Do About It?
There has been widespread grumbling about the Albuquerque Journal's political coverage leading up to the November 2nd election, as well as criticism about the process used to determine the paper's endorsements this year. The critiques have focused on problems like the paper's tendency to conflate news and opinion in its UpFront columns by Thomas J. Cole on the front page, its choice of headlines that sometimes had little to do with the content of the articles and its failure to clearly identify personnel affiliated with the right-wing Rio Grande Foundation when their writing is published in the paper's editorial section.
Other problems relate to the paper's prominent placement of articles favorable to Republican candidates, while burying articles with positive news about Democrats. Sometimes the problems center on what the paper doesn't cover, as much as what it does.
We've long known that the Journal's publishers lean hard right. However, this year that slant was apparent to many in the paper's news coverage -- especially regarding the race for governor -- as well as on the editorial pages where it belongs.
Tessier Probes Journal Bias
Denise Tessier discusses a number of these problems in her recent hard-hitting piece entitled, "The Push for the Nation's First Hispanic Female Governor" on the Albuquerque Journal Watch blog. Tessier, who worked for the Journal as a reporter, photographer, columnist, editor, editorial writer and editorial page editor from 1974 to 2005, as both a staff member (20 years) and freelancer, lays out how the Journal's coverage of the 2010 New Mexico governor race was often clearly biased towards Republican Susana Martinez, the eventual winner:
Before it outright endorsed her in an editorial, the Journal had already exhibited signs it was deliberately advocating for eventual winner Susana Martinez – through Thom Cole UpFront columns, other front-page stories and pro-GOP national wire stories. Support was conveyed also via the Journal's debate reportage, its choice of headlines, and in pertinent information left out of stories.

Before Martinez had even won the GOP primary there were indications the Journal was going to oppose Denish, no matter who the GOP nominee would be.
The article then goes into some of the many ways in which the Journal coverage skewed towards support of Martinez. For instance:
Traditionally, the Journal covered candidate platforms like this. But it didn't cover Denish's announcement – a significant plan, considering the Legislature had predicted a shortfall of that amount just months before. The Santa Fe New Mexican covered Denish's plan as soon as it was released. But on the day the Journal normally would have run it, the story in the Journal instead was "Weh Sues State Over Redacted Denish Files." Those who read the story would learn that GOP candidate Allen Weh's beef was with the Department of Finance and Administration over some public documents from Denish's office, rather than an issue with Denish. But the implication was that Denish had done something fishy.
The Journal held off on running Denish's platform until July, when it packaged it together with comments from Martinez.

The Denish platform rarely was mentioned after that. Even when the Sunday Journal ran its full-length profiles of the two history-making female candidates, the only reference to Denish's plan was three lines in the in the bullet-point list that ran at the end of her profile under the label "Budget."
More Example of Right-Wing Slant
Tessier also points out specific examples of the Journal's slanted coverage on the gubernatorial candidate debates, its headlines and story placement and a couple of Thomas J. Cole's biased UpFront columns.
Tessier's article also demonstrates how different the Journal's coverage of certain stories was compared to that of the New Mexico Independent and how the stories would have been handled in the Albuquerque Tribune, which ceased publication in February 2008:
Especially in these recent weeks, I was reminded of the absence of the Albuquerque Tribune, and was struck by how different the election looked when reading the New Mexico Independent. It was the Independent that first disclosed that Martinez received $20,000 from a Texas oil man who had crassly joked about rape. After the Independent's disclosure – and calls from the Denish campaign for Martinez to return the money – Martinez donated the funds to a rape crisis center. This ran two days later on the Journal's Elections page – not unusual for a "catch up" story. But its impact would have been different if the story had run on the front page – as it essentially did in the Independent (and as it likely would have run in the Albuquerque Tribune.)
Another factor Tessier examines is the Journal's front-page profile of Denish's husband, Herb, while neglecting to provide any coverage about Martinez's spouse. It also discusses the Journal's rehash of negative stories on Governor Bill Richardson in the weeks before the election that served to support Martinez's repetitive talking points that sought to portray Governor Richardson and Lt. Gov. Diane Denish as virtually the same person:
I would submit that the Journal buttressed that impression by running a number of stories critical of Richardson as the campaign neared its end.

... perhaps the electorate would have thrown out Denish even without the Journal's encouragement. But in the absence of an unbiased "leading newspaper" in New Mexico, that's something we'll never know.
I strongly encourage you to read the Tessier's entire column and pass it on to others who are concerned about the lack of a statewide source of genuine fair and balanced news -- not just the Fox News version that the Journal currently offers. While you're over there, be sure to check out previous posts that point out the Journal's shortfalls and biases, as well as some of its positive contributions by various reporters.
What Should We Do?
There's lots of discussion in political circles right now about the best way to protest the Journal's sharp and transparent shift to the right in both local and national news coverage. Many folks have already cancelled their subscriptions, others are discussing a possible organized effort to get people to unsubscribe and boycott Journal advertisers en masse and others, at the very least, believe we should be complaining loudly to the Journal every time its right-wing bias is detected in its news coverage, and demanding changes. What do you think?
You can check out a few of my previous posts about the Journal's unprecedented bias in this year's election coverage here, here and here.
November 8, 2010 at 02:44 PM in 2010 General Election, 2010 NM Governor's Race, Diane Denish, Journalism, Media, Right Wing, Susana Martinez | Permalink | Comments (8)
Tuesday, November 02, 2010
Text and Video of Diane Denish Concession Speech
The following are Diane Denish's remarks from earlier this evening, when she gave her concession speech at Hotel Andaluz to so many hard-working Democrats. Click for a video of her speech.
How about Brian Colon? I couldn't have asked for a better running mate. He was a great infusion of energy on the campaign trail and he truly cares about the people of New Mexico. He has a great future ahead of him!
I want to thank my family for standing with me and allowing me to fight this fight.
I want to thank Ted F. Martinez, my dear friend who had double bypass surgery just a few weeks ago and came back to the campaign trail – I could not ever ask for a truer friend and confidant.
And finally, I want to thank everyone out there who supported me, helped us and fought so hard these past few months. Your hard work carried and inspired me.
I am honored to have served the people of our great state these last eight years. I am proud of our achievements, but also humbled by your faith and trust in me.
Win or lose, I would not be here without you. Herb and I are eternally grateful to each and everyone one of you in this room and those watching at home for your support and encouragement during this campaign.
Together we did all that we could do to win this race.
We have come up short but I hold my head high, and you should too. The voters, here and across the country, responding to economic and political forces have chosen a different direction.
I truly believe we would have been the more effective change agent, but as sometimes happens in politics the other side came out on top.
Susana Martinez and I have not yet spoken, but I congratulate you on your victory. You will be our next governor and I wish New Mexico well.
To the Democratic members of the Legislature both house and senate, thank you for your support in this election, and for your service to our state. I ask you, my fellow Democrats, to work with the new governor and your Republican colleagues.
It will be hard work, it will require a willingness to compromise on both sides of the aisle, and most of all it will demand civility and respect. The people of New Mexico deserve that.
This has been a hard-fought election but starting tonight the rancor must end as we pull together for the good of the state.
I will do what I can over the next sixty days to ensure a smooth transition.
I am proud to be a Democrat because I believe government can and must be a force for good.
I will never back down from that belief.
We are in an era of great cynicism. Sound bites and catch phrases without a whole lot of substance behind any of it.
The competition of ideas has lost out to the competition of gotcha.
We are all – me included – guilty of playing along with it.
I just hope in the future we can break the cycle of attack-driven politics – and have real conversations about what's important – jobs, economic security, clean air and water, making sure kids have health care and a good education.
Tomorrow is a new day. New Mexico faces tremendous challenges and there is much work to be done. On January 1st I will again be a private citizen. But rest assured that I will be here with you to resolve the enormous challenges we face in this state that we love so much.
November 2, 2010 at 10:42 PM in 2010 General Election, 2010 NM Governor's Race, Diane Denish | Permalink | Comments (5)
Projections: Dems Heinrich, Lujan, Ray Powell Winning; Repubs Martinez, Pearce, Duran Winning
I hate to say it but I've been listening to KANW radio tonight with Joe Monahan, John Wertheim and others and their coverage has been the most helpful in my opinion. They get people reporting in about key precincts and are way ahead of the Secretary of State and County websites, as well as TV and other media.
These are all projections but seem to be based on strong data.
Projected winners at about 9:30 PM:
Republican Susana Martinez wins as governor over Dem Diane Denish.
Republican Dianna Duran beats Dem Mary Herrera as Secretary of State.
GOP's Steve Pearce beats Dem Harry Teague.
Looks like Dem Martin Heinrich beats Jon Barela in tight race based on Barela not getting high enough numbers in R areas (!!)
Word is Rep. Ben Ray Lujan beat Republican "greenhouse gases are good" Tom Mullins.
Looks like Dem Ray Powell will beat "Christian Nation" Matt Rush in Land Commissioner race.
Looks like Dem AG Gary King will beat Repub Matt Chandler, but closer than predicted.
Appears Dem Ben Rodefer is losing to Exxon-BP Republican David Doyle.
November 2, 2010 at 09:37 PM in 2010 NM Governor's Race | Permalink | Comments (2)
Monday, November 01, 2010
Spirits Are High on Election Day Minus One at Denish-Colón Campaign HQ

Click for photo album
New Mexico's Democratic candidates for governor, Diane Denish, and lieutenant governor, Brian Colón, were at the busy Vote New Mexico office on San Mateo in Albuquerque around Noon today (photos above) to give a shout out to volunteers for their hard work, and rally voters. Spirits are high and internal polling shows this is a neck and neck horse race that will go down to the wire. The determining factor? Say it with me: DEMOCRATIC TURNOUT! GOTV!
State Senator Jerry Ortiz y Pino joined Diane and Brian at the rally, urged folks to vote for Denish-Colon and Rep. Martin Heinrich and had this to say about the election and the lies spread by Republicans:
Tonight at 6:00 PM, President Barack Obama will join Diane Denish and Senator Jeff Bingaman for a tele-town hall with New Mexico voters. The tele-town hall will target more than 100,000 Democrats, who will be called and given an opportunity to join and hear from the President.

Diane talking about what's at stake

Brian talks about importance of election and thanks DFNM
The Denish campaign needs our help from now until the polls close tomorrow at 7:00 PM. Contact your nearest campaign office.
November 1, 2010 at 04:01 PM in 2010 General Election, 2010 NM Governor's Race, Brian Colon, Diane Denish, Jerry Ortiz y Pino | Permalink | Comments (0)
Sunday, October 31, 2010
NM Democrats Beating Republicans in Early Voting by 8000+ Votes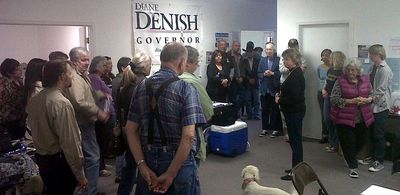 If you read or listen to the spinners of the pro-right-wing consortium that consists of the Albuquerque Journal-Brian Sanderoff-Joe Monahan-KKOB radio-Jim Villanucci-KOAT-TV (oh hell, lump in the rest of the TV "news" outfits) and others, you know that it's been proclaimed from on high, er low, that this election is a done deal. It's over even before election day has arrived. Right-Winger Message to Democrats: Don't even bother to vote on Tuesday.
It's a civic-minded bunch, isn't it? Having failed to do their duty in exposing the outright lies in so many GOP campaign ads, fully reporting the huge money flow to right-wing candidates, attending Dem candidate press conferences, asking why Susana Martinez refuses to be interviewed in the last weeks before the election or providing what used to be known as fair journalistic oversight of the campaigns, this bunch now appears to be on a coordinated campaign to hold down the turnout of Democrats.
We've all heard ad nauseum about the so-called "enthusiasm gap" of Democrats, and witnessed the dedicating slant feeding that myth and trying to make it a reality. Today there was even a headline on a Journal article by the always obedient "reporter" Sean Olson blaring that "Voters Face Long Ballot on Tuesday," even though the article itself only touches on that at the end. Hey potential voters -- don't bother because even the ballot, you know, is a bummer.
Dems Lead in Early Voting
I could go on down the twisting and turning path of collusion and slant provided by the main media machine in New Mexico, but let's just focus on one aspect of the spin for now: early voting turnout.
Here are the facts:
8,000 more Democrats than Republicans have voted early, according to the most recent data provided by the Secretary of State. This data does not include Early Voting that took place on Saturday, traditionally the busiest Early Voting day of the cycle, which is expected to increase the Democrats' early vote margin considerably.
Democrats also have a lead among "infrequent voters" -- those who typically don't vote in non-presidential year elections -- a group that most experts consider a key turn-out target in order to win in 2010.
Early vote and absentee data from New Mexico show that Democrats in the state are outperforming Democrats in other states with competitive Governor races, such as Florida and Colorado. [Denver Post, 10/30/10; Palm Beach Post, 10/29/10]
And internal polling from just a week ago showed a much closer governor race -- 45-46 -- among likely voters. The internal polling in other campaigns also shows tight races, not romps.
As Denish campaign manager Chris Cervini explains:
Actual votes matter a lot more than polls, and there's a reason that more Democrats than Republicans have already cast their ballots in this race. Democrats have a candidate who is a fighter for our families, while the Republicans are stuck with a nominee who sides with the powerful interests every time. Tuesday is the only poll that matters and we remain confident New Mexicans will vote for the candidate whose focus is on creating jobs, protecting public education, taking on predatory lenders, and making sure the wealthy out-of-state corporations pay their fair share. That's Diane Denish.
DPNM Chairman Javier Gonzales adds:
Polls will go up and down, but at the end of the day, the only numbers that matter are at the ballot box -- and that's where Democrats hold an unquestionable advantage going into Election Day. Democrats are energized, excited and getting to the polls in big numbers to support Diane Denish and their other Democratic candidates across New Mexico. That's exactly what we expect to see on Election Day, which is the only poll that truly matters.
The Democratic message to Democratic voters? Keep on keepin' on! If you didn't vote early, be sure to vote on November 2nd between 7:00 AM and 7:00 PM (find your polling place here). If you still have an absentee ballot, complete and hand deliver it to your county clerk or to your precinct by 7:00 PM on November 2nd.
Volunteer for Get Out the Vote (GOTV) efforts with Dem candidates, the party and OFA today through the end of election day on Tuesday, when the polls close at 7:00 PM. Urge your friends, neighbors and family members to vote and vote straight ticket Democrat.
October 31, 2010 at 12:44 PM in 2010 General Election, 2010 NM Governor's Race, Diane Denish, Media, Polling, Right Wing | Permalink | Comments (15)
Right Wing Horror Show: Susana Martinez, Steve Pearce, Jon Barela, Tom Mullins AND Karl Rove
See greedy, anti-working family monsters Steve Pearce, Jon Barela, Susana Martinez, Tom Mullins and Karl Rove mash it up as only teabaggers can. Kinky little buggers. Don't let them trick er treat at your house -- they have only monstrous tricks (and lies) up their sleeves ...
October 31, 2010 at 03:02 AM in 2010 General Election, 2010 NM Governor's Race, Jon Barela, NM-01 Congressional Race 2010, NM-02 Congressional Race 2010, NM-03 Congressional Race 2010, Republican Party, Steve Pearce, Susana Martinez | Permalink | Comments (1)
Photos and Videos: Labor 2010 GOTV Rally in Albuquerque

Click for photo album
Check out photos (above) and video clips (below) of some of the speeches from Saturday's high-energy Labor 2010 GOTV BBQ and Rally in Albuquerque. Besides lots of hard-working labor folks and other Dems, candidates from up and down the ticket attended to thank folks for all their hard work on the campaigns. These strong supporters of working families and economic justice urged everyone to keep on working from now right through Tuesday, when the polls close at 7:00 PM.
Senator Jeff Bingaman, Senator Tom Udall, governor candidate Diane Denish, lieutenant governor candidate Brian Colón, Rep. Martin Heinrich, State Auditor Hector Balderas, State Treasurer James L. Lewis, Secretary of State Mary Herrera, land commissioner candidate Ray Powell, Rep. Moe Maestas, Rep. Al Park, Rep. Eleanor Chavez, Rep. Ben Rodefer, Rep. Karen Giannini, Rep. Jack Thomas, New Mexico House candidate Alex Russell, City Councilor Ike Benton, Bernalillo County Sheriff Manny Gonzales, Appeals Court Judge Robert Robles and Metro Court Judge Christina Argyres were all on hand to share one main message:
If Democrats vote, Democrats win!
Also in attendance was Republican and former Governor Dave Cargo -- who has strongly endorsed the Diane Denish - Brian Colón ticket. As Cargo has said, the Republican Party of today isn't his Republican Party. And he's backing Democrat Denish over extreme right-wing Republican Susana Martinez. Good decision!
Regardless of what the pundits or the polls may say, the only real poll is on Election Day, when voter turnout is what matters. Democrats outnumber Republicans in the state by a healthy margin and if our voters turn out in good numbers, we will win -- no doubt about it. So get your body down to a campaign office, the Dem Party or OFA tomorrow, Monday and all day on Election Day if possible. There's so much at stake and unity and action are the keys to victory! Yes, we can! Si, se puede!
All photos and videos by M.E. Broderick.
October 31, 2010 at 12:17 AM in 2010 General Election, 2010 NM Governor's Race, 2010 NM Legislature Races, Brian Colon, Diane Denish | Permalink | Comments (0)
Friday, October 29, 2010
President Obama Records Early-Vote Robo-Call for Diane Denish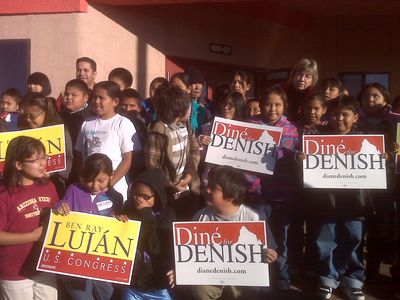 Young Navajo Nation supporters of Denish at event yesterday
Telling New Mexico voters to "support Diane Denish and vote early," President Obama recorded a robo call for Denish that will go out to voters this afternoon. Click for an an mp3 of the call.
"Two years ago you stood with me to vote and move our country in a new direction. Now, I'm asking you to stand with me again and pledge your support for Diane Denish for Governor by voting early," President Obama says on the call. "I hope you'll join me and support Diane Denish for Governor by voting early. Thank you."
The call is going out to nearly 150,000 infrequent Democratic voters and new Democratic voters from 2008.
To see our previous posts on the 2010 governor race, visit our archive.
October 29, 2010 at 01:36 PM in 2010 General Election, 2010 NM Governor's Race, Diane Denish, Obama Administration | Permalink | Comments (2)
Thursday, October 28, 2010
Fright Fest: Susana Martinez Hiding Out From Newspapers, TV Reporters, Business Leaders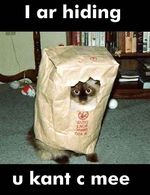 We all know Democratic President Franklin Delano Roosevelt's famous line, "The only thing we have to fear is, fear itself." Susana Martinez, the GOP candidate for New Mexico governor, apparently lives by a slightly different motto: "The only thing I have to fear is, transparency itself." What is she hiding?
Although Martinez likes to describe herself as a champion of open and transparent government, her recent actions tell another story. In the run-up to election day, Martinez has been sticking to scripted events -- or none at all -- and has been avoiding encounters with the press and others like she'll catch the plague if she has to answer any question about her positions. It's been a regular right-wing fright fest on the part of Susana -- or maybe she just has a thing about Halloween. 
First off, over the past few weeks, Martinez has refused to take part in newspaper editorial board interviews with both the Weekly Alibi and Santa Fe Reporter.
After Susana blew them off, the Santa Fe Reporter said, "Susana Martinez is the first gubernatorial candidate in this newspaper's history who declined to come in for an endorsement interview. So even if her ideas trounced Denish's, we'd be hard-pressed to endorse her. Why? Because the strongest tools against corruption, waste and bad policy are transparency and accessibility. Denish has a strong track record in these areas." The Reporter endorsed Denish.
After Susana dodged them, the Weekly Alibi wrote, "Susana Martinez was unable to come in for an endorsement interview, because, her people said, she was too busy. We called every day for weeks. She is the only candidate who couldn't participate in the Alibi's Election Guide. ... Answering a few of our questions would allow Martinez to communicate her ideas with our 165,200 readers. A candidate who doesn't make time to help voters understand her platform simply has no business in politics." The Alibi endorsed Denish.
The Denish Campaign also recently learned that Martinez ignored repeated attempts by public-broadcasting news organizations to interview her. These include KNME and Report from Santa Fe. And just today, the campaign got word that Martinez skipped out on a scheduled meeting this morning with the Greater Albuquerque Chamber of Commerce -- sending lieutenant governor candidate John Sanchez instead.
"Apparently Susana Martinez and her handlers don't have anything to say about the important issues facing New Mexico families," said Denish spokesman Chris Cervini. "New Mexicans should start to wonder what Martinez will do if elected. It is clear her sound bites and platitudes are masking an agenda that's dangerous for New Mexico's families, including siding with powerful corporations at the expense of New Mexicans."
October 28, 2010 at 01:19 PM in 2010 NM Governor's Race, Diane Denish, Media, Susana Martinez | Permalink | Comments (8)