« NM Seniors and Retirees Laud Defeat of Social Security Cuts (At Least For Now) | Main | Vote on Statewide NM Carbon Reduction Proposal Expected on Monday 12/6 »
Friday, December 03, 2010
Rep. Martin Heinrich Pushes for New START Treaty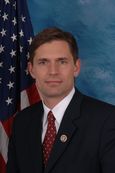 In a letter to U.S. Senators Mitch McConnell and Jon Kyl, U.S. Rep. Martin Heinrich (NM-01) voiced his strong support for the New Strategic Arms Reduction Treaty (New START) and urged the Senators to support its ratification in the closing weeks of the 111th Congress. Among the reasons Rep. Heinrich outlines in the letter for swift ratification is the importance of the New START to the future funding of our national laboratories.
Rep. Heinrich states in the letter (pdf):
"As a Member of Congress representing New Mexico on the House Armed Services Committee, I fully appreciate your concerns regarding the modernization of our national laboratories, and I strongly support your efforts to ensure their long-term viability.

"Our national laboratories employ some of the best and brightest minds in the country and their mission is essential to the credibility of our nation's deterrent. That is why I was encouraged by the Obama Administration's promise to increase funding for the labs by $10 billion over the next decade.
"Moreover, the recent pledge of an additional $4 billion guarantees that our laboratories will have the tools necessary to ensure that our nuclear weapons are safe, secure, and reliable for years to come. Our nation's three lab directors— George Miller of the Lawrence Livermore National Laboratory; Michael Anastasio of the Los Alamos National Laboratory; and Paul Hommert of Sandia National Laboratories— even offered their assurances that the funding "sustains the science, technology and engineering base." If New START is not ratified, I fear these future investments could be lost."
Background: The New Strategic Arms Reduction Treaty, or New START, would cut the limits on strategic warheads to 1,550 for the United States and Russia from the current ceiling of 2,200. The pact also would establish new procedures to allow both countries to inspect each other's nuclear arsenals to verify compliance. New START needs 67 votes for ratification by the United States Senate.
Click for key facts about the New START Treaty.
December 3, 2010 at 04:41 PM in National Security, Nuclear Arms, Power, Rep. Martin Heinrich (NM-01) | Permalink
Comments