« Poll: Rural New Mexicans Strongly Support Environmental Protections | Main | Rep. Martin Heinrich's TRICARE and Microgrid Bills Included in Final Defense Authorization Act »
Wednesday, December 22, 2010
Former Lt. Dan Choi Gets His West Point Ring Back from Sen. Harry Reid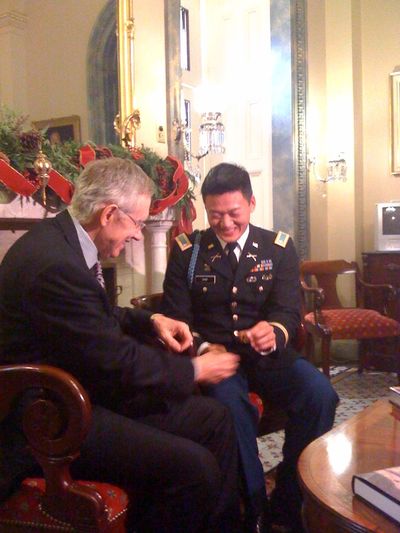 Lt. Dan Choi gets West Point ring back from Sen. Reid today
One of the names President Obama didn't mention at today's historic signing of the Don't Ask Don't Tell repeal bill was that of former Lt. Dan Choi, who was discharged from the service when he publicly revealed he was gay on the Rachel Maddow Show in March of 2009. Lt. Choi was instrumental in getting the powers to be to act on the repeal, making the political very personal and applying unrelenting pressure on the president and the Congress to do it now, not later. With his brave, passionate, articulate and demanding presence, he became one of the very public faces of DADT discrimination, inspiring others to reveal themselves as gay or lesbians soldiers and vets in the public eye. Of course his work was a part of an effort by hundreds of thousands of activists -- like those featured at a recent " Healing the Damages" DADT panel discussion in Albuquerque -- but I think Choi deserves some special recognition.
When Choi felt the movement for DADT repeal was double crossed by the long-running inaction of Obama and Congress, he said so in no uncertain terms. He frequently appeared on TV, traveled around the country pushing for change, helped rally others punished by a policy that requires gay and lesbian service members to lie about who they are and even chained himself to the White House gates with other gay and lesbian service members several times, getting arrested in the process. Just recently, after the DADT repeal was defeated in the Senate as part of the defense spending bill obstructed by Republicans, Choi was hospitalized briefly for a "mental breakdown" at a VA Hospital -- worn down, agitated and depressed by the frustrating process of trying to help right a long-standing wrong by putting his own career and even his health and life on the line.
Back in July, at the Netroots Nation convention, Choi gave Senate Majority Leader Harry Reid his West Point graduation ring and his discharge papers, pushing Reid to follow through on his pledge to repeal DADT. He said he'd take back his ring and papers if and when Reid successfully secured the repeal.
Time has come today. Hours after President Obama signed the DADT repeal, Sen. Reid returned the ring to Lt. Choi in his Senate office (see photo at top). Well done! The video above shows Sen. Reid getting Choi's ring this summer, and returning it to Choi today, mission accomplished. The circle is closed.
Moving on to Full Equality
Meanwhile, Choi had this to say about the bill's passage, and the still unfinished business of LGBT citizens being granted their full legal rights in the US -- including full marriage equality -- just like everybody else. It's an incredible accomplishment to get DADT repealed, and that victory will help immensely in the continuing movement to gain full legal rights under civil law for LGBT citizens and couples. However, until there is true marriage equality at the federal level and in every state, we will still be second class citizens in the eyes of the law.
On that point, President Obama gave a lot of couples -- like Mary Ellen and I -- a glimmer of hope that he will be doing more to get it done, despite the challenges of a Republican-dominated House for the next two years. In an interview yesterday with The Advocate, President Obama talked about the DADT repeal and other topics including the so-called Defense of Marriage Act (DOMA):
On the question of marriage equality, the president said his "attitudes are evolving."

"Like a lot of people, I'm wrestling with this," he said. "I've wrestled with the fact that marriage traditionally has had a different connotation. But I also have a lot of very close friends who are married gay or lesbian couples."

The president also signaled that he and his lawyers are reviewing "a range of options" when it comes to the administration's responsibility to defend the Defense of Marriage Act in the courts, especially since repealing it over the next two years will be a nonstarter with a Republican-controlled House of Representatives.

"I have a whole bunch of really smart lawyers who are looking at a whole range of options. My preference wherever possible is to get things done legislatively," Obama said, drawing a comparison with repealing "don't ask, don't tell."

"That may not be possible in DOMA's case," he added. "That's something that I think we have to strategize on over the next several months."
More Thank Yous
There are, of course, many people to thank for our victory today -- including New Mexico's Senators and House members, ALL of whom supported the repeal. However, I wanted to give a shout out to one legislator in particular -- Rep. Patrick Murphy (D-PA). A straight-as-an-arrow Iraq War veteran, Rep. Murphy -- who represents a fairly conservative blue-collar district -- was a tireless and very public supporter of DADT repeal in the Congress, and sponsored the final DADT repeal bill.
Unfortunately, Rep. Murphy was defeated in this year's midterm election, with his support for the repeal being one of the factors that figured into his loss. I'm especially proud of Rep. Murphy and very appreciative of his doing what is right, even though it may well have helped to cost him his job. More of this, please, in Congress and the White House.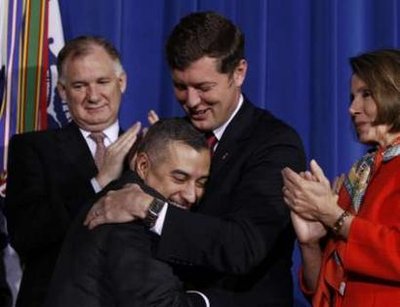 Rep. Patrick Murphy hugs former USMC Staff Sgt. Eric Alva, who was discharged under DADA, at today's signing ceremony
As Speaker of the House Nancy Pelosi said when the stand-alone bill was signed in the House yesterday:
"We are very, very proud of a person who served our country on the battlefield and served our country in the Congress, the author of the repeal of 'Don't Ask, Don't Tell' in the House, [Rep.] Patrick Murphy [(D-Pa.)]."

The mention was the first of three standing ovations for the lawmaker, who led the charge for repeal in the House.
Consider this another standing O for the departing Rep. Patrick Murphy -- and for everyone who worked tirelessly for this long sought repeal.
December 22, 2010 at 06:03 PM in Civil Liberties, GLBT Rights, Military Affairs, NM Congressional Delegation, Obama Administration | Permalink
Comments