« 12/18: Join In Dem Party Service Project at Barrett House | Main | Amy Dean Guest Blog: Tax Cuts Create Jobs? Prove It »
Friday, December 17, 2010
Gov. Bill Richardson Asks for Imput on Billy the Kid Pardon Petition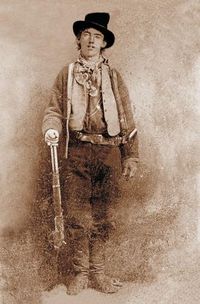 Yesterday, Governor Bill Richardson announced his office has received a formal petition for the pardon of Billy the Kid which he will consider and make a decision on before the end of the year. Governor Richardson is seeking input on the petition and has set up a website and email address where history buffs, experts, other interested parties and the general public can weigh in on its merits (see below).
According to a statement released by the governor's office, the petition centers around the widespread belief that Territorial Governor Lew Wallace promised Billy the Kid a pardon in return for damning testimony The Kid gave during a murder trial. The petition is narrow in scope and does not argue for a blanket pardon of all of Billy the Kid's activities. The petition can be read by logging onto this page.
"As someone who is fascinated with New Mexico's rich history, I've always been intrigued by the story of Billy the Kid and, in particular, the alleged promise of a pardon he was given by Territorial Governor Lew Wallace," Governor Richardson said in a written statement. "I will diligently review this new petition and all the facts available regarding an agreement between Billy the Kid and Governor Wallace before rendering any decision."
Governor Richardson has heard from many people over the years who believe the pardon issue deserves to be revisited. In an effort to clarify the issue, the administration has been reviewing the historical record surrounding these events through various documents, accounts, personal interviews and other materials.
Independently, nationally prominent trial attorney Randi McGinn was designated to review both the history and prior petitions to ascertain whether there was sufficient basis for the matter to be seriously considered. Ms. McGinn, a New Mexico resident and western history enthusiast, agreed to undertake this voluntarily and at no cost to taxpayers. After concluding her review, Ms. McGinn submitted a formal petition on December 14, 2010.
Governor Richardson will be accepting written comments regarding the pardon petition until December 26th. You are asked to limit comments to the contents, events and pleas contained in the petition. Those interested can log onto http://www.governor.state.nm.us/btk.php, email btk.comments@state.nm.us. or mail their comments to:
Office of the Governor
State Capitol
490 Old Santa Fe Trail
Santa Fe, NM 87501

ATTN: Eric Witt-BTK
"I look forward to hearing what others have to say about the petition. I also hope that this will spark renewed interest in New Mexico's history and how the days of Billy the Kid and the Lincoln County War helped shape our state," Governor Richardson added.
December 17, 2010 at 11:36 AM in Crime, Gov. Bill Richardson, History, Justice, Legal Issues | Permalink
Comments
What a dog and pony show this is--especially considering the Governor's office will not allow journalists to inspect all the other (real) applications for executive clemency.
Posted by: Pds | Dec 17, 2010 8:40:21 PM
I understand that Billy the kid was responsible for mulitible murders in his short violent life,
I wonder what hardships he created for the families of the people he murdered.
A murderer should never receive a pardon, this person was A SERIAL KILLER.
A pardon please enough of this nonsense.
Posted by: Bernie Reynolds | Dec 18, 2010 1:39:09 PM
The real murderers were the two faced cattle barons behind all the mayhem. Bill the Kid was just a pawn and then the governor went back on a promise.
Posted by: Chas. | Dec 18, 2010 3:39:19 PM
It has been said,I repeat,a serial killer does not deserve a pardon. The irony of it all is that a liar/thief/cheat contemplates the pardon of a killer...only in NM politics. I am proud of being a New Mexican (born and raised) but ashamed to see how state politics is so twisted and convoluted for the purpose of personal gain.
Posted by: RR Griego | Dec 19, 2010 7:53:55 PM
I find it interesting that people are commenting who know nothing of the history of this case. Billy the Kid was just a pawn used by the rich mercantile and cattle barons and then double crossed. Similar to today the rich interests got off the hook and the Kid was scapegoated.
Posted by: GMorris | Dec 20, 2010 10:47:33 AM
Don't feel that Billy the Kid was a serial killer rather one trying to exist in a somewhat lawless environment. He did testify for the Governor.
Posted by: BRobertson | Dec 25, 2010 7:30:06 AM