« 12/8: Sierra Club and Beer Mixer at O'Niell's Pub in Albuquerque | Main | (Updated) Will U.S. House Dems Stop Obama's Backroom Deal on Taxes? »
Monday, December 06, 2010
12/14: Join Brian Colon and Family for a Gratitude Reception and Annual Toy Drive
From Brian Colon: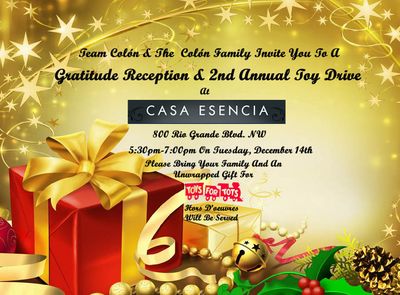 Click image for larger version
Dear Friends, Happy Holidays! I hope this message finds you well.
I am back at work practicing law with Robles, Rael, & Anaya, PC. Thank you for your support this past year. As a token of gratitude, I hope you can join us for this holiday reception at 5:30 PM on Tuesday, December 14th at Casa Esencia.
Please RSVP at brian@roblesrael.com and let me know if you can join us. I look forward to seeing you again soon.
With gratitude, Brian
Reception Menu
Rosemary and Sage Rubbed Turkey served with a Cranberry and Pecan Relish
Pear and Brie Wrapped in Phyllo
Imported and Domestic Cheese Display
Assorted Holiday Cookies
Hot Apple Cider
December 6, 2010 at 10:09 AM in 2010 NM Governor's Race, 2010 NM Lt. Governor Race, Brian Colon, Events | Permalink
Comments
We've contacted Chris for details.
Posted by: Davetta Wells | Dec 14, 2010 9:55:28 AM