« USDA Awards Funds to Close the Gap in Rural Food Distribution in New Mexico | Main | Santa Fe Sheriff Greg Solano Resigns Saying He Sold Old Department Vests and Kept Funds »
Tuesday, November 23, 2010
Guest Blog by Senator Michael Sanchez: We Are Democrats!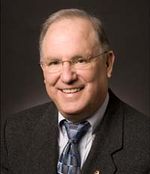 This is a guest blog by Senator Michael S. Sanchez, who serves as the Democratic majority floor leader in the New Mexico Legislature.
Now that the recent election is over, here are some thoughts that I hope will help us remember who we are.
There are times when a challenging situation brings an opportunity to reflect, regroup and remember our most important values. Democrats have that opportunity following the results of the November elections. In New Mexico and throughout the country, Democrats suffered losses at the congressional, executive, legislative, and local levels for a variety of reasons. Anti-incumbency sentiment, economic climate, and negative campaigns were all factors in the losses.
While it is important to examine the mistakes or miscalculations that were made during the campaigns and learn from them, there is a temptation to play the "coulda, shoulda, woulda" game for too long. But continuing to look in the rear-view mirror does not get us where we want to go. We need to take stock of who we are and why we are Democrats.
As Democrats, we value justice, equal opportunity, smart stewardship of our national resources, safe neighborhoods, quality education, and fiscal responsibility. We cherish our due process rights and understand the importance of the separation between church and state, as our forefathers intended. Contrary to the negative attacks against us, we are religious, yet we do not force our beliefs on others. We are proud of who we are and what we represent.
Democrats believe that all people should be treated with respect and dignity, regardless of race, religion, gender, or sexual orientation. Our support for families extends from the youngest to the oldest members. We represent the working class -- the backbone of our society -- while recognizing responsible business partners who understand the value of their employees. We give a voice to those who have none in the boardroom, but are affected by the corporate bottom line. We fight for those who cannot speak on their own behalf. Democrats take care of those who are less fortunate and need protection, whether they are eligible to vote or not.
In the sixties, we marched for civil rights legislation. More recently, we joined together to support the notion that health care should be available to all Americans, and not just those lucky enough to afford it. Democrats stand on the shoulders of such giants as John F. Kennedy, Eleanor Roosevelt, Cesar Chavez, Martin Luther King, Jr., Rosa Parks, and Dennis Chavez, to name just a few. Our position on the issues is based on doing what we believe is right, not what is politically expedient.
During the past several years, Democrats in the state legislature have sponsored and passed several important measures that help everyday New Mexicans. We fought for and won an increase in the minimum wage and unemployment compensation benefits. Our commitment to equal pay regardless of gender led to the passage of the equal rights amendment. We have provided stricter regulation of predatory lending practices. We have witnessed the greatest increase in childhood immunization rates. We have become a national model for veterans' affairs, particularly for our combat troops. These measures are only a few of the successes Democrats have ushered into our world.
In the aftermath of the election, it may be difficult to move forward. However, Democrats can learn from our mistakes and be proud of the many positive things we have accomplished and stand for without backing away from our principles. We must never shy away from those principles that have benefited so many across our state. Although New Mexicans will have fewer elected Democrats to represent them, it will not lessen our resolve. We have not come this far to stop now. We will move forward with an agenda representative of the values that form the basis of our state. We must take advantage of this opportunity and emerge even stronger. We are Democrats!
This is a guest blog by Senator Michael S. Sanchez. If you'd like to submit a piece for consideration as a guest blog, contact me by clicking on the Email Me link at the upper left-hand corner of the page. To see a collection of guest blogs, visit our archive.
November 23, 2010 at 01:32 PM in 2010 General Election, Democratic Party, Guest Blogger, NM Legislature 2011 | Permalink
Comments
Pure, simple, and true. Thank you Senator Sanchez!
Posted by: .Jessica. | Nov 23, 2010 3:55:51 PM
Excellent peice Senator Sanchez!
That is what I believe in.
Thank you
Posted by: Mary Ellen | Nov 23, 2010 4:04:33 PM
Heck yeah!
Posted by: vieja | Nov 24, 2010 7:14:53 AM
I agree with the Senator. We must go foward and we must not let the right define who we are as democrats. I am a democrat I believe in all the things that democrats stand for. I support a woman's right to choose, equal pay. The right to choose a religion or not.The right to form a Union for the protection of workers. A "free" public education for all. Affordable health care.I support the first amendment. I support Domestic Partnership and a step further the right to marry anybody you want to. Whether or not we are religious, democrat in my opinion treat people as Jesus expected us to. We try to uplift the poor and downtrodden. We will continue to do those things whether we have a majority or not. I would like to challenge democrat to take a pledge to say they are democrats and that they support those things that are dear to us as democrats. And thank you again Senator Sanchez well said.
Posted by: Stephanie DuBois | Nov 24, 2010 9:11:54 AM
Say it loud and proud Senator!
Posted by: Louis | Nov 24, 2010 1:59:37 PM
Thank you Senator, I am glad someone is putting out a solid message. And thank you Stephanie DuBoise. I am proud to call myself a Democrat and stand along side leaders like the two of you.
Posted by: MMares | Nov 24, 2010 4:18:03 PM
Barb, with the Senators permission of course. This should be on facebook and read at our SCC meeting in the spring. Great comments as well. We may be down in some peoples opinion but don't count us out
Posted by: Stephanie DuBois | Nov 25, 2010 9:45:18 AM