« Democrats Lose in Southern New Mexico But Dominate Doña Ana County Stronghold | Main | Hate Email Typifies Approach of Right Wing "Movement" »
Wednesday, November 03, 2010
Bravo Team Heinrich! Martin Beats Back Barela Challenge 52-48%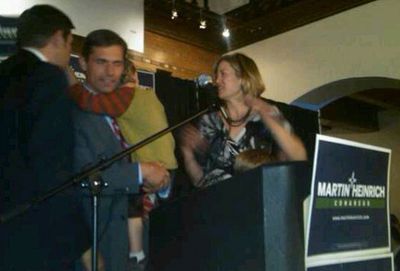 Democratic incumbent Rep. Martin Heinrich beat back a tough challenge by Republican Jon Barela, grabbing the majority of votes on election day after the two essentially split the early/absentee votes in NM-01 (Heinrich led by about 1,000). The unofficial totals according to the New Mexico Secretary of State show a Heinrich victory by 6,839 votes:
Martin Heinrich, Democrat: 110,046 votes, 51.6%
Jon Barela, Republican: 103,207 votes, 48.4%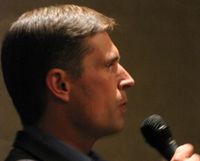 In Bernalillo County, Heinrich garnered 99,487 votes, or 52.4%, to Barela's 90,353 or 47.6%. Heinrich also edged out Barela in Sandoval County, with 4340 votes, or 51.0% to Barela's 4174, or 49.0%. In Valencia County, Martin got 3310 votes, or 47.2%, to Barela's 3706 votes, or 52.8% Barela captured 1543 votes, or 67.0%, in Santa Fe County to Martin's 761, or 33.0%, and won the portion of NM-01 in Torrance County, getting 3431 votes, or 61.5% to Heinrich's 2148 votes, or 38.5%, but it wasn't enough to overcome the margin Martin built up in the other two counties.
Rep. Heinrich made history in 2008 when he became the first Democrat elected to Congress in New Mexico's first congressional district by beating Republican Darren White by a margin of 55.5% to 44.5%. Bucking a national trend towards Republicans this year, he made history again by becoming the first Democrat to be re-elected in NM-01.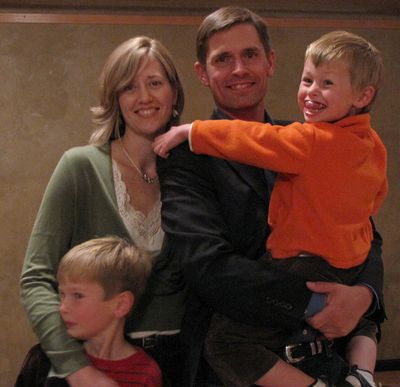 The Courage of Our Convictions
Rep. Heinrich mounted the stage at Hotel Andaluz to chants of "Martin, Martin, Martin!" at about 11:45 PM last night, after Barela called him to concede (click to see a video of his speech). Heinrich had high praise for both his campaign team, who did everything right, and his congressional staffers in Albuquerque and Washington, who provide top-notch constituent services. He also thanked his family for the sacrifices they made as he flew back and forth to Washington over the past two years. Rep. Heinrich thanked his Jon Barela for his "spirited camapaign and his willingness to serve."
Rep. Heinrich noted that "a great campaign team doesn't get your there if the volunteers never show up, if the supporters don't help, and we had the most incredible army of folks knocking on doors and making phone calls -- hundreds of thousands of them."
Martin said another reason for the victory was that "we had the courage of our convictions. Unlike a lot of folks this year, I never shrank from the fact that I was proud I voted for health care reform in a country that needed it (huge cheers). And we will keep fighting to make New Mexico the clean energy jobs capitol of the world. I'm proud of the fact that we put mortgages here in Albuquerque and throughout New Mexico and people's homes ahead of the Wall Street CEOs at AIG and Goldman Sachs."
He extended his thanks to all of NM-01, saying, "I want to thank all of the people in this district, every single one of them -- the ones who were right there making sure we were re-elected tonight and the ones who disagree with me. Because I've learned so much from them traveling this district, sitting down with people one on one, and I am in their debt. This opportunity to serve again is something that means a great deal to me and I do not take it lightly."
Turning to the unfinished business at hand, Rep. Heinrich said, "Our nation has as many challenges today as it did yesterday, and it's time for us to roll up our sleeves, work with each other -- including across the aisle -- and get back to work on behalf of the people of this great state."
Heinrich Turns Back Last-Minute Barela Surge
Until the last weeks of the campaign, Rep. Heinrich had been sitting on at least a somewhat comfortable lead of a 6-7 points according to most polling. A visit by President Barack Obama to a residence in Albuquerque's South Valley at the end of September helped shore up support for Rep. Heinrich.
However, in the final weeks of the campaign, more than $3 million of outside money from the U.S. Chamber of Commerce and others poured into the district in support of Barela -- much of it funding dishonest attack ads. The struggling GOP candidate then started to pick up some momentum. Internal polling by the Heinrich campaign reportedly had him up by a couple points, while Barela claimed his internals had him up by a couple percentage points. The final Albuquerque Journal poll released this past Sunday claimed that Barela had moved ahead by two points.
A combination of Heinrich's solid debate performances, fact-checking analyses that revealed the dishonesty of several of Barela's attack ads and a stepped up, strategic savvy and a well-targeted and highly effective GOTV ground game made the difference. The Heinrich campaign's phone banking and canvassing operation was running on all cylinders all the way through election day, until the polls closed at 7:00 PM. In the end, the campaign's hard-working candidate and staff, along with a determined swarm of loyal volunteers, won the day.


50+ waiting vote at 6:50 PM last night, RFK in South Valley
To see our previous posts on this race, visit our archive.
November 3, 2010 at 03:35 PM in 2010 General Election, Jon Barela, NM-01 Congressional Race 2010, Rep. Martin Heinrich (NM-01) | Permalink
Comments
The Heinrich campaign team did a fantastic job of identifying the unique skills of staffers and volunteers alike, and they used them efficiently. When combined with OFA's GOTV savvy, the result was a brilliant win in an otherwise dreary day.
Posted by: Proud Democrat | Nov 5, 2010 12:51:12 PM