« 12/16: BernCo Dems Host Pasta and Politics at Nick's Crossroads | Main | Get On-The-Ground Updates by Laura Paskus from Cancun UN Climate Talks »
Sunday, November 28, 2010
Bill Richardson Again Mentioned as Candidate for Chairman of Motion Picture Association of America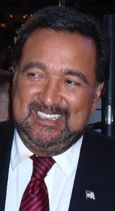 This weekend, an article in the New York Times reported that another round of interviews is underway in the search for a new Chairman of the Motion Picture Association of America, and that New Mexico Governor Bill Richardson is in the running:
According to a headhunter with knowledge of the search, but who asked for anonymity because the search is private, one candidate is Christopher J. Dodd, the powerful Democratic senator from Connecticut, who is retiring. Bill Richardson, the exiting governor of New Mexico, is also in the mix, this person said.
The paper also said Vickee Jordan Adams, a former executive at the communications firm Hill & Knowlton and daughter of Vernon Jordan, the senior adviser to former President Bill Clinton, was also being considered. However, nobody's commenting on the record:
Spokesmen for Senator Dodd and Governor Richardson did not return calls seeking comment. Efforts to reach Ms. Adams were unsuccessful. A spokesman for the Motion Picture Association declined to comment.
Back in February, Governor Richardson's name was also being mentioned by unnamed sources as a candidate for the job. At the time, Richardson spokesman Gilbert Gallegoes said, "The governor is not interested in this job and he is not interested in lobbying or returning to Washington."
This past summer, the search committee reportedly came close to hiring Bob Kerrey, former Nebraska Democratic senator and president of the New School. But "negotiations fell apart."
Today, a Politico article followed up on the rumors:
Retiring Connecticut Sen. Chris Dodd and outgoing New Mexico Gov. Bill Richardson are both in the running to become chairman of the Motion Picture Association of America, one of Washington's A-list lobbying gigs, according to a report in The New York Times.

Hollywood studio executives are considering Dodd and Richardson to act as Hollywood's top lobbyist in the nation's capital, a job that reportedly pays $1.2 million a year

For months, the names of both men have swirled in the trade press as a possible replacement for former Kansas Rep. Dan Glickman, who stepped down in September. In May, the Times even reported that Richardson wasn't interested in the job.
The article also noted that the gig isn't all fun and games:
The job would be a switch for both Dodd and Richardson. As high-profile public officials, the two often don't answer to anyone. But the MPAA chairman reports to the heads of the six leading movie studios: Sony Pictures Entertainment, Universal Studios, Warner Bros. Entertainment, The Walt Disney Studios Motion Pictures, Fox Filmed Entertainment, and Paramount Pictures. And it's a serious challenge to manage those competing agendas.

"The leader of the MPAA needs to have a fair amount of both sizzle and steak. Having one quality and not the other diminishes your effectiveness," Glickman told the Times.
Before Glickman was named to the post in 2004, former advisor to President Lyndon Johnson, Jack Valenti, held the position for four decades. A lot has changed since then, however, making the job harder to fill. As described in the New York Times article:
For starters, the job has become less fun. The association still holds screenings at its 80-person theater two blocks from the White House. But last year, the studios cut the group's budget by 20 percent, or about $20 million, making lavish events harder to pull off. Stricter lobbying rules also restrict grandiosity.

And when it comes to influence, Hollywood has also been surpassed by Silicon Valley. Given a choice between meeting George Clooney or Google's C.E.O., Eric Schmidt, the more coveted invitation for many Washington hands is the latter.

In Mr. Valenti's era, studios were stand-alone entities whose interests in Washington were in lock step over issues like movie standards. Mr. Valenti fought back state and local efforts to censor content, for example. The association gave Hollywood moguls a government stage but also kept Washington out of the movie business by starting and running the movie rating system, which it continues to do.

But today the association's six members — Paramount Pictures, Sony Pictures Entertainment, 20th Century Fox, Universal Pictures, Walt Disney Studios and Warner Brothers — are all embedded deep within global media conglomerates. All employ their own lobbyists and often have competing interests.
Sounds like we'll know pretty soon though:
One thing is clear, Mr. Glickman said: Pressure is building on the industry to make a hire. "In Washington, you can quickly get out of sight, out of mind," he said. "This is too important of a job not to get filled very soon."
Photo by M.E. Broderick.
November 28, 2010 at 06:16 PM in Film, Gov. Bill Richardson | Permalink
Comments