« Tonight 10/5: Join Rep. Ben Ray Luján at LWV Los Alamos Candidate Forum 7-9 PM | Main | 10/10: Join Brian Colón and Family for 7th Annual Balloon Fiesta Brunch »
Wednesday, October 06, 2010
Rep. Heinrich Endorsed By The Fraternal Order Of Police New Mexico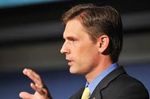 Today, the Fraternal Order of Police New Mexico (NM FOP), the largest law enforcement organization in the state, announced their endorsement of Martin Heinrich in the race for the First Congressional District of New Mexico seat. The NM FOP chose Heinrich over Republican Jon Barela.
In a letter of endorsement, NM FOP President Robert L. Martinez said, "The Fraternal Order of Police endorsed you because of your support of law enforcement officers and their families. You have a proven track record in your support and co-sponsorship of the major legislative initiatives of the FOP at the federal level. We are well aware of your voting on the programs to ensure collective bargaining, a bill of rights for police officers, and to safe guard the pensions and health benefits of law enforcement officers. We believe you have a proven track record as measured by your years of public service. We are also confident that you will continue to fight to protect the rights and benefits of law enforcement officers in the district, state and nation."
Martin said he was honored to earn the NM FOP's endorsement. "I am extremely honored to receive the support and endorsement of the New Mexico Fraternal Order of Police. Since taking office, I've consistently stood up on behalf those who protect our families and work hard to ensure that their concerns are heard in Washington."
The NM FOP joins the National Rifle Association Political Victory Fund this week in endorsing Martin Heinrich's reelection to Congress.
Click to check out the long list of individuals and organizations that have endorsed Rep. Heinrich in this race.
October 6, 2010 at 10:13 AM in Jon Barela, Law Enforcement, NM-01 Congressional Race 2010, Rep. Martin Heinrich (NM-01) | Permalink
Comments