« Jon Barela Accepts Campaign Cash From Anadarko of BP Oil Spill Fame and THE Citizens United | Main | 10/26: Reception for Secretary of State Mary Herrera at India Palace in Santa Fe »
Tuesday, October 26, 2010
Rep. Ben Ray Luján Guest Blog: Cut Through the Spin, Misconceptions and Half Truths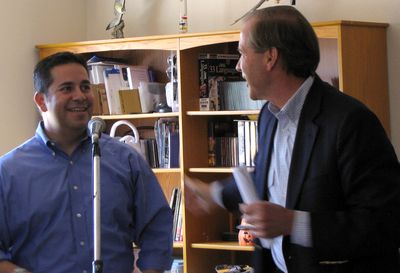 Rep. Lujan on campaign trail with Sen. Tom Udall
This is a guest blog by Rep. Ben Ray Luján, a Democrat who is running for a second term in New Mexico's Third Congressional District.
Today, we are a week away from Election Day, and we see that now -- more than ever -- we need to get ourselves, our friends and our family to the polls. This election is about a clear choice between the failed policies of the past and getting our country and economy back on track.
On Saturday, the Albuquerque Journal endorsed all Republican candidates for the House of Representatives. I'd like to take the opportunity to address some possible misconceptions that you may have heard.
First, I have worked to cut taxes for small businesses. In fact, there are sixteen different ones enacted over the last two years for small businesses alone. I worked to cut taxes for the middle class with the largest tax cut for working American families in our country's history. I fought for financial reform to make sure that big banks and predatory lenders can't take advantage of New Mexicans. And I fought for fiscal responsibility through the Pay As You Go (PAYGO) statute -- which says that when government spends a dollar somewhere, it should save a dollar somewhere else.
I opposed bailing out the big banks on the backs of the taxpayers. I voted against the re-authorization of the bailout (TARP) and made sure that Wall Street can't make the same reckless mistakes with Americans' money again.
We are not only up against ideas that drove this country's economy into the ditch; we are up against spin, misconceptions and half truths that are being spread. And that's why it is so important that your voice is heard this election.
Let's build on our momentum, keep our enthusiasm strong, and make sure that everyone gets to the polls. This campaign season, the endorsement that matters the most is yours.
Thank you for your time and for all that you do.
This is a guest blog by Rep. Ben Ray Luján. To submit a piece for consideration as a guest blog, contact me by clicking on the Email Me link at the upper left-hand corner of the page.
October 26, 2010 at 10:04 AM in 2010 General Election, Guest Blogger, Media, NM-03 Congressional Race 2010, Rep. Ben Ray Lujan (NM-03) | Permalink
Comments
Thanks for taking the time to address some of the misconceptions being spread the the press. Too bad they aren't on the side of clarity and objectivity and instead are promoting special interests.
We need more leaders like you. Long may you wave!
Posted by: Stuart Heady | Oct 26, 2010 10:29:51 AM
New Mexico needs representation and leadership like Rep Ben Ray Lujan and Senator Tom Udall in Washington DC. Locally we need good leadership too, I am impressed with Alex Russell who is running for our State House. Russell, Lujan, and Udall are all great for New Mexico.
Posted by: captainNM | Oct 26, 2010 1:09:19 PM