« Guest Blog by NM House Candidate Alex Russell: Remember the Energy, Stay Committed, Join Me on 10/7 | Main | 'Birther' Madness Breaks Out in Steve Pearce's Brain at Los Lunas Town Hall »
Wednesday, October 06, 2010
Politico: Denish Within Striking Distance Only 3 Points Down With Martinez's Negatives on the Rise in New Poll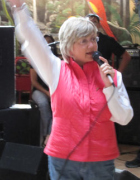 Great news for the Denish-Colón campaign -- and every New Mexican who wants to see us continue to move forward, not back. New polling shows the more voters learn about Republican Susana Martinez, the less they like her. A new Greenberg Quinlan Rosner poll, released today, shows Martinez's lead over Diane Denish has dwindled to a mere 3 points, down from 5 points in mid-September. Meanwhile, Martinez has seen her favorable ratings tank from 42 percent positive to 42 percent NEGATIVE.
According to Politico's Morning Score:
In the New Mexico governor's race, Lt. Gov. Diane Denish is now within striking distance of Republican Susana Martinez, as Martinez's negatives have crept into the red. Denish is now three points back from Martinez in her campaign tracking, whereas she was five points behind in mid-September. The Greenberg Quinlan Rosner poll shows that Martinez's favorability numbers have gone from 42 percent positive, 31 percent negative in August to 39 percent positive, 42 percent negative now. The pollster noted: "In this political environment where the normal Democratic advantage is muted, we will need extra firepower in paid communications and turnout to push ourselves over the top."
The polling memo has this to say:
In the race for Governor, Democrat Diane Denish has moved within the margin error of Republican Susana Martinez, with Martinez leading 49 – 46 percent. The survey of 602 likely voters conducted September 30th – October 4th contains a margin of error of +/- 4.0 percentage points at the 95 percent confidence level ... Denish has gained momentum and is now in striking distance of Martinez. [emphasis added]

... Denish's gains come amid rising concerns about Martinez. The percentage of voters viewing Martinez unfavorably has increased 6 points since mid-September and 11 points since mid- August.

... After months of blistering attacks, Denish and Martinez now have almost identical standing (Denish 39-43 favorable-unfavorable, Martinez 39-42 favorable-unfavorable). But while Denish's standing is static, Martinez' negatives are on the rise.
You know what this means? The candidates in this race are now neck and neck -- it's Denish who's picking up steam.
And that's before President Clinton's rally on the Espanola Plaza on October 14th, and the televised debates on October 17th and 21st, when more of the public can finally see Susana La Tejana in action and coming across like an uninformed, mean-spirited, poorly prepared prosecuting attorney badgering a witness without cause. Remember, as the latest polling shows, them more people see Susana, the more they come to a negative opinion about her suitability for running the great state of New Mexico.
And that's before the campaign's all-out GOTV effort is fully underway. If Democrats vote, Democrats win, so NOW is the time to become a part of the vital, on-the-ground action to make sure our next Governor and Lt. Governor will be Diane Denish and Brian Colón. All Democrat are urged to volunteer as many hours as possible between now and election day to phone bank, knock on doors and help with other campaign tasks. Early voting has now begun at County Clerk offices around the state, so time is of the essence.
Contact the Diane Denish campaign NOW and sign up for some shifts. Diane has offices in Albuquerque, Santa Fe, Las Cruces, Rio Rancho, Los Lunas and Las Vegas. As we move into the final stretch of this election, the Denish-Colón ticket is the one with the big mo -- make sure that momentum just keeps growing.
Photo by Stephen Jones.
October 6, 2010 at 11:56 AM in 2010 NM Lt. Governor Race, Diane Denish, Polling, Susana Martinez | Permalink
Comments
Push hard now people! We are gonna win this thing!
Posted by: Old Dem | Oct 6, 2010 12:26:01 PM
If Democrats vote, Democrats win.
That is all. GOTV!!
Posted by: Proud Democrat | Oct 6, 2010 12:53:28 PM
All for one and one for all, people!
Posted by: barb | Oct 6, 2010 2:34:30 PM
I would like to believe and trust in this, but Greenberg Quinlan Rosler is more of a Democratic Party advocacy group than an independent polling firm. We have to get out and vote! That is the poll that will matter.
Posted by: Ross | Oct 8, 2010 4:46:52 PM