« Las Cruces Sun-News Excludes PRC Candidate Stephanie DuBois from Critical Voters Guide | Main | Join Harry Teague for 'Go Forward 2010' Early Vote Rallies in Lea and Chavez Counties »
Tuesday, October 19, 2010
More than 1,500 Gather for Early Vote Rallies Across Northern New Mexico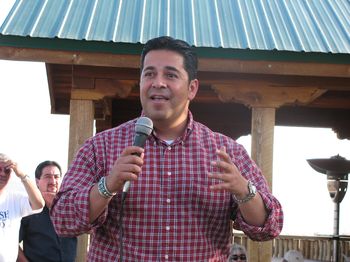 Ben Ray speaks to voters in Taos
This weekend, Rep. Ben Ray Lujan (NM-03) traveled across Northern New Mexico, to speak with hundreds of New Mexicans about the importance of voting. Events were hosted in Mora, Las Vegas, El Dorado, Santa Fe, Pojoaque, Espanola, Taos, Wagon Mound, Springer and Raton. Ben Ray was able to speak out about early voting and the issues facing New Mexicans this election.
"When people are threatening to privatize social security, end the Department of Education, stop Pell Grants and privatize VA benefits, the stakes are higher than ever," Ben Ray said. "This election, we can't stay at home and let them take our nation backwards. Let's stand together and send a clear message that seniors and veterans have earned their benefits, and students deserve the opportunity to attend Pre-K and college. We must work together to ensure that investments in our local communities remain strong."
Individual events in towns such as Taos, Pojoaque and Raton garnered hundreds of attendees and even more across the district. Enthusiasm was high and voters were eager to get out and vote. Small business owners, community leaders, educators and seniors came together and spoke about the importance of early voting for Ben Ray.
How, When and Where to Vote Early
Early voting began October 16 and will continue through October 30. For more information regarding early voting sites, please click here. If you would like more information regarding early voting, your local polling place, or any other information related to the election, please click here or contact your local county clerk's office.
October 19, 2010 at 02:28 PM in 2008 General Election Voting, NM-03 Congressional Race 2010, Rep. Ben Ray Lujan (NM-03) | Permalink
Comments