« President Obama Records Early-Vote Robo-Call for Diane Denish | Main | Save the West Side: GOP House Candidate David Doyle Caught Telling Blatant Lies in Race Against Rep. Ben Rodefer »
Friday, October 29, 2010
Mary Herrera's Secretary of State Offices Gets 'Clean Audit' for FY 2010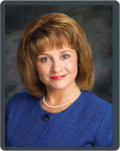 The annual audit conducted by a top New Mexico accounting firm has returned no findings for the New Mexico Secretary of State's Office, according to a report released yesterday by the firm Atkinson & Co., Ltd. According to the Secretary of State's office, the firm gave the office a clean audit and no findings of significant deficiencies.
The firm returned an "unqualified" opinion, meaning that in the auditor's professional opinion, the financial statements passed muster without any "qualifications," according to the report.
An audit also looks at internal controls. In examining internal controls over financial reporting, auditors will seek to ensure the agency has established effective procedures to reduce the chances of errors or fraud. The current Secretary of State audit found "no findings" of control deficiencies.
"When you have good solid management principles and put them into practice with competent people, you end up with a clean audit," said Secretary of State Mary Herrera in a statement. "The staff of the Secretary of State's Office deserve a great deal of credit for such an excellent result."
The Secretary of State's Office has sought to reduce the number of audit findings inherited from the prior administration. In 2007, 20 findings pertaining to the former administration were identified. Over the last four years, the Secretary of State's Office reduced the number each year until the audit just completed for Fiscal Year 2010 found none.
"We have produced great election results in the past three elections," said Herrera. "This audit shows that our operation is well-run, as is demonstrated in the effective elections process since 2007."
The audit, released yesterday, shows no current year findings, no material weaknesses identified, no significant deficiencies identified, and no noncompliance noted, according to the report.
October 29, 2010 at 02:07 PM in 2010 NM Secretary of State Race, Election Reform & Voting | Permalink
Comments
I've never seen such a gang mentality attack on any candidate based only on rumors and allegations. Dianna Duran is an extremist scumbag dedicated to keeping people FROM voting. The media is off in deep space on this. We may all pay if people don't wake up and support the democratic ticket-all of it.
Posted by: Rudy P. | Oct 29, 2010 6:48:25 PM
Mary Herrera's operation is still committed to keeping third party options OFF the ballot in a most dirty and unconstitutional manner, propping up New Mexico's custom drawn unfair ballot access rules. This does amount to keeping people from voting if it keeps valid candidates, like Green party candidates off the ballot simply because the Democrats think they OWN Green voter's votes. As state chair of the GP I hear the frustrations of those who wish to be candidates and those who want a Green choice to vote for. We've even fielded a lawsuit on this matter. This is no way to practice democracy and I'm constantly ashamed of my Democrat friends who prop up this kind of banana republic sham. Why I have to pin my hopes on being able to field candidates and vote for candidates who reflect my values on a Republican like Diana Duran, who has at least paid lip service to changing ballot access laws, is utterly absurd, but I am voting for Duran this year because Mary Herrera has proven to be no friend to the Green Party and basic fairness period, over her tenure as both CC of Bernalillo County and as Secretary of State. The principle of the matter is at stake. We have men and women dying in Iraq for multiparty democracy, no less. "We may all pay if people don't wake up," the comment above says . . . we're already paying, Rudy. Want to hear more, see the recent story in the ALIBI @ http://alibi.com/index.php?story=34303&scn=feature
Posted by: Michal | Oct 31, 2010 1:02:32 PM
So tired of the whining of the "green party" that has no legal standing because it can't even hold a proper convention or meet any other requirements in the election code.
Want to change the election law? Go to the legislature like everyone else.
Don't like the candidates offered by the Ds or Rs? Enter the primaries and win a spot on the ballot.
Duran has paid lip service to your pleas? Of course she has. The last few times greens managed to get on the ballot they assured the election of a Republican congressman up north and had a big role in getting right wing nut Gary Johnson in the governor's seat. I can see why there's no enthusiasm for your party.
Go ahead and vote for Duran. She was against paper ballots, is a conspiracy theory buff on "voter fraud", wants to make it much harder for the poor and minorities especially Native Americans to vote, her voting record on other issues is despicable and she hasn't run an election in almost 20 years. When she did run an election it was in Otero County with its tiny population.
What you are asking is for the rules set out in the law to be put aside for you. Not gonna happen.
Posted by: attorney | Oct 31, 2010 1:31:07 PM