« NM Guv Race Polling: Voters Moving Away From Martinez, Race Now Even! | Main | We Are New Mexico Releases Powerful Video on Dangers Posed by Susana Martinez to NM Water »
Monday, October 25, 2010
Heinrich Honored to Receive Support of U.S. Secretary of Interior Ken Salazar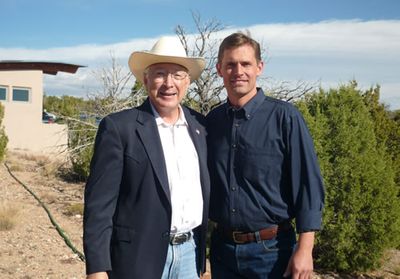 Salazar and Heinrich on Sunday in Santa Fe
Nice boost! Martin Heinrich was joined yesterday by U.S. Secretary of the Interior Ken Salazar in support of his reelection to Congress.
"New Mexico is one of the top five states in the country for the new energy frontier," Secretary Salazar said during an interview with the Albuquerque Journal, on Sunday, October 24,2010. "We're doing a tremendous amount of work still on conventional oil and gas, but when you look at the potential for solar, wind and geothermal energy New Mexico ranks near the very top. [Martin] has a huge interest in renewable energy and he's working hard to make sure that the world knows about clean energy jobs and New Mexico."
In September, the U.S. Department of Interior building in Washington, D.C. was renamed the Stewart Lee Udall Department of the Interior Building at a ceremony attended by Martin, Secretary Salazar, and the rest of the New Mexico Congressional Delegation. Martin introduced the bill in the House of Representatives that provided for this honor for former U.S. Secretary Udall.
October 25, 2010 at 03:24 PM in Energy, Environment, Green Economy, NM-01 Congressional Race 2010, Rep. Martin Heinrich (NM-01) | Permalink
Comments