« Save the West Side: GOP House Candidate David Doyle Caught Telling Blatant Lies in Race Against Rep. Ben Rodefer | Main | Photos and Videos: Labor 2010 GOTV Rally in Albuquerque »
Saturday, October 30, 2010
Guest Blog: Early Vote Today for Rep. Ben Ray Luján and Help Us GOTV!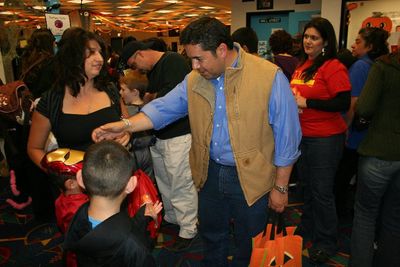 Ben Ray at Pojoaque Boys and Girls Club Halloween Carnival
This is a guest blog by Aaron Trujillo, who serves as Rep. Ben Ray Luján's campaign manager.
TODAY is the last day to vote early in New Mexico, and we need everyone to get out to the polls and make sure that their voice is heard in this election.
This election is too important to wait until the last minute to go to the polls. This election is crucial for anyone who cares about health care, about having clean air and water, about making sure that our kids have great schools and a chance to go to college. We have to get out and make our voices heard.
Find out your early voting location here.
Ben Ray has been standing up for people in New Mexico and has been traveling all over the district to talk to voters. Recently he visited Farmington, Chama, Espanola, Gallup, Taos, Tierra Amarilla, Santa Fe, Las Vegas, Mora, Wagon Mound, Raton, Springer and several other communities.
Ben Ray will be working non-stop over the next few days to reach out to voters and will keep doing so over the next three days. I hope that you will join our campaign in reaching out to your family, friends and neighbors to get them to vote in this important election.
We need every one, in every community, to bring their friends, families, and neighbors to the polls. Every person deserves to have their voice heard, and a chance to shape our democracy.
After you've voted, come out and volunteer with the campaign, or donate. Thanks for all your hard work, let's keep the momentum going!
October 30, 2010 at 11:49 AM in 2010 General Election, NM-03 Congressional Race 2010, Rep. Ben Ray Lujan (NM-03) | Permalink
Comments