« Rep. Martin Heinrich Raises $575,000+ in 3Q, More Than $1 Million in Bank | Main | Art Jaquez Guest Blog: Calling All Democrats to Support Diane Denish »
Monday, October 04, 2010
Guest Blog by Victor Raigoza: What You Don't Know About Secretary of State Mary Herrera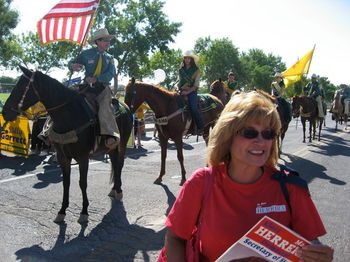 Mary Herrera, Whole Enchilada parade in Las Cruces
This is a guest blog by Victor Raigoza, who serves as Vice Chair of the Democratic Party of Bernalillo County. It's in the form of an open letter to fellow Democrats.
The election is in one month and now is the time for us to come together and support those candidates who currently hold or are seeking office as Democrats. Today, I want to focus on the race for Secretary of State. For the last eighty years our party has held this office, and I intend to do everything I can to assure that this important office stays in Democratic hands for the upcoming re-districting year.
Our current secretary, Mary Herrera, has served and overseen the biggest election in New Mexico state history. She not only oversaw the election -- but unknown to most -- her efficient manner of running the 2008 election made New Mexico a model state for Presidential elections. You probably didn't know this because the press hardly ever reports the good things about our candidates, and Mary has never been one to "toot her own horn." She has always just done what is expected of her and the job that the people elected her to do. Mary did such a good job in the 2008 elections that she was invited to testify before Congress on how to run an efficient election.
Let me tell you some more about my friend and our party candidate for Secretary of State, Mary Herrera.
We constantly hear the other side go on and on about how much money Democrats spend. If that is their litmus test for holding office, they should be voting for Mary in record numbers. In her first term, Mary has saved us, the taxpayers of New Mexico, millions of dollars. She was able to turn around an office that was in the red and make it into one of the most efficiently run offices in all of state government.
While saving us money, she obtained and implemented a state-of-the-art election reporting system. Most systems like the one she obtained would cost millions -- yet Mary negotiated a price for the system of less than two hundred thousand dollars. By allowing the ballot on demand, Mary has saved thousands in printing costs and production of ballots that used to go unused. Under her management, as voters turned out in record numbers, her cost per voter went down during the elections.
I bet you have never heard any of this.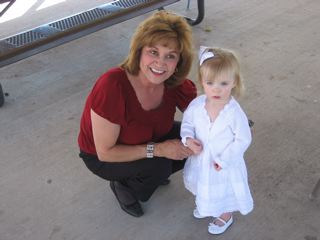 Mary Herrera with a voter to be
Some of the important changes in her administration have been the full implementation of the Americans with Disabilities Act, which means that now all New Mexicans, regardless of their disability, can now vote. Mary has always fought to assure that no voter would ever be denied their American-given right of voting. She has also implemented a system that now allows victims of domestic violence to register to vote without fear of being found by their abusers -- once again, allowing for registered voters to vote and participate in this great American right. Under Mary, our men and women fighting in the war zones now get full ballots, as opposed to those that only used to have the federal races. Those who fight for our right to vote should be able to vote a full ballot while serving.
I could go on and on about Mary's accomplishments, but I won't. She has proven she can run an economic and effective office, while running efficient elections. She has proven she can save the taxpayers money, while providing us with state-of-the-art equipment. And she has proven that she will never deny a single New Mexican the right to vote regardless of their disability, needed privacy or distance while off defending our nation.
Please join me in assuring that we keep Mary Herrera as our Secretary of State by sharing these points that, unfortunately, are not yet well known among New Mexico voters.
This is a guest blog by Victor Raigoza. If you'd like to submit a piece for consideration as a guest blog, contact me by clicking on the Email Me link at the upper left-hand corner of the page.
October 4, 2010 at 05:44 PM in 2010 NM Secretary of State Race, Election Reform & Voting, Guest Blogger | Permalink
Comments
Excellent blog post Victor. It is time for Democrats to stand up to the lies and slander and tell the voters that ours is the party of the people, that under republicans, unless you are already filthy rich, everyone loses.
We are not weak. We are not apathetic. We will vote in DROVES and on November 2 we will win.
Posted by: Cara Valente-Compton | Oct 5, 2010 9:01:50 AM
At last someone is telling us the facts about the fine job Mary Herrera has done and will keep doing. The media has a gang mentality about Mary and keeps taking whatever her opponents say as God's truth. They never look at who the real Dianna Duran is.
Duran is an extreme right wing politician who has voted against everything Democrats believe in. She has no experience for the job except a couple years long ago as clerk of Otero county. Do you know how many voters Otero county has? Duran has never done anything in a big county or statewide and has no idea how hard it is to run elections like that.
I hope every Democrat votes to keep Mary Herrera.
Posted by: Michael | Oct 5, 2010 9:12:26 AM
The media won't report the good things Herrera has done and they won't report the bad stuff about Duran. If Duran gets ahold of this seat she will keep as many voters from the polls as possible and be a bitch with the redistricting. Tell your friends.
Posted by: Anaya | Oct 5, 2010 1:55:17 PM
Straight Democratic Ticket!
Posted by: Al | Oct 5, 2010 4:22:22 PM