« Guest Blog by Billy Knight: Rep. Ben Ray Luján's Exemplary Leadership | Main | Governor Bill Richardson Announces New Mexico Recognized as One of Four Most-Improved States for Energy Efficiency »
Wednesday, October 13, 2010
Get Free Tix for 10/14 Denish Rally in Espanola with President Bill Clinton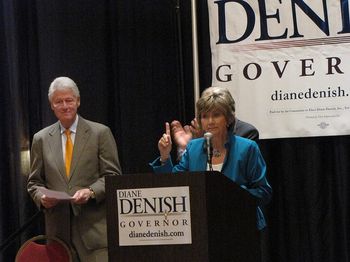 Clinton and Denish at ABQ fundraiser earlier this year
As you've no doubt heard, President Bill Clinton is coming to Espanola, New Mexico for a huge rally in support of the Diane Denish - Brian Colón ticket for governor and lieutenant governor. President Clinton will talk about what's at stake in this election -- and why it's so important to get active in the final weeks of the campaign and get the word out to everyone you know that voting is vital in this tough election year.
The free public rally will take place on the Española Plaza at 3:30 PM on Thursday, October 14. Have you got your ticket yet? Today's the last day you can pick up a ticket ahead of time.
To get a ticket, just visit any one of the Denish-Colon campaign offices across the state listed below and sign a pledge-to-vote card to retrieve a ticket. You can also go to Democratic Party of New Mexico HQ at 3200 Monte Vista NE in Albuquerque and pick some up. Call 505-830-3650 for more information.
Tickets will also be available on a first-come-first-served basis at a table located on the south-end entrance to the Española Plaza at noon on October 14.
If you have any questions or concerns contact the Denish for Governor headquarters at (505) 255-1282 or clintonvisit@dianedenish.com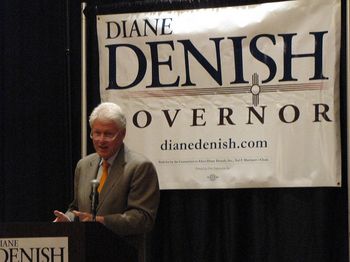 Former President Clinton is a strong supporter of Denish
Statewide Headquarters
111 Lomas Blvd. NW Suite 424
Albuquerque, NM 87102
Phone: (505) 255-1282
Albuquerque Office
4565 San Mateo NE Suite F34
Albuquerque, NM 87109
Phone: (505) 872-9269
Santa Fe Office
1420 Cerrillos Rd.
Santa Fe, NM 87505
Phone: (505) 954-1335
Las Cruces Office
136 N. Water St.
Las Cruces, NM 88001
Phone: (575) 805-9408
Rio Rancho Office
2218 Southern Blvd. #3
Rio Rancho, NM 87124
Phone: (505) 892-7195
Las Vegas Office
164 Bridge St.
Las Vegas, NM 87701
Phone: (505) 907-6404
October 13, 2010 at 12:17 PM in 2010 NM Governor's Race, Bill Clinton, Brian Colon, Diane Denish, Events | Permalink
Comments