« 9/4: An Evening With Dolores Huerta in Corrales | Main | Environment New Mexico: Latest Gulf Rig Explosion Should Prompt Permanent Ban on New Offshore Drilling »
Thursday, September 02, 2010
State Rep. Nate Cote Works to Retire Primates at Holloman Air Force Base
Note: The tragic Alamogordo champanzee situation is starting to get national attention and is addressed in an article in today's New York Times.
State Rep. Nathan Cote (D-Doña Ana) has taken a leadership role in the effort to preserve the Alamogordo Primate Facility (APF) at Holloman Air Force Base; an action that would save approximately 40 local jobs and insure the humane treatment of 202 chimpanzees living at the facility. Employees at the APF are facing a personal and professional loss in January 2011 as the National Institute of Health plans to close the facility and ship the resident chimpanzees to a medical research laboratory in Texas.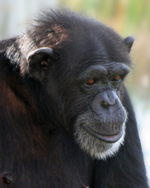 "These primates have lived their entire lives on Holloman Air Force Base. This is where the first chimpanzee, Ham, was trained for space flight, paving the way for Alan Shepard in the 1950s," Rep. Cote said in a statement released today via the New Mexico House of Representatives. "Many of the aging chimps deserve to live out their lives free from invasive research."
Governor Richardson has shown his support for the APF saying, "These chimpanzees have already given so much of their lives as part of medical research, and they should be able to live out the remainder of their years in peace not being subject to invasive research. I am confident that there is a more prudent and compassionate alternative to the National Institutes of Health's plan."
In a letter to Congressman Harry Teague, Michael Espiritu, President and CEO of the Alamogordo Chamber of Commerce wrote, "I am deeply concerned about the loss of the jobs at the facility. Many of their employees have been long-tenured, faithful and dedicated people who have made a difference in the quality of care for these chimpanzees; descendants of our country's space exploration and testing program pioneers."
A letter was drafted to the National Institute of Health describing the devastating economic impact that closing the APF would have on the dozens of highly skilled employees and their families, as well as local small businesses and vendors and it echoed the humane treatment concern as stated by the Governor. The letter also points out that APF was built using millions of taxpayer dollars.
In addition to Rep. Cote, the letter was signed by Representatives Henry "Kiki" Saavedra, Edward Sandoval, Ben Rodefer, Mimi Stewart, Jeff Steinborn, Eleanor Chavez, and Sheryl Stapleton along with Senators Tim Eichenberg, Stephen Fischmann, Sander Rue, Gay Kernan, Tim Keller, Mary Jane Garcia, and Linda Lopez.
You can learn more about this issue and learn ways to take action urging protection of the chimpanzees at the website of Animal Protection of New Mexico. Visit the Help Save Chimpanzee page to learn about The Great Ape Protection Act -- which would end the painful and invasive research on chimpanzees throughout the U.S. and release the 500 federally owned chimpanzees to sanctuaries -- and how you can push for passage of the federal legislation.
September 2, 2010 at 12:20 PM in Animal Protection, NM Legislature 2010 | Permalink
Comments
Just one of the many reasons Nate Cote is such an excellent representative.
Posted by: wedum59 | Sep 3, 2010 8:46:29 PM