« Denish/Colón Team Stumps for Water Rights in Northern New Mexico | Main | (Updated) First (and So Far Only) Denish-Martinez Debate Set for 10/21 on KOB-TV »
Monday, September 13, 2010
Justice League: Are You Ready to Meet the Real Martinez - Captain Susana Lockstep?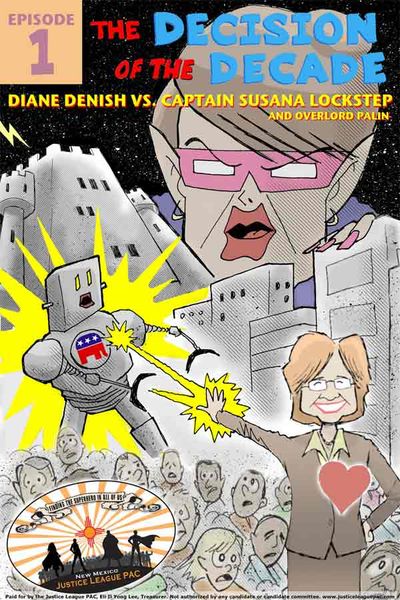 Click image for larger version
Get ready for some boffo comic commentary -- with just the facts, ma'ma -- on the New Mexico governor's race. This Wednesday, September 15, a brand new, New Mexico-based political action committee will launch the first cartoon ad of this gubernatorial political season.
The ad, called "Decision of the Decade," will feature Susana Martinez as "Captain Lockstep," along with Sarah Palin and Diane Denish. I've seen a sneak preview of the ad and it makes it plain just who represents the forces of good -- truth, justice and the American way -- and who represents the darkness in the battle between Democrat Diane Denish and Republican Susana Martinez.
The Justice League PAC is a statewide political committee and was formed by Neri Holguin, Sandra Wechsler and Eli Il Yong Lee, who have years of experience in New Mexico politics and issues. Its purpose is to reinvigorate New Mexicans to reclaim politics for none other than us -- the people.
For more information, visit www.justiceleaguepac.com and prepare yourselves for episode number one of the new comic saga that tells it like it is in the battle between Martinez-Palin and Diane Denish for the future of New Mexico. Will the forces of justice defeat the selfish pursuit of power by the right-wing Texan running for New Mexico governor? Tune in Wednesday and find out.
September 13, 2010 at 01:21 PM in 2010 NM Governor's Race, Diane Denish, Susana Martinez, Visuals | Permalink
Comments
Love this approach! Can't wait to see where this leads.
Posted by: Old Dem | Sep 13, 2010 1:46:08 PM
Unfortunately, "The Justice League Pac" is also apparently in violation of trademark and copyright laws, and will probably be receiving a cease & desist letter any moment now. DC Comics, I believe, tries to be apolitical.
Cute idea, really, but it's no better than when Republican candidates use musicians' songs without permission.
Posted by: kmcdevitt | Sep 13, 2010 4:01:02 PM
It's stupid but I guess it appeals to the ignorant masses. American style Democracy, there it is.
Posted by: qofdisks | Sep 13, 2010 10:21:22 PM
I really like the "right-wing Texan" comment. Kind of like our two Senators. One left-wing Texan and one left-wing Arizonan. So why so hurt about where this politician was born and raised. Find something new to end your cartoon praises with.
Posted by: Sid | Sep 14, 2010 9:51:33 PM
Hey Sid we don't like RIGHT WING candidates in these parts, let alone ones who pretend they are from NM when they aren't. Martinez likes to say she was born in the "Rio Grande Valley". Yeah, in El Paso!
Posted by: Tony | Sep 14, 2010 9:58:24 PM
Like Heinrich born in Nevada or Teague born in Missouri? It's about content and this piece doesn't reflect on content just that right wingers think alike. Nothing new.
Posted by: Sid | Sep 16, 2010 10:28:09 PM
Susana Martinez was endorsed by right wing nut Sarah Palin. She took $450,000 from right wing nut and swiftboat liar Bob Perry. Martinez is just like these two and many other right wing nuts. Why else would they back her? Also NM has no water disputes with Nevada or Missouri. Get it?
Posted by: Tony | Sep 16, 2010 10:50:03 PM
So while Denish is supported by all the lying lefty crazies and Bingaman is from El Paso should we worry about him because we have water disputes with Texas, supposedly. Or maybe we should attack Udall because he's from Arizona where they don't like people comming into this country illegally. Really? The cartoon still doesn't go anywhere and neither will Denish. Nevermind. She'll go back to Hobbs or wherever she's from.
Posted by: Sid | Sep 17, 2010 10:04:12 PM
Sid you need to read a comment before parroting your crazy talking points. Martinez gets most of her money from people who want to support Texas, not NM interests and who hate working people and working families. Get it? Her supporters are not supporters of New Mexico families.
Posted by: Tony | Sep 18, 2010 12:12:23 AM
Talking about parroting talking points and then not making one. There is no substance in the ad nor in your comments.
Posted by: Sid | Sep 18, 2010 7:48:40 AM