« 9/23: Fundraiser for ALL Dem Statewide Candidates at Sapien Law Firm in Albuquerque | Main | 9/30: Alameda North Valley Association Hosts Candidate Forum »
Tuesday, September 21, 2010
Commentary by Diane Denish: Holding Corporations Accountable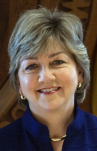 This is a guest blog by Diane Denish, the Democratic candidate for New Mexico governor.
Turn back the clock a few years with me. Wall Street running wild, predatory lenders taking advantage of families, people losing their homes and President George W. Bush embracing the economic philosophy of letting the powerful corporations do whatever they want.
New Mexicans know those harmful policies caused this national economic meltdown and we can't afford to go back to those days. That's why Susana Martinez's economic plan should give every New Mexican pause for concern.
Like President Bush, Martinez believes that powerful corporations should be allowed to just do as they please. Martinez is going around the state saying that she would put a moratorium on all corporate accountability measures passed over the last few years.
Martinez's only concrete economic proposal would be to stop enforcing corporate accountability measures enacted in the state. Martinez wants to take critical accountability measures and put them on hold - and leave it up to corporations to do the right thing.
If Martinez had her way, New Mexico would return to the days when payday lenders charged up to 1,000% interest on loans to our most vulnerable families. Corporations would have an easier time polluting our air and water, and countless other consumer protection measures would be put on hold.
Powerful corporations get enough breaks. I believe New Mexico families need a Governor on their side - and that's why today I proposed an agenda to hold these big corporations accountable.
First, I want to outlaw payday lending once and for all. While I was proud to lead the charge to reform the state's payday loan industry, too many greedy lenders took advantage of a loophole and they continue to trap our most vulnerable families in loans with 200%, 400% or even 1,000% interest. That's the last thing families need during these tough times.
Second, we need to ban insurance companies from being allowed to charge New Mexicans more based on their credit report or other credit information. Insurance companies should not be allowed to penalize already struggling families in this way.
Third, we need to strengthen privacy laws to protect New Mexicans from having their private financial information sold to the highest bidder. I believe New Mexico families should be able to "opt-in" to choose whether they want their private information shared with lenders and creditors.
Finally, we need to protect families suffering from foreclosures. That's why I propose outlawing the practice of going after people who have lost their homes for the remaining balance owed on their loan. These people have lost enough - we must not allow unscrupulous lenders to take more from New Mexico families.
Susana Martinez has it backwards. We're in a global recession, and instead of proposing new ideas to turn this economy around, Martinez is proposing the same old plans that got us into this mess in the first place. Zero accountability for powerful corporations is not the answer.
Now more than ever, families in our state need a Governor they can count on to fight for them. I look forward to being that Governor.
This is a guest blog by Diane Denish. To submit a piece for consideration as a guest blog, contact me by clicking on the Email Me link at the upper left-hand corner of the page.
September 21, 2010 at 06:13 PM in 2010 NM Governor's Race, Corporatism, Diane Denish, Economy, Populism, Housing, Susana Martinez | Permalink
Comments
More of this on the campaign trail, please! You are on the right track, Mme. Lt. Gov!
Posted by: Proud Democrat | Sep 21, 2010 7:34:32 PM
Wow....Still blaming Bush and you didn't even begin to get his record right
Posted by: Randall | Sep 22, 2010 4:58:39 AM
Bush and his bunch created this mess and the Democrats have to work hard together to get back on track. Martinez will be working only to go back to the Bush way of doing things. She is getting all her money from Texans, oil people and rich people connected to Bush and Rove. We can't let her win. It would be like going back to a nightmare we have only recently been awakening from.
Posted by: Old Dem | Sep 22, 2010 9:11:47 AM
I see this as an election to protect New Mexico's natural resources from Martinez's corporate contributors such as the oil industry and land developers from out of state. I'm sure that Martinez wins she will sell New Mexico's oil, water, natural gas etc.. to the lowest bidder. This is a fight for the state from outside corporate interests. Martinez is taking money from the Texas and Arizona GOP. What right does the GOP from two other states have to interfere with New Mexico's politics?
Posted by: For Diane | Sep 22, 2010 12:07:18 PM
I agree with the comment above. Martinez and her corporate loving donors will rape this state and it will never be the same. There is too much on the line to let Martinez get this job. She is inexperienced and dishonest. Spread the word to all your friends.
Posted by: Tree Hugger | Sep 22, 2010 1:54:34 PM