« 9/1: Santa Fe Fundraiser for Stephanie Richard for State Rep | Main | PRC Candidate Bill McCamley Responds to Opponent's Refusal to Debate »
Tuesday, August 31, 2010
Pueblo of Pojoaque Endorses NM Court of Appeals Judge Robert E. Robles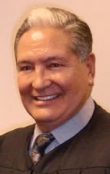 Note: Judge Robert E. Robles will join Rep. Martin Heinrich as a guest speaker at tonight's DFA-DFNM Meetup. All are welcome to attend.
On August 25, 2010, the Pueblo of Pojoaque issued a release endorsing Judge Robles saying, "The Pueblo of Pojoaque is proud to support Judge Robert E. Robles for the New Mexico Court of Appeals."
Governor George Rivera issued the following statement regarding the endorsement: "Judge Robles' superior reputation as a New Mexico trial judge speaks volumes about him. It is evident that he has a clear understanding of Native American issues and we support his candidacy for the New Mexico Court of Appeals."
"I am honored to be endorsed by the Pueblo of Pojoaque," Judge Robles said in a statement released by his campaign. "As a judge, it is my sworn duty to support the Constitution and laws of the State of New Mexico, with due respect for the rights of sovereign nations."
More on Judge Robles
In 1999, Judge Robles ruled in a 3rd District Court case that under the New Mexico Constitution, New Mexico residents who are United States citizens have a right to serve as jurors regardless of whether or not they are fluent in English. His ruling also stated that they are entitled to an interpreter in order to fully participate. The 3rd Judicial District Attorney representing the state in this matter took Judge Robles' ruling to the New Mexico Supreme Court for review where it was affirmed. As a result, all state courts are required to adhere to this process to ensure everyone is afforded the opportunity to be judged by a jury of their peers.
A native of Albuquerque, Robles graduated with a juris doctorate from the University of New Mexico School of Law in 1975. He began his legal career as a New Mexico Assistant Attorney General. In 1978, Robles moved to Las Cruces where he practiced law for 13 years prior to being appointed by Governor Bruce King as a Third Judicial District Court judge in 1991. Robles served on the district court bench for more than 17 years, and was selected by his fellow judges to three, three-year terms as chief judge.
Judge Robles has also earned endorsements from the New Mexico Federation of Labor, NM AFL-CIO, American Federation of State, County, and Municipal Employees, AFSCME, which represents over 12,000 city, county, state and university employees along with home-based childcare providers, and the Office and Professional Employees International Union, OPEIU.
August 31, 2010 at 10:06 AM in 2010 Judicial Races, MeetUp, Native Americans | Permalink
Comments