« July 2010 | Main | September 2010 »
Tuesday, August 31, 2010
9/2 at Kelly's: ABQ Dem Leaders Fundraiser for Stephanie Richard for NM House
From Stephanie Richard for State Representative, District 43:
Please Join Albuquerque Democratic Leaders
Senators Cisco McSorley, Tim Keller, Dede Feldman,
Eric Griego, Jerry Ortiz y Pino
and Representatives
Mimi Stewart and Gail Chasey
and Bernalillo County Democratic Party Chair
Ana Canales

Let's Elect New Leaders Fundraiser!
for Stephanie Richard
Thursday, September 2, 5:00 to 7:00 PM
Kelly's Pub
3222 Central Avenue SE, Albuquerque
$50 suggested contribution, all contributions appreciated
Light refreshments
Please call Diane Door for more information at 660-9365
August 31, 2010 at 04:10 PM in 2010 NM Legislature Races, Events | Permalink | Comments (0)
New Denish TV Ad Highlights Her Commitment to Communities All Over NM

Watch
The campaign today unveiled "Communities," a new 30-second TV ad (above) that it says "sets the record straight about Diane Denish's commitment to New Mexico's small communities and highlights Susana Martinez's plans to take money from public schools and give it to private schools." 
The ad opens with an image of a plane with the word "False" written across it, a reference to GOP gubernatorial candidate Susana Martinez's misguided attacks on Denish about the use of one of the state's planes. A recent Martinez ad incorrectly claims Denish has used the plane to "taxi" family members around the state, and previous ads have featured other falsehoods about Denish's use of a state plane. 
Martinez likes to suggest there's no reason for anyone to use the government's air transportation system to visit the many far-flung communities in a big, rural state like New Mexico. I guess she doesn't understand the importance of getting out of Santa Fe and interacting with constituents, and the kind of tight scheduling issues and other situations those who serve the state often face -- or does she?
Even though Martinez has tried to make a big deal out of the use of state planes, it turns out she's actually FOR using them. At least two of them. According to a recent article on the New Mexico Independent,
Republican candidate for governor Susana Martinez has pledged to sell New Mexico's state jet if elected—but she told The Independent she would not sell two other aircraft that cost almost as much to operate. One of those two planes is newer than the jet.
Maybe Susana finally got that state air transportation is used most heavily for things like ferrying sick kids. As NMI reports,
A review of the flight records since 2003 show that the primary agencies that use state aircraft are the state Transportation Department, the School for Visually Handicapped, Children's Medical Services, and the State Engineer's Office. After that come the governor and lieutenant governor.
"New Mexicans won't be fooled by Susana Martinez's misleading attacks. Diane Denish has worked in communities across the state to help small businesses create jobs and to expand educational opportunities for young children," said Denish spokesman Chris Cervini. "Susana Martinez has never created a job and is now running attack ads to distract New Mexicans from her risky plan to take money from public classrooms and divert it to wealthy private schools -- plain and simple."
"As Governor, Diane Denish will continue to fight for all New Mexico communities -- from Quay to Luna, San Juan to Eddy -- to ensure New Mexico has the public-education system to help our kids compete in the 21st Century Economy," Cervini added.
Need some facts to back up the claims made in the Denish ad? You can find them right here (pdf).
Below is the transcript of the ad:
Voice Over: Another false attack by Republican Susana Martinez.
The truth: Diane Denish is working in communities accross the state. Helping small buisnesses and especially our local schools. Diane expanded Pre-K. Helping 17,000 kids learn to read. While Martinez would give public school dollars to wealthy private schools.
Diane Denish: As governor, I'll take on anyone to keep money in the classroom, where it belongs. Because standing up for New Mexico families, means giving our kids a great education.
August 31, 2010 at 02:25 PM in 2010 NM Governor's Race, Diane Denish, Education, Political Ads, Susana Martinez, Transportation | Permalink | Comments (2)
PRC Candidate Bill McCamley Responds to Opponent's Refusal to Debate
Why doesn't Ben Hall, the GOP candidate for the New Mexico Public Regulation Commission (PRC) in District 5, want to publicly debate the issues with Bill McCamley, the Democratic candidate for the job? What is he afraid of?
On August 9th, Bill McCamley invited Ben Hall to a series of debates across Southwest New Mexico. In his letter (which can be read here), McCamley stated, "the opportunity to communicate directly with possible constituents in a thoughtful, meaningful, and detailed manner should be something we should seek with open arms."
Sounds reasonable to me, but apparently Hall would prefer to avoid any public interaction with McCamley so voters are denied an opportunity to compare and contrast the candidates and their positions on the issues, up close and personal. Mr. Hall responded to McCamley's letter by refusing the debate invitation in a letter that can be seen . The letter is well worth a read as it speaks volumes about Hall's difficulties with coherent communication -- which just might be a major reason he doesn't want to debate McCamley.
Hall's Failure to Communicate
In his response letter, Hall stated that, "The purpose of out two party system in this country is to allow voters at least two points of view before they elect some one to a political office, just because two opposing candidates do not interact with one another along the campaign trail that does not lead to the degradation of trust between the public and elected officials [sic]." He also stated, "I can interact with the public and inform them of my background, knowledge of issues and my experience thru my web site, e-mail and the many forms of media that are available [sic]."
Despite what he says, Mr. Hall doesn't seem very diligent about talking to the media about his views either. Michael Johnson, Editor of the Alamogordo Daily News, in a response on his blog said, "McCamley has visited with me personally -- in my office -- three times and talked with my reporters several more times at various events. Hall has not contacted me or any of my editorial staff at the Daily News -- not even through the many forms of aforementioned media he cites to McCamley." (Full blog post can be seen here).
"It's a shame that Mr. Hall is refusing to interact with me. A series of debates would have educated the public both about the PRC and where we stand on its issues," McCamley said in response. "If he won't engage with me during the campaign, what does that say about his ability to be effective in Santa Fe where there is a constant need to communicate and converse in order to protect the public? I stand ready to discuss creating accountability and trust at the PRC with him should he change his mind."
McCamley: Proactive and Engaged
A lot is at stake in the November election and McCamley has been proactively following the issues and speaking out about his views. As a serious candidate should.
For instance, PNM is proposing to raise rates on communities within PRC District 5 by more than 20%. McCamley has pointed out that he has attended 7 of 8 public meetings PNM has had within the District since June to talk about these issues ("Rate Hike Dominates PNM Forum," Ruidoso News, July 15 2010. "McCamley Runs for PRC 5 Seat, Shares Little Known Facts," Alamogordo Daily News, Aug 7, 2010. "PNM Executive: Rate Hike is Necessary," Silver City Sun-News, August 26, 2010). 
McCamley says he has also attended every electric co-op annual meeting, met with mayors and fire chiefs in Silver City, Lordsburg, Deming, Las Cruces, Alamogordo, Ruidoso, Truth or Consequences, Socorro, Belen and Los Lunas, and has participated in candidate forums in Rio Communities, Cliff and Santa Teresa. According to McCamley, he has driven over 10,000 miles since the beginning of June talking with constituents across the 5th District. 
Hall: Hiding Out
In stark contrast, it appears that Ben Hall has been dedicated to hiding out from the public, keeping his positions to himself and -- most of all -- staying as far away as he can from Bill McCamley. Shame on Mr. Hall for denying voters the opportunities they deserve to compare the candidates and ask probing questions on their views. 
I guess Hall thinks he can get away with putting up a ton of campaign signs and fooling voters with bumper-sticker platitudes and still win. Let's make sure he's dead wrong on those counts. Make sure your friends, colleagues, neighbors and family members in the 5th PRC District know the score on Ben Hall and his stubborn refusal to debate the issues.
August 31, 2010 at 11:55 AM in 2010 NM PRC Races | Permalink | Comments (1)
Pueblo of Pojoaque Endorses NM Court of Appeals Judge Robert E. Robles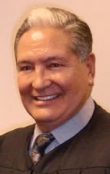 Note: Judge Robert E. Robles will join Rep. Martin Heinrich as a guest speaker at tonight's DFA-DFNM Meetup. All are welcome to attend.
On August 25, 2010, the Pueblo of Pojoaque issued a release endorsing Judge Robles saying, "The Pueblo of Pojoaque is proud to support Judge Robert E. Robles for the New Mexico Court of Appeals."
Governor George Rivera issued the following statement regarding the endorsement: "Judge Robles' superior reputation as a New Mexico trial judge speaks volumes about him. It is evident that he has a clear understanding of Native American issues and we support his candidacy for the New Mexico Court of Appeals."
"I am honored to be endorsed by the Pueblo of Pojoaque," Judge Robles said in a statement released by his campaign. "As a judge, it is my sworn duty to support the Constitution and laws of the State of New Mexico, with due respect for the rights of sovereign nations."
More on Judge Robles
In 1999, Judge Robles ruled in a 3rd District Court case that under the New Mexico Constitution, New Mexico residents who are United States citizens have a right to serve as jurors regardless of whether or not they are fluent in English. His ruling also stated that they are entitled to an interpreter in order to fully participate. The 3rd Judicial District Attorney representing the state in this matter took Judge Robles' ruling to the New Mexico Supreme Court for review where it was affirmed. As a result, all state courts are required to adhere to this process to ensure everyone is afforded the opportunity to be judged by a jury of their peers.
A native of Albuquerque, Robles graduated with a juris doctorate from the University of New Mexico School of Law in 1975. He began his legal career as a New Mexico Assistant Attorney General. In 1978, Robles moved to Las Cruces where he practiced law for 13 years prior to being appointed by Governor Bruce King as a Third Judicial District Court judge in 1991. Robles served on the district court bench for more than 17 years, and was selected by his fellow judges to three, three-year terms as chief judge.
Judge Robles has also earned endorsements from the New Mexico Federation of Labor, NM AFL-CIO, American Federation of State, County, and Municipal Employees, AFSCME, which represents over 12,000 city, county, state and university employees along with home-based childcare providers, and the Office and Professional Employees International Union, OPEIU.
August 31, 2010 at 10:06 AM in 2010 Judicial Races, MeetUp, Native Americans | Permalink | Comments (0)
Monday, August 30, 2010
9/1: Santa Fe Fundraiser for Stephanie Richard for State Rep
From Stephanie Richard for State Representative:
From the School-House to the Round-House,
Let's Get a Strong, Pro-Choice Woman to Santa Fe!
Please Join
Diane Wood, Liz Stefanics, Linda Siegle, Charlotte Roybal, Ocean Munds-Dry, Edie Nunez, Anne Watkins, Viki Elkey,
Kathy Keith, Kate Ferlic, Reena Szcezpanski,
Ruth Kovnat and DeAnza Sapien
Fundraiser for Stephanie Richard
Democratic Candidate
State Representative, District 43
Wednesday, September 1st, 4:30-6:00 PM
Strong Schenck Gallery
200 Canyon Rd #C, Santa Fe, NM
$50 suggested contribution
Light refreshments served
Click for Flyer With Complete Info
August 30, 2010 at 06:06 PM in 2010 NM Legislature Races, Events, Women's Issues | Permalink | Comments (0)
8/30: Fundraiser for Judge Robert Robles at Osteria d' Assisi in Santa Fe
PLEASE JOIN
Democrat State Party Chairman
Javier Gonzales
Santa Fe County Chairman
Richard Ellenberg
Mark & Shana Baker; Michael Campbell; Steve Flance; David P. Garcia; Kurt Gilbert; Nancy Long; Elicia Montoya; Dan Najjar; Pete D. White & Geno Zamora
FOR AN EVENING FUNDRAISER FOR:
Judge Robert E. Robles
New Mexico Court of Appeals
Monday, August 30, 2010, 5:00 PM – 7:00 PM
Osteria d' Assisi (upstairs)
58 S. Federal Place, Downtown Santa Fe
Food and Refreshments will be Served
Votejudgerobles.com
Please help us Keep Judge Robles in 2010
Click for Flyer (pdf)
Contributions appreciated. If mailed, please send to: Joleen K. Youngers, Treasurer, Committee to Keep Judge Robert E. Robles, P.O. Box 7256, Las Cruces, NM 88006.
August 30, 2010 at 01:11 PM in 2010 Judicial Races, Events | Permalink | Comments (0)
Big Turnouts for Diane Denish at Weekend Events in Corrales, Las Vegas NM
They say a picture is worth a thousand words, and photos from two recent campaign events in support of Democrat for New Mexico Governor drive that point home.
All told, between more than 400 (or was it 500 or 600?) folks turned out for a back-to-school family BBQ at Melody Park in Las Vegas on Sunday afternoon.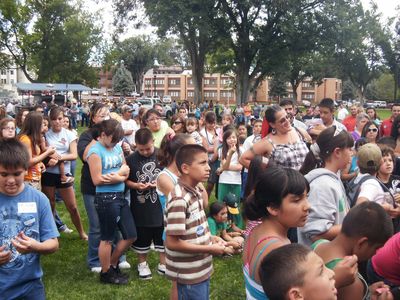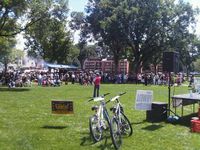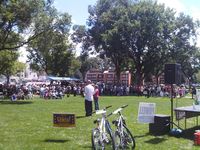 Photos from Denish BBQ, Las Vegas NM
And on this past Saturday, a large crowd packed a back yard at a Denish house party in Corrales.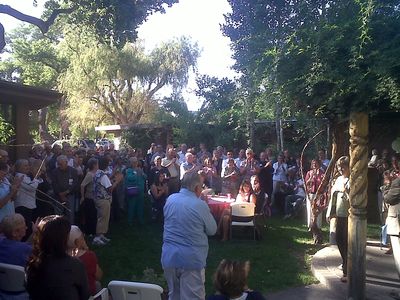 Denish house party Corrales NM
To follow the Denish campaign, donate time or money and receive information on Denish events in your area, but sure to join the email list at and visit her Facebook page.
Click on photos for larger images. All photos from Denish campaign.
August 30, 2010 at 12:14 PM in 2010 NM Governor's Race, Diane Denish, Las Vegas NM | Permalink | Comments (0)
Teague Leads Pearce 45% to 42% in NM-02 According to Journal Poll
Give 'em hell, Harry! Today the Albuquerque Journal is reporting that Harry Teague is leading Congressman Steve Pearce in the 2nd Congressional District race according to a poll of 404 likely voters conducted August 23-27, 2010. The poll, conducted by Research & Polling Inc., found Teague leading Pearce by a margin of 45% to 42% among likely voters, with 13 undecided, and also showed Teague with a strong lead among the key group of likely Independent voters. See below for more results released by the Journal.
Journal pollster Brian Sanderoff said in the article that, "Harry Teague surprised the world two years ago when he won in a Republican district. Now we see that he is still hanging in there against a former incumbent in a conservative year in a conservative district." Sanderoff added, "Teague seems to have some staying power, and it appears that it will be a close race."
Harry Teague's Campaign Manager, Dominic Gabello, weighed in on the the poll results with a written statement today:
"This poll shows that Harry Teague has proven to be the kind of representative people in southern New Mexico want. Harry is hard working and independent. He stays in touch, he's working to change Washington, and he has stood up for our veterans and has fought to secure our borders," Gabello said. "We are encouraged by these poll numbers, but Harry is taking nothing for granted. This is still a tough race and Harry is going to keep doing what he's been doing, working hard for the people and communities he represents."
Party Lines
Democrats for Teague 76%
Democrats for Pearce 12%
Republicans for Teague 9%
Republicans for Pearce 81%
Independents for Teague 37%
Independents for Pearce 33%
Ethnicity
Hispanics for Teague 59%
Hispanics for Pearce 24%
The Journal said Pearce polled better among people under 50, while Teague had more support among likely voters over 50, but it didn't provide the exact numbers or any data on other age breakdowns. They released no numbers on other demographic results.
The Journal says the poll has a margin of error of plus or minus 5 points with larger margins of error in the subcategories, although the it doesn't say how much larger.
This is expected to be a hard-fought race all the way through election day on November 2nd. Get involved now to make sure Harry Teague holds onto this seat and that Steve Pearce never gets another chance to screw things up for the people.
August 30, 2010 at 11:28 AM in NM-02 Congressional Race 2010, Polling, Rep. Harry Teague (NM-02), Steve Pearce | Permalink | Comments (2)
Journal Poll: Heinrich Beating Barela 47% to 41% in NM-01
According to a new poll conducted by Research and Polling Inc. for the Albuquerque Journal, Democratic incumbent candidate Rep. Martin Heinrich holds a 6-point lead over his GOP opponent Jon Barela -- 47% to 41% -- with 12% of those polled still undecided. The telephone survey of 402 likely voters, conducted August 23-27, 2010, has a margin of error of plus or minus 5 points, according to the Journal. The margin of error for the subsets increases according to the Journal, but we don't know by how much.
Additional data released by the Journal:
Ethnicity
Anglos for Heinrich 42%
Anglos for Barela 46%
Hispanics for Heinrich 54%
Hispanics for Barela 33%
Party Lines
Democrats for Heinrich 75%
Democrats for Barela 12%
Republicans for Heinrich 11%
Republicans for Barela 83%
Independents for Heinrich 45%
Independents for Barela 31%
Among Hispanic Democrats
Hispanic Democrats for Heinrich 70%
Hispanic Democrats for Barela 14%
Age Groups
Aged 18-34 for Heinrich 56%
Aged 18-34 for Barela 36%
Aged 65 and Over for Heinrich 40%
Aged 65 and Over for Barela 46%
As always, the Journal, which holds a financial interest in Brian Sanderoff's polling company, did not release full cross-tab data when reporting on the results. Unlike the purchasers of most serious political polls and most respected polling firms themselves, the Journal continues to pick and choose which data it makes available to the public, and which it keeps hidden.
Previous Polls
In leaked results of a poll supposedly conducted on behalf of an unnamed statewide candidate in mid-August, Barela was alleged ahead by a couple points.
In an automated telephone poll by SurveyUSA conducted on behalf of KOB-TV on July 22-25, 2010, Barela was leading Heinrich by 6 points, or a margin of 51% to 45% with only 4% of respondents undecided.
In a poll conducted for the Heinrich campaign by Greenberg Quinlan Rosner Research around the same time as the SurveyUSA survey, Heinrich held a 12-point lead over Barela, 53% to 41%.
These early polling results are preliminary snapshots of the NM-01 race taken before most ordinary voters are paying attention. Traditionally, races kick into higher gear after Labor Day weekend when political TV ads start proliferating the candidates start campaigning in earnest. In the NM-01 race, Rep. Heinrich started running his first TV ad last week, early by the standards of the past and indicative that Rep. Heinrich has the money to do so. Barela has not yet aired any TV ads.
August 30, 2010 at 10:15 AM in Jon Barela, NM-01 Congressional Race 2010, Polling, Rep. Martin Heinrich (NM-01) | Permalink | Comments (0)
Sunday, August 29, 2010
ABQ Journal Poll: Martinez Lead Vs. Denish Shrinks to 5-6 Points from Leaked Statewide Poll of Mid-August
The first Albuquerque Journal governor's race poll of the 2010 election season was released today and shows the GOP's Susana Martinez leading Dem Diane Denish by 6 percentage points, 45% to 39%. However, a significant number -- 16% -- are still undecided. Most voters don't start paying attention to fall elections until at least Labor Day, and most campaigns are not in full swing until then, so consider this survey a kind of baseline poll. Additional poll results reported in today's Journal are available here.
The survey, as always, was conducted by Brian Sanderoff's Research and Polling Inc., a company in which the Albuquerque Journal has a financial stake. Also, as usual, the Journal did not release the full cross tabs on the polling, nor any info on how the questions were worded, how data was weighted demographically, etc. As always, the Journal selectively released the data collected.
At any rate, the Journal says the results of "phone interviews" with 942 registered New Mexico voters statewide "who have voted in the past and who said they plan to vote in the upcoming general election" have a margin of error of plus or minus 3 percentage points. It said that "the margin of error grows for sub-samples, such as ethnic groups and political party affiliation," although the Journal did not disclose what those margins of error were for the sub-samples. We also don't know how many Hispanic Democrats in the "Albuquerque Metro Area," for instance, were interviewed, as no such breakdowns were published.
The released the following statement in response to the poll results:
"Polls will go up and down, but as New Mexicans learn about the real Susana Martinez, they'll see she's just another politician who isn't on their side and can't be trusted. New Mexicans don't want a Governor who wants to cut public education and let powerful corporations take advantage of families. There's only one candidate in this race who has a track record of standing up for New Mexico families and the issues most important to them – and that's Diane Denish," said Denish for Governor spokesman Chris Cervini.
Results Similar to Rasmussen's
The margin between Martinez and Denish in this poll is about the same as it was for a Rasmussen Reports poll conducted on August 24, 2010 by means of automated phone calls of "likely voters," which showed Martinez with 48% and Denish with 43%. However, the Rasmussen had only 6% of those polled as undecided, compared with 16% in the Journal survey.
Martinez Lost Support Since Mid-August
Pundits earlier made much of leaked partial results of a poll allegedly conducted in mid-August by an unnamed statewide candidate that showed Martinez ahead by 12 points but under 50%. Since there was so much emphasis placed on the undocumented poll results by those who call themselves "reporters," I'll take them at their word and say that today's results show a degradation of support for Martinez between mid-August and now. If the leaked results are to be believed, Martinez has lost a full 6 percentage points of support over a period of only a few weeks as voters' interest in the race has grown at least somewhat. Bad news for Susana!
Of course many will argue with this take, and will now ignore the mid-August "results" as without meaning. You know how they are in journo-ville. Blast headlines over nothing and then switch gears when other results are released by the supposed "paper of record."
What's the reality? Early on, with most people not yet paying much attention to the election, Denish's support is trailing due to the usual mid-term let down for the incumbent party, with undecided voters still in double digits. She's 5-6 points down to a "fresh face" who has been the beneficiary of lots of positive commentary lavished on her by mainstream media sources and certain bloggers. The horse-race-style "reporters" love a contest with many twists and turns and a breathless story line that features the candidate commonly seen as a newcomer underdog up in the polls.
The results shouldn't be disregarded -- but they should be taken in context and in proper proportion. Regardless, they show that Denish and the Dems have an uphill battle in the governor's race at this point and that, when all is said and done, the November gubernatorial election will no doubt be a close one in this challenging environment.
The Task for Dems
I think Dems need to clearly show how Susana Martinez's economic and job policies -- as weak and ill-defined as they are -- will hurt ordinary New Mexicans, not help us. Working families will suffer more under the slash and burn budget and economic policies of right-wing candidates like Martinez. Jobs won't be created by a return to the Bush-era, trickle-down focus on giving already wealthy people more money to play with. Etcetera. And the same is true for contests up and down the ballot.
Voter outreach and strong messaging will be of prime importance between now and November 2nd for Dem candidates. Not only will Dems have to provide a clear contrast between their forward-looking, common-sense proposals and the failed policies of their GOP opponents, but all of us will have to volunteer to canvass, phone bank and more. This won't be an easy election cycle by any means, but we CAN WIN and WILL WIN if we do what needs doing in the coming weeks.
Additional Journal Poll Results
August 29, 2010 at 12:32 PM in 2010 NM Governor's Race, Diane Denish, Media, Polling, Susana Martinez | Permalink | Comments (17)
Saturday, August 28, 2010
8/29: Denish, Balderas, Colón Host Free Back to School BBQ in Las Vegas to Help Kids, Families Kick Off School Year
From the :
As the new school year begins Diane Denish, Hector Balderas and Brian Colón are hosting a free Back to School barbeque to help kids and families get excited for the new school year. There will be free food and drinks, live music and entertainment and, most importantly, lots of back to school prizes for kids including a bicycle, backpacks, iPods and lots of school supplies.
Please Join
Lt. Governor Diane Denish
State Auditor Hector Balderas
Democratic Lt. Governor Candidate Brian Colón
For
A Back-to-School BBQ
Students Welcome
Back-to-School Prizes
Free Food and Refreshments
Music and Entertainment by Paisano del Valle
Sunday, August 29, 1 PM to 3PM
Melody Park, 1017 Mora Ave., Las Vegas, NM
Click for Flyer (pdf)
For more information or to RSVP contact the Diane Denish for Governor Campaign HQ at (505) 255-1282 or at info@dianedenish.com
August 28, 2010 at 03:13 PM in 2010 NM Governor's Race, Brian Colon, Children and Families, Diane Denish, Events, Hector Balderas, Las Vegas NM | Permalink | Comments (2)
Guest Blog: PR Strategy Can Trump Grassroots GOTV Action

This is a guest blog by Stuart Heady, a freelance writer and political activist who lives in Albuquerque.
Reviewing the history of the United Fruit Company overthrow (through the Eisenhower Administration) of the democratically elected government of Jacobo Arbenz in Guatemala in 1953, I was struck anew by the role of Edward Bernays, the father of modern public relations.
This is a very under appreciated episode in modern history, and a highly important precedent for the way political debate is now conducted in America.
Edward Bernays' uncle was Sigmund Freud and he grew up around figures like Carl Jung and Wilhelm Reich and other originators of the science of psychology. Reich's best contribution was the concept that entire societies had a psychology. He had to run from Germany in the '30s for trying to warn the world about the growing mass madness there.
Bernays had the inspiration that, instead of studying psychology, you could use it to manipulate the mass mind and sell stuff to make lots of money. When he came to America, he became famous for being one of the founders of the Madison Avenue complex that created a whole new consumer economy, particularly after WWII.
By the '50s he began to use this magic in the service of politics. United Fruit was a company that had created a large-scale fruit business, largely selling bananas from Central America. For nearly half a century they had been able to have their way. So when the people in Guatemala elected a president who would negotiate better terms for Guatemala with the company, raising the portion of taxes they paid, emphasizing labor interests in better wages, and buying back land for Guatemalans to cultivate, the company decided to opt for overthrow. Bernays' set out to prove that something like public opinion and the US government could be moved through a PR attack and this could set up favorable conditions for regime change.
For several years, Bernays met privately with key opinion leaders like the publisher of the New York Times and progressive Minnesota Senator Robert LaFollette. He sent out blizzards of canned articles, Op Eds, letters, reports, etc. to fill in the information gaps about Guatemala with his PR line. This was that the Guatemalan government was being taken over by communists interested in establishing a foothold on the American continent. It didn't matter that largely, the Indian population of Guatemala had a communal tradition going back into the mists of time and this was the way subsistence agriculture was conducted traditionally. Anthropology was irrelevant to politics. It didn't matter that the people of Guatemala had voted in favor of negotiation with a foreign entity that was making life harsh for many people.
When the New York Times sent reporters down to check out what was going on, they saw the landscape through Bernays' PR filter and reported accordingly, which furthered what we today call "framing the issue" for a public and a Washington leadership that otherwise was in total ignorance.
In only a few years, this had Congress going and Eisenhower ordered the CIA to conduct a coup to overthrow Guatemalan President Jacobo Arbenz, in favor of a military figure that was recruited by the CIA, Castillo Armas. This set in motion an astounding degree of carnage in many countries across the hemisphere with reverberations we are still seeing today, although we may not know that what we are seeing is historically connected.
Direct Line to Today
What is relevant today is that the testbed for what we are seeing in American politics now, particularly Republican politics, is in various efforts to promote an economic model that should sound familiar. The essence of it is very limited government, privatized services like Social Security, unregulated free market capitalism, and especially free rein for multinational corporations.
There is a direct line between Edward Bernays and Karl Rove and the Tea Party's financial backers. The essence of what still works is that truth is relative. Academics might debate what is or is not really true. What matters in politics is what works to cause a powerful sense of urgency to rush to action, based in whatever triggers the most intense emotional reaction.
This can mean that, given the lack of a strong and well-organized progressive PR strategy with effective messaging, our GOTV activism may turn out to be inadequate to get voters excited and on our side. We don't have a well-developed strategic PR infrastructure with abundant think tanks and message testing like the right wingers do.
I sometimes think there will be a coming together for progressives in a realization about what is going on, when the bunch of us are lined up against the wall to be shot. But then, there probably will be an argument about it even then.
This is a guest blog by Stuart Heady. To submit a piece for consideration as a guest blog, contact me by clicking on the Email Me link at the upper left-hand corner of the page. To read a collection of guest blogs, visit our archive.
August 28, 2010 at 01:53 PM in Economy, Populism, Guest Blogger, History, Progressivism, Right Wing | Permalink | Comments (4)