« 8/5: Mimi Stewart Re-Election Campaign Fundraiser, Chama River Brewing Co. | Main | 8/5: Grand Opening Celebration at Rep. Martin Heinrich's Campaign Office »
Friday, July 30, 2010
RNC Chair Michael Steele: Did the GOP's Green Chile Get Him Or Was It Fallout from Sherrod Fiasco?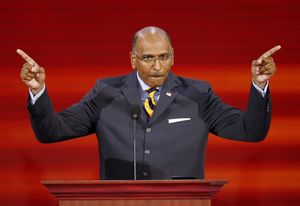 Michael Steele, who chairs the Republican National Committee and has a habit of getting his foot stuck in his mouth, was in Albuquerque on Thursday for a fundraiser for GOP gubernatorial candidate Susana Martinez. No word on how that went -- although we can imagine Steele amusing the far-right-wingo/Tea Party lovin' guests with infamous whoppers like he's told in the past. Like proclaiming that the Afghanistan war was started by President Obama.
In just his first month on the job last year, Steele filled the airwaves with off-kilter chatter -- insulting GOP Saint Rush Limbaugh, threatening moderate Republican senators, offering the "friggin' awesome" Louisiana Gov. Bobby Jindal some "slum love," calling civil unions "crazy" and promising more outreach to "urban-suburban hip-hop settings" via an "off the hook" public relations campaign. He even threw a shout-out to "one-armed midgets."
Steele and Breitbart vs. Sherrod
There have been many more miscues and odd prattle by Steele since then, of course, the latest being his exuberant support for right-wing blogger Andrew Breitbart. Breitbart is the bullying beast who smeared the USDA's Shirley Sherrod by cutting and pasting video of one of her speeches to make it appear she was making racist statements, and then posting it on one of his websites. Poof -- it was all over the right-wing echo chamber in minutes. Oooof, Breitbart's crass manipulation was revealed shortly thereafter and a good many Republicans tried to back away from Breitbart.
Not Michael Steele, though -- he invited Breitbart to be the featured speaker at a GOP fundraiser in Beverly Hills next month. Yes, you read that right.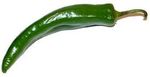 Tale of the Rumbling Stomach
Anyway, while in New Mexico on Thursday, Steele apparently put something in his mouth (other than his foot) that got the best of him -- green chile perhaps? Did someone on Susana's team serve Steele some muy picoso green Hatch chile that was just too much for a guy from Maryland? Or was it something else?
Steele cancelled his scheduled appearance today before a national meeting of black journalists, explaining that he had contracted a "bad case of food poisoning" while out west, according to an article on CNN.com.
Steele was scheduled to speak today at the National Association of Black Journalists annual meeting in San Diego, but cancelled at the last minute. An RNC spokesman said in an email to CNN, Steele "is disappointed to miss the opportunity to take part in this valuable dialogue and looks forward to engaging with NABJ in the very near future." The RNC spokesman told CNN that Steele had not been to the hospital, but that the chairman had consulted a doctor.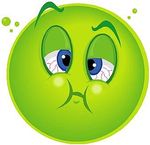 Could it be that Steele felt, um, uncomfortable (as in puckered gut) about making an appearance before the nation's African-American journalists just one day after Shirley Sherrod spoke at the NABJ convention and announced that she plans to file suit against Andrew Breitbart for sullying her good name?
Republican Indigestion
You might say that Republicans are between a rock and a hard place concerning Mr. Breitbart -- who has long been viewed as the go-to guy for right-wing smear campaigns, like the fake prostitution video that brought down ACORN. Their de facto leader Rush Limbaugh and right-wing bloggers continue to defend Breitbart, and you saw what happened last time when Michael Steele dared to be critical of Rush -- he had to apologize.
As Ryan Witt, writing in the Political Buzz blog for the Examiner, explained:
Republicans are now in a difficult position with Breitbart. A number of conservatives, including Rush Limbaugh, still support Breitbart, and if Republicans publicly distance themselves from Breitbart it could draw a backlash. On the other hand, associating closely with the man many blame for the Sherrod mess could have its own costs.
We may never know for sure what caused Michael Steele to beg off speaking to the Black Journalists convention. Either way, though, we know it was a case of Steele having a little problem in the guts department.
July 30, 2010 at 05:48 PM in 2010 General Election, 2010 NM Governor's Race, Racial Minorities, Republican Party, Right Wing, Susana Martinez | Permalink
Comments
Green Chile! It's how we roll, baby!
Posted by: Stephen Jones | Jul 30, 2010 7:29:56 PM
Awww the aftermath of green chile torsio gives you that fresh born feeling. When it is over, you feel so good to be alive!
This is the New Mexico experience.
Posted by: qofdisks | Jul 31, 2010 12:44:58 PM