« Tonight: Express Yourself on Video at DFA-DFNM Meetup | Main | 7/8: Business in NM Fundraiser for Rep. Martin Heinrich's Campaign with Sen. Jeff Bingaman »
Tuesday, July 06, 2010
BernCo Commissioner Maggie Hart Stebbins Praised for Role in Resolution of Dantis Problems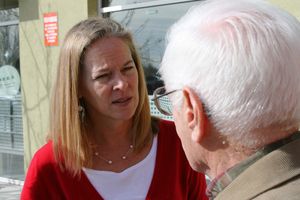 Hart Stebbins talking with constituent
Not surprisingly, the Albuquerque Journal provided heavy coverage on the story of ongoing problems with Jamie Dantis, the son of long-time Bernalillo County jail director John Dantis, and how Jamie was hired at the county's Metropolitan Assessment and Treatment Services (MATS) facility, as well as the incidents that should have gotten him placed on leave and/or fired. It's the kind of story the Journal loves to do.
What IS surprising is that the right-wing-trending Journal published an editorial on the story this past Friday that included praise for a Democrat -- Bernalillo County Commissioner Maggie Hart Stebbins:
The public has Commissioner Maggie Hart Stebbins to thank for forcing the issue as she carefully walked the line between setting policy and involving herself in personnel actions. Had it not been for her courage, there is a very real possibility county management would have simply hunkered down.
Although we are rarely in synch with the Journal's take on things, we strongly agree with its assessment of Maggie's pivotal role in helping to get the dispute addressed and resolved in a sensible manner. County Manager Thaddeus Lucero was convinced to call for an outside investigation, after which John Dantis eventually decided to step down. Lucero has said he will fire Dwight Dias, manager at the county's MATS facility where Jamie Dantis worked. Jamie has also resigned. There's every indication that the "housecleaning" will produce a much better county operation in a variety of areas.
Stebbins, a progressive Democrat with a strong ethics reform streak, is running for a second term representing District 3. She faces Republican Robert Applegate in November's election. It's critical that we help her get reelected so she can continue providing her much-needed emphasis on reform at the County level.
You may recall that Stebbins was also instrumental in getting an ethics bill passed to reform a vague and inadequate county ethics code that hadn't changed since 1975. The revised code, produced via collaboration with numerous organizations and individuals pushing for reform, implemented clear standards of conduct for elected officials, while making it easier for individuals to report cases of fraud or abuse by elected officials. There's a lot more to be done on this issue, but Stebbins' bill represents a meaningful first step.
We need to make sure Maggie gets another term to keep the pressure on in her understated, common-sense way. Please donate some time or make a donation to Maggie's campaign to help her get reelected to do just that. Progressives are always talking about electing more and better Democrats -- and Maggie Hart Stebbins is a good example of what we mean by that.
July 6, 2010 at 12:03 PM in 2010 Bernalillo County Commission Races, Ethics & Campaign Reform, Government, Media | Permalink
Comments