« 6/7: Take a Stand Against Mayor Berry's Arrest Policy and Immigrant Scapegoating | Main | Guest Blog: Young People Deserve a Seat at the Table »
Saturday, June 05, 2010
BP Oil Spill Stirs New Energy for Innovation at Congressman Teague's 'Re-Energize America' Conference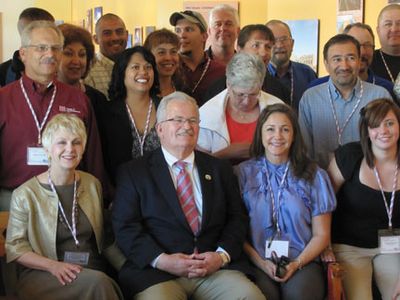 Rep. Harry Teague and conferees
This is a post by contributing writer, Stephen Jones, who is a progressive political activist and a resident of Las Cruces, New Mexico. He IS our Southern NM Bureau.
In the wake of BP's disastrous Deepwater Horizon oil spill the Re-Energize America Conference held Thursday and Friday June 3 and 4 at the New Mexico Farm and Ranch Heritage Museum in Las Cruces took on extra interest and urgency. The Conference included dozens of speakers from both traditional and emerging energy sectors, educators, as well as state and national government officials. The conference was co-hosted by Congressman Harry Teague and New Mexico State University.
While the tenor of the two-day conference was confident and upbeat, most of the speakers expressed an urgency for developing new renewable energy sources. Among the concerns expressed were environmental degradation, economic stagnation and national security. Many felt the United States was falling behind China, Japan, the European Union and India in building its renewable resource industries, and becoming dangerously beholden to foreign oil.
New Mexico's future also was highlighted at the Conference. Many of the speakers stressed the state's abundant resources, including solar, wind, geothermal, biotech, nuclear as well as oil and gas unmatched by most other states, and New Mexico's commitment to biofuel. Congressman Teague noted that southern New Mexico was well positioned to become a center for these emerging new technologies and pledged to continue to be a conduit in bringing the best national energy leadership together.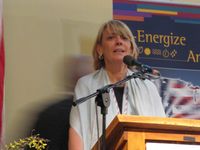 Maria Zannes, Southwestern Biofuels Association
An algae-based biofuel startup was among the most talked about new energy projects at the conference. Sapphire Energy is developing a 300-acre site near Columbus, New Mexico that uses the non-potable saline water abundant in the area as a resource to grow what it calls "green crude." Microsoft founder Bill Gates is among the leading investors in Sapphire, which has also established a new research facility in Las Cruces. Maria Zannes, outreach director of the Southwestern Biofuels Association, said the biofuels industry would eventually generate 60,000 jobs.
With the BP spill as a backdrop, much of the Conference focused on fossil fuels. Jim Ford, Vice President for Federal and Government Affairs for ConocoPhillips, a major oil and gas corporation, specifically noted the public concern over the BP spill but urged caution in quickly slapping new regulations on his industry. He also stated that it was his understanding that the current law capping Federal fines was "null and void if the company [BP] was negligent." He said ConocoPhillips supports enactment of a comprehensive energy policy, but opposed raising taxes and fees. Since ConocoPhillips and other American oil companies must rely on foreign state-run sources of oil, taxes and fees would amount to a "double tax" and increased Federal regulation would only work to "drive jobs out of the United States," Ford said.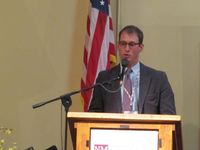 Jon Goldstein, NM Energy, Minerals and Natural Resources Dept.
Few of the other speakers agreed with Ford. Spokespeople for New Mexico's land-based oil and gas industry talked about their lower footprint and expressed more concern with bringing revenue, jobs and market share into New Mexico than with any potential Federal legislation. Directly refuting the ConocoPhillips position, Jon Goldstein, Secretary of the New Mexico Energy, Minerals and Natural Resources Department said New Mexico's effective regulatory structure had helped the state pursue new jobs and revenue. Among the traditional energy industries, most saw the United States' considerable reserves of natural gas as a cleaner fossil fuel and bridge to new technologies, including Ford of ConocoPhillips.
Generating new jobs was a key issue addressed at the Conference, with an emphasis on creating employment and income in New Mexico. David Blivin, Managing Director of the Cottonwood Technology Fund, claimed that while New Mexico ranks second in scientists and engineers, the lack of venture capital has been problematic in generating permanent high-end jobs for the state.
Not all of the new energy jobs envisioned for New Mexico are aimed at specialists. Jon Goldstein said most to the new green energy jobs are blue collar jobs, many in the home renovation and improvement industries, construction and in agriculture. "These are jobs that stay in New Mexico and can't be outsourced" Goldstein said.
Improved extraction and new cleaner technologies for traditional extractive industries including oil, gas, coal and uranium were highlighted, along with nuclear and improved wind and solar, but new breakthrough technologies, like Sapphire's "green crude" stirred the most interest. Bill Simms of Joule Unlimited described his company's new technology that creates biofuel from only the sun and waste carbon dioxide. Joule is considering New Mexico as the location for its first production facility.
A major concern for both traditional electric and gas industries, as well as newer technologies, was the existing infrastructure and delivery systems. Few saw the United States' infrastructure as adequate to meet new demands for plug-in electric cars and other coming energy needs. The aging electric grid was an important topic of discussion. The Conference also outlined conservation strategies and technologies. "Of all the new technologies, the least expensive is energy efficiency" said New Mexico State Senator Steve Fischmann. Fischmann linked new power plant construction to consumer price increases. "Every time a new plant comes on line, energy companies petition for rate increases," Fischmann said, "Energy conservation saves dollars and creates jobs."
Tiered pricing based on high- and low-energy consumption periods and rate decoupling, a novel approach that removes incentives for utility companies to promote high usage to maintain profits, were also outlined at the event.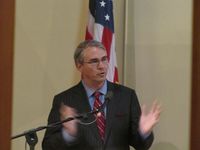 Matt Rogers, Senior Advisor to Secretary of Energy
Matt Rodgers, Senior Advisor to the Secretary of the U.S. Department of Energy, praised the "strong local leadership" in New Mexico. "New Mexico is truly blessed," Rodgers said, noting New Mexico's relative strength in energy resources over its western neighbors as well other parts of the country, but urged all of New Mexico's community, business and educational partners to work together. "We are in a global competition," he warned, stressing local readiness. He said that the communities with the strongest willingness to work together would have access to the greatest resources. "Spend wisely and with urgency" Rodgers said.
Marcilynn Burke of the Bureau of Land Management (BLM) echoed Rodgers. She estimated that renewable energy projects on BLM-held lands alone could eventually net 250,000 new jobs, and that New Mexico's renewable resources were among the highest in the nation.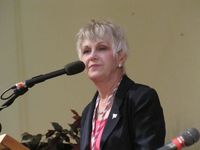 NMSU President Barbara Couture
Educational opportunities were also stressed, and New Mexico State's President Barbara Couture showcased her institutions energy and engineering programs. Congressman Teague also called for better educational opportunities in New Mexico's smaller communities.
"The key to a strong economic future in energy in New Mexico is education and broadband," Teague said. "I've worked to bring rural broadband into our classrooms, community colleges and libraries," the Congressman said, "but we have to do more." New Mexico's 2nd CD Congressman is proud to have brought new broadband to rural counties in the southern part of the state through USDA grants, but he stressed his intention to do much more. "New Mexico's rural communities are particularly hard-pressed by the need for broadband. Unlike the larger communities our small community classrooms have only a few students, but still need to stay connected." Teague said.
"I'm an old oil man, and I always will be," Teague told the Conference, "but I understand the need for diversification." Congressman Teague particularly expressed his concern for the nation's reliance on foreign oil from hostile nations. "The Recovery Act, which I supported, is a first step in saying, 'No more of the same!'" Teague said. Asked what he hoped New Mexico's 2nd Congressional District residents would take home from the conference, Congressman Teague said, "We need energy of all types. It's not a competition, we need it all!"
All photos by Stephen Jones. To read more posts by Stephen, visit our archive.
June 5, 2010 at 10:48 AM in By Stephen Jones, Contributing Writer, Energy, Environment, Green Economy, Jobs, Las Cruces, National Security, Rep. Harry Teague (NM-02), Science | Permalink
Comments
Great report Stephen. Thanks. I can not beleive the conoco guy still defending no regulations and no new taxes....wow...i am surprised he was not heckled off the stage.
Posted by: mary ellen | Jun 5, 2010 12:36:58 PM