« Guest Blog by Rep. Nate Cote - National Trails Day: A Reflection After Walking the Appalachian Trail | Main | Day Two: Diane Denish Goes North, Brian Colón Travels South »


Wednesday, June 02, 2010
2010 New Mexico Primary: Dem Winners (and Losers) Must Unite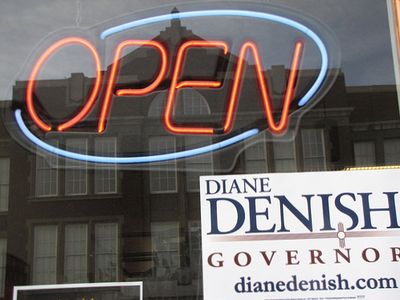 All the unofficial results are now in, the victory laps have been taken, the defeats are being absorbed and Democrats must unite with enthusiasm and determination in order to keep right-wing Republicans out of office up and down the ticket in November's critical contests. There were a number of hard-fought primary battles on the Dem side, but now it's imperative that all the candidates and their supporters put those clashes behind them.
It's time to work together on A New Way Forward with the Diane Denish-Brian Colón ticket and dedicate ourselves to furthering core Democratic values in a combative and nasty political environment typified by Tea Parties and smear campaigns coming from the right -- all of them well funded.
"I would like to congratulate each of the stellar nominees who truly bring excellence to New Mexico, along with the unity and strength they lend the Democratic ticket," said DPNM Chairman Javier Gonzales in a statement released today. "New Mexico Democrats are united behind Diane Denish and her focus on creating jobs and helping our state become more competitive. As Democrats we will work hard as a unified party and always put our state's working families first."
You can check out the unofficial results of all the primary races at the Secretary of State's website.
The results for key Democratic contested races include:
LIEUTENANT GOVERNOR
BRIAN S. COLON: 35934, 28.7%
LAWRENCE D. RAEL: 30537, 24.4%
JOSE A. CAMPOS II: 25618, 20.4%
GERALD P. ORTIZ Y PINO: 14992, 12.0%
LINDA M. LOPEZ: 18219, 14.5%
COMMISSIONER OF PUBLIC LANDS
RAY BENNETT POWELL: 48071, 39.7%
HARRY B. MONTOYA: 43629, 36.0%
SANDY R. JONES: 29536, 24.4%
JUDGE OF THE COURT OF APPEALS - POSITION 2
LINDA M. VANZI: 62283, 53.5%
DENNIS W. MONTOYA: 54045, 46.5%
STATE REPRESENTATIVE - DISTRICT 8
JULIAN R LUNA: 1395, 53.1%
ELIAS BARELA: 1231, 46.9%
STATE REPRESENTATIVE - DISTRICT 13
MATTHEW E ARCHULETA: 721, 43.2%
ELEANOR CHAVEZ: 949, 56.8%
STATE REPRESENTATIVE - DISTRICT 14
MICHAEL A ATLER SR: 521, 30.5%
MIGUEL P GARCIA: 1185, 69.5%
STATE REPRESENTATIVE - DISTRICT 43
PETER T. SHEEHEY: 879, 40.4%
STEPHANIE M. RICHARD: 1298, 59.6%
STATE REPRESENTATIVE - DISTRICT 46
BEN LUJAN: 2129, 51.0%
CARL P. TRUJILLO: 2049, 49.0%
STATE REPRESENTATIVE - DISTRICT 70
BARBARA A. PEREA-CASEY: 1643, 38.1%
ERIC M. CUMMINGS: 278, 6.5%
RICHARD D. VIGIL: 2065, 47.9%
CHRIS LOPEZ: 323, 7.5%
PUBLIC REGULATION COMMISSIONER - DISTRICT 4
HANK HUGHES: 5123, 21.4%
ANDREW LEO LOPEZ: 4890, 20.4%
GEORGE J. GALANIS: 5269, 22.0%
THERESA BECENTI-AGUILAR: 8640, 36.1%
DISTRICT JUDGE - 1st JUDICIAL DISTRICT, DIVISION 7
DAVID K. THOMSON: 10322, 45.0%
T. GLENN ELLINGTON: 12598, 55.0%
DISTRICT JUDGE - 2nd JUDICIAL DISTRICT, DIVISION 11
GERARD J. LAVELLE: 15830, 52.8%
EDWARD ARNOLD PADILLA: 14172, 47.2%
DISTRICT JUDGE - 2nd JUDICIAL DISTRICT, DIVISION 23
SHANNON BACON: 18890, 63.9%
LORI L. MILLET: 10679, 36.1%
BERNALILLO COUNTY COMMISSIONER - DISTRICT 1
LORETTA A. NARANJO LOPEZ: 2453, 27.7%
MICHELLE LUJAN GRISHAM: 4215, 47.5%
DAN SERRANO: 2199, 24.8%
BERNALILLO COUNTY ASSESSOR
MARK J CARRILLO: 13846, 43.2%
KAREN LOUISE MONTOYA: 18200, 56.8%
BERNALILLO COUNTY SHERIFF
PATRICK M DAVIS: 6815, 21.1%
FELIX I NUNEZ: 3624, 11.2%
MANUEL GONZALES III: 8601, 26.7%
MARIE SISI MIRANDA: 7687, 23.8%
GERALDINE M AMATO: 2132, 6.6%
JOSHUA R TIMBERMAN: 1186, 3.7%
JOE R. WILLIAMS: 2193, 6.8%
Below is the list of candidates that make up the Congressional and statewide 2010 Democratic ticket:
, Governor
Brian Colón, Lieutenant Governor
Martin Heinrich, 1st Congressional District
Harry Teague, 2nd Congressional District
Ben Ray Lujan Jr., 3rd Congressional District
Mary Herrera, Secretary of State
Gary King, Attorney General
James B. Lewis, Treasurer
Hector Balderas, Auditor
Ray Bennett Powell, Commissioner of Public Lands
Judge Robert E. Robles, Court of Appeals Position 1
Judge Linda M. Vanzi, Court of Appeals Position 2
Judge Tim L. Garcia, Court of Appeals Position 3
So many Dems worked so hard during these primaries and now it's time to take a short rest -- and then gear up to volunteer, donate and talk to friends, neighbors, coworkers and family members about the importance of Dem victories in November. How well we strategize and work for our candidates in the coming six months will affect our future for years to come.
June 2, 2010 at 04:03 PM in 2010 Democratic Primary Results, 2010 NM Governor's Race, 2010 NM Lt. Governor Race, Brian Colon, Democratic Party, Lt. Gov. Diane Denish | Permalink
Comments
well, some of my guys didnt win, but i will support all democrats this november 100%.
Yes, Denish/Colon sounds good.
Posted by: georgep | Jun 2, 2010 7:36:32 PM
The Governor's race will not only be watched with interest nationally, but both parties will be sending or will have already sent their best resources from wherever they might be around the US, so as to power up for the contest. For the Republicans, this is a Main Chance to take a statehouse. That will mean a huge effort with everything including the kitchen sink thrown at it.
All that is necessary for Republicans to win is for Democrats to become laid back about the need to be "hair on fire" about the importance of this race.
Posted by: Stuart Heady | Jun 3, 2010 8:44:09 AM
I am sending in my change of registration from Democrat. The New Mexico Democratic party is going to get spanked by the teabagger queen, and they deserve it. Remember the commercial "I could have had a V-8"? We could have a lt. gov. to really help Diane and with the know-how to make good things happen for NM, rather than spouting platitudes about education, renewable energy, but without a clue as to how to make it happen. We could have had JOE CAMPOS; instead we have the insipid, clueless Colon. Diane Denish is totally deserving -- of someone who could help her win.
I'm sitting out this fiasco. Don't ask me for money or time. Any money I can spare will go to electing progressives in other states. It's a waste in NM.
Denish/Colon? GAAAAAAGGGGGHHHHHH.
Posted by: Joyce WESTERBUR | Jun 4, 2010 11:07:32 AM
Funny how Joyce WESTERBUR sent the comments above from a computer in Arizona. "Joyce" is probably a Republican trying to mess with this race. Why? It's all they have.
This election cycle will be full of dirty tricks like this one. Don't take the bait.
Posted by: barb | Jun 4, 2010 12:15:47 PM
@barb: You mean "Do not feed the TROLLS?" lol
Posted by: Proud Democrat | Jun 5, 2010 5:21:51 PM
Post a comment