« Disciplinary Panel Asks NM Supreme Court to Immediately Suspend Dennis W. Montoya From Practicing Law | Main | Tell City Council: Albuquerque Is Not Arizona »
Monday, May 17, 2010
Video: County Sheriffs Release Documents Showing More Than 1000 DWI Plea Bargains by DA Susana Martinez

Sheriffs speak at today's press conference
At a press conference this morning outside the 2nd Judicial District Courthouse in downtown Albuquerque, three county sheriffs released documents that expose what they called GOP gubernatorial candidate Susana Martinez's "soft record on DWIs and broken campaign promises." Martinez, who serves as the Dona Ana County District Attorney, has been running as a "law and order" candidate and a prosecutor who is "tough on crime" in the GOP primary for New Mexico governor.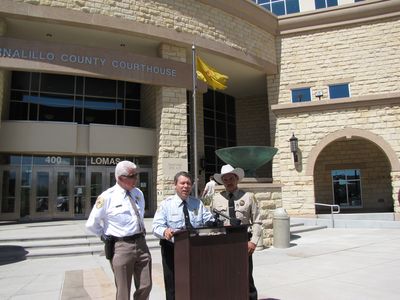 Outside District Courthouse in Albuquerque this morning
Santa Fe County Sheriff Greg Solano, Rio Arriba County Sheriff Joe Mascarenas and Valencia County Sheriff Rene Rivera participated in the conference.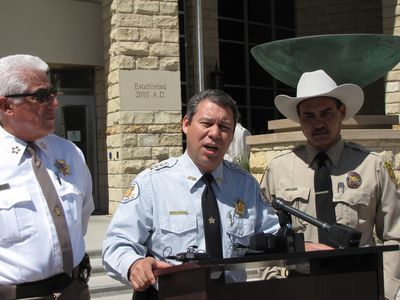 County Sheriffs Mascarenas, Solano and Rivera
The trio of sheriffs challenged Martinez to explain why she broke a pledge not to offer plea bargains to felony DWI offenders. According to records maintained by the non-partisan New Mexico Administrative Office of the Courts, Martinez has let more than 1,000 felony DWI offenders (fourth offense or more) plea bargain instead of pushing for maximum penalties. Click for a document that details Martinez's record (pdf) of granting plea bargains to felony DWI offenders.
In 2004, then candidate Martinez said that "We will not plea bargain a DWI case" and went on to say "We don't pretend it is a first or second offense just to move the court docket along." [Las Cruces Sun-News, 9/5/04]
However, public records show that Martinez has allowed more than 1,000 felony DWI offenders (fourth offense or more) to take plea bargain agreements over the past ten years -- including more than 700 since making the campaign pledge.
Rio Arriba Sheriff Joe Mascarenas said, "Maybe some politicians break campaign pledges and think nothing of it, but a broken promise on something as serious as felony DWI offenders is simply not forgivable. Susana Martinez should explain why she broke her campaign promise and gave these dangerous felons a pass."

Sheriff Solano defines DWI felonies and explains they are "absolutely the most dangerous DWIs in New Mexico"
"Susana Martinez is running as a tough prosecutor, but a quick look at her record shows that she's been misleading the voters," said Santa Fe County Sheriff Greg Solano. "As a Sheriff, I see the death and tragedy caused by DWIs every day, so I know we need a Governor who takes these felony offenses seriously."
Rene Rivera, Valencia County Sheriff added, "We need a Governor who is committed to being tough on DWI offenders, not a politician who says she'll be tough and then turns around and lets more than 1,000 repeat offenders take the easy way out. It's clear that Susana Martinez is all hat, no cattle."
In summary, according to the Annual Reports by the Judicial Branch of New Mexico, FY 2000-2009, more than 1,000 of the Third District Court's felony DWI/DUI convictions were from plea agreements. [New Mexico Courts, The Judicial Branch of New Mexico, Annual Reports FY 2000-2009, accessed 5/15/10] (Plea bargains include plea at trial and plea before trial.)
FISCAL YEAR / PLEA BARGAINS
FY 2009: 120
FY 2008: 111
FY 2007: 181
FY 2006: 150
FY 2005: 170
FY 2004: 104
FY 2003: 95
FY 2002: 66
FY 2001: 38
FY 2000: 55
Total: 1090
On her campaign website, Martinez says,
I will also look to strengthen our DWI laws to reduce drunk driving and ensure that repeat drunk drivers are where they belong – behind bars.
Maybe Martinez should have taken her own advice instead of letting more than 1000 DWI defendants plea bargain to lesser charges. What it shows about Martinez is that she says one thing and does another, not exactly the kind of governor New Mexico can count on for honesty, transparency and ethical behavior.
In a press release, Martinez had this to say about her job:
As a district attorney, my job is to focus on crime and the illegal acts perpetrated against Doña Ana County's citizens, particularly those who are most vulnerable among us – our children, seniors and disabled citizens.

I have made public safety my life's calling. Every day in office I work toward holding to account those who break our laws, striving to make sure they don't have the opportunity to do it again.
Was she just kidding?
Photos and videos by M.E. Broderick.
May 17, 2010 at 01:16 PM in 2010 NM Governor's Race, Crime, Justice, Susana Martinez | Permalink
Comments
Really awful. Does this mean Sarah Palin supports candidates who let felony DWI offenders off easy? She endorsed Susana Martinez. I wonder if she knew about this. Right wingers are such hypocrites. Tough on crime my ass.
Posted by: Tom | May 17, 2010 1:58:27 PM
haha, what a political stunt. Hmm... does Mr. Masceranes's involvement have anything to do with the fact he is a denish contributor???? pathetic that these guys would don their uniform when they are so obviously campaigning....
Posted by: Tammy | May 17, 2010 2:26:42 PM
Take Susana directly to jail. Do not pass go. Do not collect $100.
Seriously this shows how hypocritical so many Republicans are. Their campaign rhetoric doesn't match their actions. They act holier than thou but are some of the worst offenders. I hate to say it but Susana makes Weh look like an angel.
Posted by: Longnet | May 17, 2010 2:27:50 PM
Tammy-Facts are facts. You can try to act like what they found isn't true or some kind of stunt. But Martinez was caught in a BLATANT LIE. She makes deals with felony drunks and pretends she doesn't. Are you ok with that?
Posted by: Erin | May 17, 2010 3:16:49 PM
Palin and Martinez are very much alike. Both lie, both brag and both try to use their gender to pretend they are sweet and innocent.
Posted by: Lindsey | May 17, 2010 3:43:44 PM
The problem is not with Susana Martinez. The fact is that our courts are over-loaded. Pleas bargains are regularly used to ease the burden on our court system. Our judges are very much over worked and over booked. If there were a Democratic DA, he/she would do the same. You people set yourselves up for accusations of hypocrisy.
There are plenty of legitimate reasons that Susana should not rule NM as governor. This is not one of them.
Posted by: qofdisks | May 17, 2010 8:17:45 PM
Thanks guys I was on the fence who to vote for. Martinez has my vote for sure now.
Posted by: John Lopez | May 17, 2010 9:16:35 PM

They have singled out Martinez rather than comparing her to the 32 other DA's in NM. I read on another blog that Martinez has the lowest plea-bargain rate in the state.
Posted by: Ellen Wedum | May 18, 2010 7:35:23 AM
gofdisks and Ellen you are missing the point. Martinez made campaign pledges in two elections that she would never plea bargain on felony DWI but she was doing it all along so she is a liar and a hypocrite. She paints herself as tough on crime but isn't unless it is something she can get headlines about.
An honest candidate would talk about overcrowded courts if that is a problem. Martinez is all for cutting taxes and making that problem worse.
Martinez lies and pretends she isn't doing something that she is according to legal records.
Posted by: J.P. | May 18, 2010 7:50:59 AM
These numbers do not tell the whole story. It's a political spin yet again by the left who is threatened by her.
What percentage of the these plea bargains of the total DWI case load for the 10 years represented? Without this yardstick, these numbers are just meant to damage her.
Do your research and show all the facts.
Posted by: Morgan N. | May 18, 2010 10:55:12 AM
@qofdisks, Ellen Wedum, and Morgan N: I agree with JP. This story is not about whether Martinez's DWI plea bargains were reasonable. It's about blatantly lying to voters about her record and intentions. It's about her [lack of] integrity and character.
Posted by: Proud Democrat | May 18, 2010 11:10:32 AM
Proud Democrat says it all. Martinez made a promise and a claim and then did what she said she wouldn't-case closed.
Posted by: Sean | May 18, 2010 12:42:42 PM
I've heard many complaints about Susana Martinez's work as the DA. She is good at getting on the news though.
Posted by: Mesilla Not Wasilla | May 18, 2010 8:01:41 PM