« Judge Shannon Bacon Announces Campaign Endorsements from Albuquerque Leaders | Main | Raúl Burciaga Named Director of NM Legislative Council Service »
Wednesday, May 12, 2010
Faith and Environmental Leaders Gather at Senator Bingaman's Office to Show Solidarity With Gulf Coast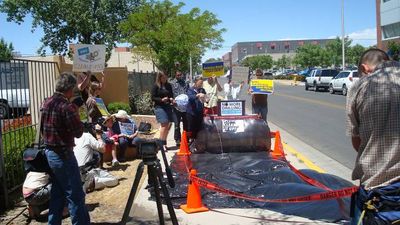 Click image for larger version
As the Gulf Coast oil catastrophe quickly grows into one of the largest environmental disasters in US history, Albuquerque-area faith and environmental leaders gathered in front of Senator Jeff Bingaman's district office to protest BP's reckless behavior and call for an end to risky offshore drilling and other dirty energy.
Black plastic and red caution tape was used to stage a mock oil spill today to show why we need a moratorium on drilling off our coasts. People waved signs saying "Clean it Up" and "No More Drilling," and called on BP to clean up their mess.
"In a region still struggling to recover from Hurricane Katrina, coastal communities cannot afford the economic and environmental blow that this oil spill will deliver," Molly Brook of Conservation Voters New Mexico said. "This is a wake-up call. We need to clean up the Gulf Coast, and we need to clean up America's energy."
Speakers also highlighted the clean energy solutions to our country's oil dependency with signs that read "Better Fuel Efficiency" and "Make our Energy Clean: Make it American."
Senator Bingaman chairs the Energy & Natural Resources Committee, which is why local faith and environmental leaders and activists gathered in front of his office and called on the Senator to help deliver a plan to get America off oil.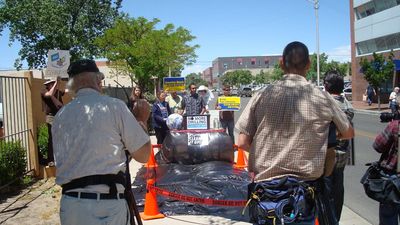 Click image for larger version
"We already have the technology and solutions for 21st century transportation systems -- we just need the political will to implement them," said Shrayas Jatkar of the Sierra Club. "We need a ban on all new offshore drilling immediately to protect our coasts and coastal communities. At the same time, the BP oil disaster should shake up Congress to protect our climate by pass strong and comprehensive legislation that transitions America to a clean energy economy now."
"We are at a crossroads," said Franciscan sister Joan Brown of NM Interfaith Power & Light. "We have a choice to make. We either continue to stand with large corporations and oil companies like BP and Haliburton who make billions from outmoded energy sources or we stand with the families of those who lost loved ones in this disaster and the people of the coastal region whose livelihood and beloved land and water are being destroyed. Standing with families for the common good and viable life in the future means investing resources in efficiency, conservation and clean energy such as wind and solar."
Today's gathering in Albuquerque was part of a massive grassroots movement taking place around the country, of communities calling for an end to offshore drilling and the need to move towards a clean energy future. Over 50 protests nationwide are expected this week.
For more information on the spill in the Gulf Coast, please visit www.sierraclub.org/oilspill.
Caption photo 1: Joan Brown of NM Interfaith Power & Light pours water over the mock oil spill site to honor 11 workers killed at BP Deepwater Horizons offshore rig explosion. Holding inflatable globe are other speakers, Shrayas Jatkar of the Sierra Club in NM & Molly Brook of Conservation Voters NM.
Caption photo 2: Shrayas Jatkar of the Sierra Club in NM calling for an immediate moratorium on all new offshore drilling, while urging Senator Bingaman to lead the charge for a strong, comprehensive plan for clean energy and climate protection. (Other speakers in the background: Joan Brown, NM Interfaith Power & Light & Molly Brook, Conservation Voters NM.)
Photos by Jake Horowitz, Environment NM (May 12, 2010)
May 12, 2010 at 07:11 PM in Climate, Corporatism, Energy, Environment, Faith Community, Obama Clean Energy Reform, Oceans, Sen. Jeff Bingaman | Permalink
Comments
Why does the Obama admin keep approving offshore drilling permits? It's like this never happened.
Posted by: Erin G. | May 12, 2010 10:53:45 PM