« 5/15 in Albuquerque: NM People's Movement Assembly on Road to US Social Forum in Detroit | Main | Video: NM District Judge Shannon Bacon Discusses Her Job, Vetting Process, Experience »
Friday, May 14, 2010
5/16: Charity Motorcycle Ride For UNM Children's Hospital with Joe Campos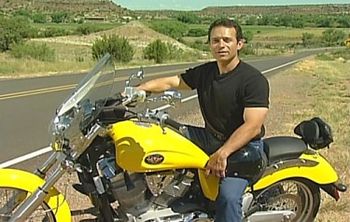 From Joe Campos for Lt. Governor:
A charity motorcycle ride to benefit the UNM Children's Hospital is scheduled for Sunday, May 16, 2010. Riders will begin gathering at 10:00 AM at Thunderbird Harley-Davidson, located at 5000 Alameda Boulevard NE in Albuquerque, for a departure time at 12:00 noon. All riders and all motorcycle makes are welcome. The ride will follow historic Route 66 through Tijeras Canyon and turn north on Highway 14, the Turquoise Trail, to the Mineshaft Tavern in Madrid.
State Rep. Joe Campos, an avid motorcyclist and candidate for Lieutenant Governor, will be leading the ride. Rep. Campos states, "The UNM Children's Hospital serves a vital role within the healthcare system here in New Mexico. Early preventative care, diagnosis, and treatment can intercept problems at their onset where the response can be most effective. A healthy adult life begins with a healthy childhood. Please support the UNM Children's Hospital and join us in this benefit ride."
Registration for the ride will be $20 with all of the proceeds donated to the UNM Children's Hospital. All registrants will be eligible for door prizes that will be awarded at the Mineshaft Tavern. For participants in the charity run, a specially priced lunch of brisket, baked beans and potato salad will be served at the Mineshaft Tavern for $8.00. For more info call 575-799-0764.
UNM Children's Hospital, a Children's Miracle Network hospital, cares for nearly 60,000 children statewide. UNM Children's Hospital features a newly equipped maternity center, pediatric emergency center, newborn intensive care unit, pediatric oncology infusion center and Child Life Center.
May 14, 2010 at 10:11 AM in 2010 NM Lt. Governor Race, Children and Families, Events, Healthcare, Joe Campos | Permalink
Comments
Was excellent . thanks .

Posted by: brad | May 14, 2010 11:49:23 AM
I'm pleased that Joe is planning to make the candidate forum in the tiny Weed/Sacramento area in Otero county. Good job Joe!
Posted by: Ellen Wedum | May 14, 2010 8:12:08 PM
I just got my bike from the shop I look forward to meeting you Joe.
UNM Children's Hospital is a great Cause!
Posted by: ED | May 14, 2010 9:03:25 PM