« Governor's Council on Film and Media Industries Announces Town Hall Meeting in Albuquerque | Main | Rep. Martin Heinrich Discusses Issues, Legislation with Local Bloggers »
Thursday, April 08, 2010
Thanks to Folks Who Voted Me #3 in Alibi's Best Blogger Category
I was surprised and pleased to learn that folks who participated in the Alibi's Best of Burque this year voted me #3 in the Best Blogger category:
Best Blogger
2) Johnny Mango, dukecityfix.com
3) Barbara Wold, democracyfornewmexico.com
I have to admit I hadn't paid attention to the voting this year and didn't encourage anyone to vote for me, so this is an unexpected perk. Thanks to everyone who voted for me -- always nice to learn folks out there beyond my laptop screen are appreciative of what I do. It's a good feeling.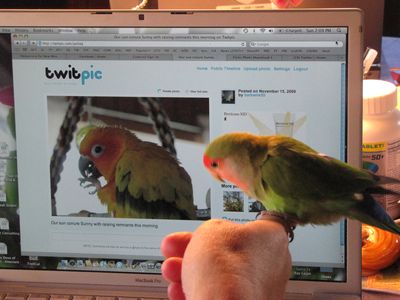 I also have to acknowledge the critical advice and assistance I receive from Sunny the sun conure (above left) and Bosco the lovebird (above right) each and every day. They oversee my blogging, provide a running commentary on my work habits and beg me to take a break to admire their tricks and slip them treats. Thanks birdies! And just think what they could do if they had hands!
By the way, Duke City Fix won in the Best Local Website category, with the Alibi and New Mexico Independent holding down second and third. Congratulations!
Click to check out all the Best of Burque winners for 2010.
April 8, 2010 at 09:25 AM in DFNM - Albq, Weblogs | Permalink
Comments
Congratulations Barb! But Monahan number one? No way!
Posted by: Old Dem | Apr 8, 2010 9:42:37 AM
Good news! I'm glad you remembered to credit Sunny and Bosco-we need more bird blogging.
Posted by: DC Dem | Apr 8, 2010 11:03:47 AM
Congratulations Barb! You deserve this and more. Your blog is a service to the community. I am so glad that you are getting recognition.
Terry
Posted by: Terry Riley | Apr 8, 2010 12:45:56 PM
Yay! Congrats!
Posted by: Dana Millen | Apr 8, 2010 1:55:10 PM
Way to go Alibi voters.
Posted by: Sean | Apr 8, 2010 2:11:47 PM
joe has his alligators...we have our birdies. they are very insightful. they even chime in on whooo to support at times. and tell us other secrets which travel the bird wires only.
They have very big bird brains.
Posted by: mary ellen | Apr 8, 2010 2:44:42 PM
Well, I voted for you #1.
Posted by: bg | Apr 8, 2010 6:27:09 PM
Thanks for all the kind words!
Posted by: barb | Apr 9, 2010 12:03:21 AM
Monahan? Please. He doesn't even have open comment format. You are the brave one confronting the issues that matter barb. It has been an honor to have participated in our Democracy on this blog. Thanks to you barb!
Posted by: qofdisks | Apr 10, 2010 12:03:06 AM