« Rep. Ben Ray Luján Highlights New Report Showing 99% of NM Working Families Got Tax Cut in 2009 | Main | Rep. Martin Heinrich Raises $300,000+ This Quarter, Has More Than $1 Million on Hand »
Wednesday, April 14, 2010
Lawrence Rael Guest Blog: A Progressive Candidate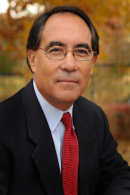 This is a guest blog by Lawrence Rael, a candidate for New Mexico lieutenant governor in the Democratic primary to be held on June 1, 2010.
I often hear one or another of the Democratic lieutenant governor candidates being described as the "progressive" candidate. It always surprises me that I am not included in that list. That's why I especially appreciate the editors of Democracy for New Mexico giving me this opportunity to share a few thoughts about myself, and more importantly, about my strong record in areas important to us all.
As many of you know, I worked for Senator Jeff Bingaman early in my career, before moving on to serve for twelve years as the Chief Administrative Officer of the City of Albuquerque. After that I served as the Executive Director of the Mid-Region Council of Governments, where I worked on a wide variety of regional projects. It was while I was at MRCOG that I managed the construction and operation of the Rail Runner commuter train between Belen and Santa Fe.
The other candidates for Lt. Governor this year have experience as legislators or, in one case, as a Democratic Party official. These positions involve speaking out on a variety of issues. My role, as a public employee, was more focused on getting things done, including projects of deep importance to the progressive community. And this is what I did, steadily and often without public acclaim, over 25 years of public service.
Many of us, for example, can still remember 1994, when politicians everywhere were running away from GLBT issues, and anti-gay initiatives were being enacted across the country. That's when I, as Chief Administrative Officer of the City of Albuquerque under Mayor Chavez, issued an administrative order banning discrimination against gays and lesbians. Three years later, under Mayor Baca, I developed the city's same-sex partner benefits program. My friends in the state legislature and at the state party have spent many years advocating for this issue, and they still have not produced successful legislation on these fundamental human rights for all New Mexicans.
Environmental protection and conservation are key values as well and, here too, real accomplishment matters. I coordinated the City of Albuquerque's purchase of the Elena Gallegos land grant to preserve the area along the base of the Sandia Mountains. Other purchases helped expand Petroglyph National Monument and preserve wetlands in the Rio Grande Valley. We acquired Anderson Fields, a large tract of farm land in the north valley that was on the brink of development, to provide habitat for wildlife and open space in an urban setting. We began to invest in renewable energy for city services almost two decades ago, from developing solar energy to power water wells and streetlights to the extensive use of photovoltaics at the Sunport and Rail Runner stations. There is a difference between advocacy and actually getting things done.
I occasionally think my involvement in large projects has made some progressives suspicious. I hope this isn't the case, because we need to make sure our values have real impact in the public sphere. The Rail Runner was a huge project, involving 19 municipalities including 6 tribal entities, but I was able to bring it in on time and on budget, creating the centerpiece of a public transportation system that we could only have dreamed of a few years ago. Every time the Rail Runner goes by it reminds us of our ability to do things together, and of the role of shared action in our lives.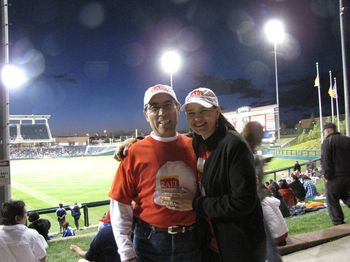 Lawrence and wife Kim at recent Isotopes Park event
One of my goals has been to make a high quality of life available for all of us, whatever our income level or particular interests. This philosophy, when I was with the City of Albuquerque, led to the construction of community and senior centers throughout the city, an extensive after-school educational program for working parents' children, over a hundred miles of bike and walking trails, a revitalized downtown and multi-use transportation system, and construction or expansion of the Zoo, the Aquarium, Explora Science Center and Isotopes Baseball Park. These are real projects that benefit real people, and they honor our belief in a vibrant public life full of opportunity and interest. We shouldn't shy away from getting cherished ideals actually enacted in the public arena.
One of our campaign themes has involved our urging voters to "Ask Anyone" about our accomplishments and about the way I have conducted myself as a public servant. If you do, I think you will find yet another reason for progressive voters to support me as Lt. Governor -- my record of honesty, integrity and inclusion at all levels of governmental decision-making.
This will be especially important in the 2010 general election. It's no secret that Republicans will attack Democrats on the perception of cronyism and questionable ethical standards, and on an inability to make government work for the people it serves. That's why it's vitally important that Diane Denish have a running mate with a real record of accomplishment, and one who has not been enmeshed with the old school politics that New Mexicans have grown so weary of. As Democrats, we stand for essential values -- for equal rights, for environmental protection, and for a positive role of government in our lives -- and we cannot afford to have the ticket dragged down by unwanted baggage and ties to the past.
I grew up in a small town in northern New Mexico. My father died in a car accident when I was three, and my mother raised seven children as a single parent. Life wasn't easy, but we knew that our mother loved us. We knew the value of hard work, honesty, and community and its importance in our lives.
I believe in public service, and in seizing the endless opportunities for making our shared dreams a reality. We can work with one another to do this. It's a good thing to be able to get things done. Let's build the strongest ticket possible for Diane Denish and the Democratic Party. I would very much appreciate your vote in the upcoming primary, and your support for the Democratic ticket this fall.
This is a guest blog by Lawrence Rael. If you'd like to submit a piece for consideration as a guest blog, contact me by clicking on the Email Me link on the upper left-hand corner of the page.
April 14, 2010 at 02:33 PM in 2010 NM Lt. Governor Race, Lawrence Rael, Progressivism | Permalink
Comments
I find this a strong argument for thinking hard about who is really best for the Denish ticket. Rael is highly respected by almost everyone and has a long record of real accomplishments with no negative baggage at all. Our decision on who to vote for in this race needs to be made carefully.
Posted by: Aaron | Apr 14, 2010 3:18:15 PM
Mr. Rael, respectfully, you've got to be kidding. At a LG forum at the law school, you said with regards to the state budget that before we raise any taxes we "have to live within our means." Everybody in attendance thought you meant to cut education and workers wages. You weren't even in favor of closing the multi-state reporting loophole that costs the state tens of millions of dollars each year. That's hardly progressive. Ask anybody!
Everybody claims to be progressive when it suits them, even Jerry Ortiz y Pino, who voted for every tax increase proposal in the Senate finance Committee, including the tortilla tax. You may well be a talented government administrator, but as a politician you leave a lot to be desired.
The Republicans will attack every Democratic candidate. They'll attack you over the RailRunner, which is a symbol for all they despise about government. They'll attack you over ties to Gov. Richardson, and also to Marty Chavez, who is plenty corrupt himself. Ask anybody! Don't pretend to be somehow more ethical than the other candidates. You're not. JMHO.
Posted by: Proud Democrat | Apr 14, 2010 3:45:30 PM
I don't remember Rael saying what you claim Proud Democrat. You don't think it's a good thing to try to live within our means before we raise taxes? He said nothing about cutting education and wages. Where did you get that?
Many candidates says things but I think Rael has actually achieved things when the going was tough. He worked for both Jim Baca and Marty Chavez so I don't see where you are getting at with trying to smear his city work.
You sound like you have your mind made up and are willing to spin the facts more than a little to get your candidate in.
Posted by: Progressive means making progress | Apr 14, 2010 3:56:20 PM
Thanks for reaching our Mr. Rael. I will think about what you said. We all want the lg to be the best fit for the ticket.
Posted by: Michelle | Apr 14, 2010 4:23:02 PM
What's the saying about being entitled to your own opinion, but not your own facts? Proud Dem, you're more than welcome to support who you want, but I was also at that debate and Rael never even implied the things you're contending.
I decided to support Mr. Rael for many of the reasons he outlined above. We pay far too much attention to politics and not to substance in our elections. I may not agree with everything Mr. Rael believes, but I think he's the most likely to accomplish the things we do agree on. I'm in agreement with Proud Dem that anyone can say anything, but at the end of the day, Mr. Rael has the most experience to back those words up.
I look at it this way: if you were looking at all the candidates resumes to hire for a job, which would you choose? Why do we elect people any differently? On what we "hope" they might do, with nothing to back it up? Colon was a very good party chair, but I haven't heard anything of substance from him, nor do I think he has a track record that shows how he would do with actual authority.
So not only do I think Rael makes the best pairing to help Diane win the election, I think he is the guy that can best help the state, and that's what should ultimately matter.
Posted by: Rael Supporter | Apr 14, 2010 5:11:54 PM
@Progressive means making progress: You don't remember Mr. Rael's statements because you did not attend the first forum, only the second one. He was the only candidate who focused solely on reducing expenditures while ignoring the need to increase revenue. Where do you think the budget would have been cut if the legislature hadn't raised some taxes?? The other candidates had several good ideas, including closing the multi-state reporting loophole, sin taxes on alcohol, tobacco, and soda. Some wanted to make the income tax more progressive, because it's essentially flat now, which is grossly unfair to working people. Only Mr. Rael refused to consider increasing revenue while reducing expenditures, at least at that particular forum held before the legislative session.
You're correct that I have made up my mind. I have been following this race from the beginning. Of the 3 candidates with any chance of winning, I believe Mr. Rael is the least progressive, and therefore my third choice. I'd characterize him as a corporatist, or at least that's the strong impression I have of him. YMMV.
I did not smear the man. The Republicans will smear all the Democrats with the same brush. I only mentioned the RailRunner and Marty Chavez as examples of how he is likely to be smeared if he wins the primary. Mr. Rael's lack of political experience is not an advantage in that regard. In my view it's a major disadvantage.
Joe Campos will appeal to some rural and southern voters who might not otherwise vote for Diane. Brian Colon is a tireless campaigner who has made friends everywhere. Mr. Rael is an administrator with few political skills that I can discern. His claim to be a better running mate for Diane Denish seems both fatuous and naive. I believe he's being deceptive, and claiming credit for the mayors' policies which he merely implemented. I'm not buying what he's selling.
Posted by: Proud Democrat | Apr 14, 2010 5:13:33 PM
@Rael supporter: I am not making up my own fact, and I can hardly be blamed for your poor memory. However, unless somebody has a video or transcript of the first debate, then we are at an impasse. I remember the moment clearly because I was shocked that Mr. Rael was apparently staking out the conservadem position in the most liberal part of town in an audience full of liberal party activists. I thought it was a shocking gaffe.
I think soon-to-be Governor Denish will have a place for Mr. Rael in her administration. he has significant administrative skills. As a candidate, not so much. He is the least experienced candidate in that regard. JMHO.
Posted by: Proud Democrat | Apr 14, 2010 5:58:56 PM
There are many things that can be cut in state government before raising taxes or cutting education and wages. I think Rael agrees with Denish on that. She has laid out a number of ways to do it and no doubt will come up with more. I don't think that means either he or she aren't "progressive." Howard Dean, for instance, was known for getting rid of all the crap in Vermont's budget so the state could do progressive things.
I'm impressed by Rael because he has helped to create many jobs and has made many good contacts over the years to keep doing that. He has a record. Colon may or may not have this ability but he has no experience doing it. We have to take him for what he says he will do not what he has done.
I like all three of the top candidates but I think Rael is trustworthy, hard working and experienced. I think that wins when we're going into a time with many challenges. We don't need someone learning on the job.
Posted by: Democratic Wing | Apr 14, 2010 6:05:44 PM
I'm going to step in here because video does exist of the first debate at UNM. Here is the post about the tax question with videos of each of the candidates answering: http://bit.ly/agFVcy
Posted by: barb | Apr 14, 2010 6:26:19 PM
I think progressives need to take a close look at Rael -- nobody has done more in terms of actually getting our goals accomplished than he has. When I've "asked anyone" about Rael -- when I've asked people who know him, who have worked with him, and even people who have opposed him at times -- they really do consistently say that he's a good guy, a straight shooter, and somebody who can get things done. I'm a progressive, and he's got my vote hands down.
Posted by: Alex | Apr 14, 2010 7:55:56 PM
Excellent guest blog Lawrence Rael. What an impressive list of accomplishments. As someone else in the construction industry I know how difficult it is to accomplish projects, let alone the very large scale projects you have been involved with. Lots of passion and sticktoitiveness.
In my humble opinion I can not think of any negative about Lawrence Rael. He is full of respect each time I have had the pleasure to talk with him. He brings yet another different perspective of a great candidate to this LG race. We democrats are blessed with great candidates. People who care about New Mexico greatly - period. That is what I see and hear and read.
I am sure Mr Rael has heard this before but I must say it...
Rael is Real.
Posted by: mary ellen | Apr 14, 2010 8:58:34 PM
@Proud Democrat - Well, I watched the video (thanks Barb for posting!) and he most certainly did not say the things you claimed. In fact, he said the big box tax is one thing that needs to be looked at.
Frankly, his response is one of the reasons that he has my respect and support. He's out there telling the truth and not just pandering. Would you prefer, since as you point out, that this was a progressive audience, that he just tell you what you want to hear? That's the sort of integrity we need.
Posted by: Rael Supporter | Apr 14, 2010 8:58:43 PM
Mr. Rael's sincere tone and practical progressivism stike a chord with me. Reminds me of a certain senator from Illinois who became President...
Posted by: Christy | Apr 14, 2010 9:52:42 PM
At least one other person (who also commented above) said that his answer made him sound like a Republican. Sorry my memory was faulty on the details, but the position is clearly to the right of the other candidates. Count me as still not impressed with Mr. Rael as a candidate. I think his evident administrative skills would be better used in another position.
Posted by: Proud Democrat | Apr 15, 2010 9:51:20 AM
OK, Proud Democrat, we understand that you've picked your candidate. I hope you don't mind if the rest of us want to see a person of Rael's caliber joining Diane at the top of the ticket. He'll be a big help in winning this fall!
Posted by: Alex | Apr 16, 2010 5:58:16 AM
@Alex: Here's the thing: Mr. Rael touts putting the progressive policies of Jim Baca, Marty Chavez, and Bill Richardson into practice as his own accomplishments. I think that's self-serving. JMHO.
Posted by: Proud Democrat | Apr 19, 2010 4:20:29 PM