« Las Cruces Gets First GLBTQ Community Center | Main | NM State Land Commissioner Candidate Sandy Jones Unharmed by Drive-By Shooting on I-40 »
Friday, April 16, 2010
Hot Music Saturday: Our Friend Liz Melendez at El Rey in Albuquerque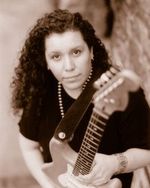 Even if Mary Ellen and I didn't count Liz Melendez as a dear friend (and we do) we'd be recommending that you head over to the El Rey Theater in Albuquerque this Saturday, April 17, at 8:00 PM to catch her special homecoming performance extraordinaire. Some 13 years after leaving Albuquerque for Atlanta, Liz is returning for a special one night only show. Don't miss it. Doors open at 7:30 PM and admission is $15.
Liz grew up in Albuquerque's South Valley and received her first guitar before her fifth birthday. She followed in the footsteps of her dad, who played in a number of local groups. We got to follow her musical progress up close and personal right here in Albuquerque for a number of years, and then saw her hone her talents and widen her horizons in the Atlanta area. Now with a national and even international following, she's returning to her musical roots for a very special show tomorrow night. It's featured in an article in today's Albuquerque Journal Venue.

Liz has performed on stage with such notables as Bob Margolin, Henry Butler, Francine Reed, Chris Duarte, E.G. Kight, Hubert Sumlin and Candye Kane. Barchen Records of Germany wrote that her "lead guitar ability ranks with greats like Carlos Santana, Stevie Ray Vaughn, Duane Allman." Trust me when I say that Liz is a dynamic live stage performer with a blazing blues-rock guitar style and gutsy vocals to match. She's headlined major shows and festivals including the Madrid Blues Festival, Cape Fear Blues Festival and The Riverbend Music Festival. You can learn more at www.lizmelendezband.com/.
For the El Rey Show, she'll be performing with bassist Jose Romero of Santa Fe, who was recently seen in the Jeff Bridges movie, Crazy Heart. Also performing will be drummer Mikey Chavez and special guest Hillary Smith and Soul Kitchen with Chris Dracup. A ton of talent on one stage for one night only.
Liz Melendez discusses El Rey homecoming Show and a few clips of her onstage from
William Rich
.
Liz will also premiere her new Delaney Signature guitar, "Desert Thunder," made especially for her by Mike Delaney. Delaney has built custom signature guitars for national and international artists, including such names as Arlen Roth, Greg Marra and Tino Gonzales. In addition, Emmy and Peabody award winning videographer William Rich will be filming the event as part of a documentary he is producing about Melendez. Come on down and be a part of it.
Check out a few nuggets of Liz's music:
Hope to see you there!
April 16, 2010 at 12:20 PM in Events, Music | Permalink
Comments
From the sound of those clips, she's amazing.
Posted by: Sara | Apr 16, 2010 3:20:59 PM