« New ITEP Report: NM Special Session Tax Plan Hits Poor Hardest | Main | Governor Bill Richardson Signs Bill to End Double Dipping (Plus Status Update On Bills) »
Tuesday, March 02, 2010
Think New Mexico: Read Citizen Letters Urging Defeat of Food Tax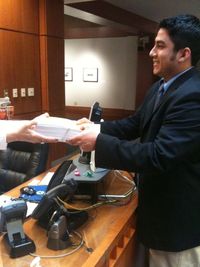 This morning, Think New Mexico's Field Director, Jason Espinoza, hand-delivered 511 email letters to Governor Bill Richardson. The letters expressed opposition to the latest food tax legislation that is being proposed as part of a deal made by New Mexico's House and Senate leaders.
The letters came from all over the state through the Think New Mexico website. To get a feel for the passionate opposition ordinary people are expressing towards the food tax -- as well as the day-to-day struggles already being experienced by New Mexicans in this dicey economy -- read through a selection of the letters (pdf).
A few excerpts:
--Please do not impose a tax on food. I can barely pay my utilities, especially propane to heat my house and gas for my car. If I pay a tax on food, then I won't be able to pay for clothes; which are already taxed - so the state will lose the money on that sale, and other items that I won't be able to afford any more.

--My husband and I are on social security. As you know there won't be a cost of living increase for us for two years. In the midst of the most severe recession in seven decades, it is wrong to increase taxes on people living off of social security.

--As a family we do not eat out, except for special occasions and when we are out of town. With that said our grocery bill for 2009 was approximately $12000.00. So 5% would increase my grocery bill by $600.00 (8% would be $960.00).
To add your voice to the mix, visit the Think New Mexico website and write a letter of your own.
March 2, 2010 at 04:07 PM in Economy, Populism, Food and Drink, NM Legislature Special Session 2010, Poverty, Taxes | Permalink
Comments