« NM Voices for Children Applauds Food Tax Veto, Decrys Other Budget Changes | Main | State Senate Majority Leader Michael Sanchez Calls Out Governor on Food Tax Reversal »
Wednesday, March 24, 2010
Dem Party and YWCA Rio Grande Chapter Call for Immediate Resignation of BernCo Commissioner Wiener
The national news this week has featured many examples of racial and homophobic epithets being hurled at Democratic members of Congress by Tea Party protesters. Meanwhile, Republican members of the U.S. House used their debate time on the health insurance reform bill Sunday to lambast the plan and Democrats with inflammatory rhetoric that employed terms like "totalitarianism," "tyranny" and "Armageddon." After the health reform vote, Democratic members started receiving threats of violence from right-wingers. Bricks have been thrown through offices used by Dems in a number of states, and today it was revealed that the FBI is probing a severed gas line at the home of Rep. Tom Perriello's brother after a right-wing blogger posted his address.
In other words, many right wingers and Republicans have been displaying a mindset reminiscent of the halcyon days of the 1950s, when McCarthyism was finding Commmies everywhere, black men were called "boy" and LGBT rights were nonexistent.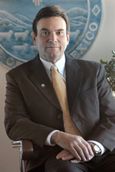 So it doesn't seem surprising that the local news this week features a story about a Republican and a racist, homophobic joke. It came to light this week that an inappropriate email from Republican Bernalillo County Commissioner Michael Wiener (right) was forwarded last September to various county employees. The email contained a racist joke aimed at African Americans. Shockingly, the email was forwarded by the Commissioner himself. The "joke," which implied that 86% of African-Americans are currently serving, or previously served jail time, is racist from all angles. The email goes on to further include offensive, homophobic language.
"It's one thing to see members on the fringe of the Republican Party hurl racial epithets at African-American members in Congress, but to have an elected official from our community engaging in the same behavior, is absolutely unacceptable," said Democratic Party Executive Director, Scott Forrester, in a statement released today. "If Commissioner Wiener does not resign, we will continue to partner with our diverse community to fight for his removal. New Mexico is proud of its diversity and will not be stifled by ignorance and hate."
"On behalf of the YWCA of the Middle Rio Grande we join our partners in democracy in their demand for the resignation of Commissioner Michael Wiener," said YWCA Middle Rio Grande Chapter CEO Carolyn Margolies. "His email perpetuates everything we abhor and contradicts the essential mission of the YWCA world-wide: 'Eliminating racism, empowering women and promoting peace, justice and dignity for all.' Words form thought and action. The words he chose to share with others denigrate our President, African Americans, Gays and those who are in prison. The fact that any person harbors these thoughts is frightening. The fact that a representative of government has exercised such poor judgment in publicly sharing them is inexcusable."
Wiener said he didn't consider the joke to be racist, but could see how someone could interpret it that way. He called the email "very unfortunate" and said he was "very sorry." What should be even more concerning to the community is that the Commissioner's main concern to the Albuquerque Journal was who released his email to the media, and not apologizing for his actions.
"Saying you're sorry is no excuse for a sitting County Commissioner," added Forrester. "If Michael Wiener thinks that sending out emails from his personal email account -- let alone his county and taxpayer funded email account -- aimed at demeaning and racially profiling African Americans, is just fine and dandy, then he should not be representing anyone in ANY form of democratic government."
Wiener represents District 4 on the Bernalillo County Commission. The district covers much of the Northeast Heights and West Side.
March 24, 2010 at 04:58 PM in Bernalillo County, Democratic Party, GLBT Rights, Minority Issues, Republican Party, Right Wing | Permalink
Comments
It's getting worse by the day. Now wingnuts have sent faxes with images of nooses to Rep. Bart Stupak and Rep. James Clyburn. See TPM.
Posted by: Fool on the Hill | Mar 24, 2010 7:01:45 PM
We need to hammer this home to the American public clear through the election.
This behavior marks the beginning of totalitarianism.
Posted by: qofdisks | Mar 24, 2010 11:36:12 PM
And, can we point out that he didn't say he was sorry, he said he was "sorry if anyone was offended". In my book a real apology is just, "I was wrong, I'm sorry". Not these half apologies that we see these days.
Posted by: old timer | Mar 25, 2010 8:11:44 AM
When there are people standing on street-corners waving guns and signs calling for murder of their fellow citizens, the amazingly stupid behavior of Wiener has to be forgiven or we won't have anyone remotely reasonable to work with. I'll suffer his ilk before the Mad Hatters.
Posted by: mark justice hinton | Mar 25, 2010 10:14:55 AM
In response to Mark Justice Hinton, I think that letting small infractions pass makes it much harder to enforce restrictions on people with the intent of actually doing harm. We must respond to the weak apology from Weiner by asking for his resignation. If he did not believe what he said he would surely have said so, instead he aplolgized if anyone was offended.
Terry Riley
Posted by: Terry Riley | Mar 25, 2010 11:08:19 AM