« Howard Dean in New Mexico: Get Involved or Get Pushed Around (With Photos & Videos) | Main | Civil Rights Suit Secures Essential Mental Health Care for Detainees in Dona Ana County »
Friday, February 12, 2010
Santa Fe Mayor David Coss: 4,000 Jobs in 4 Years: A Blueprint for Our Economy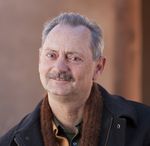 This is a guest blog by David Coss, who has been Mayor of Santa Fe since 2006 and is running for a second term. The election in Santa Fe is March 2nd.
We must get Santa Feans, and New Mexicans, back to work.
That is why I've come up with a blueprint for Santa Fe's economy to create 4,000 jobs over 4 years. The blueprint targets a variety of sectors including affordable housing, education, media/film industry, health and technology, green energy/sustainability, public safety and infrastructure, and arts, cultures, and tourism. It's going to take innovation, collaboration, and creativity; but I think we can do it. And I hope other Mayors do the same.
Santa Fe, like the rest of the country, is being hit by recession that is resulting in hard budget choices and job loss. National trends of falling home prices, limping credit markets, and rising unemployment rates are equally plaguing Santa Fe. I've made Santa Fe's economic recovery and job growth one of my top priorities. In 2009, with the City Council, we made $13 million in budget adjustments and tough belt-tightening to the City budget to adjust for falling gross receipt taxes, but prevented any layoffs, which would have added to the jobless rate and created distress for many Santa Fe families.
On average, each $80,000 of investment into Santa Fe creates one job. To create 4,000 jobs in 4 years then, will require approximately a $320 million in investment into Santa Fe through multiple sources. This investment will come from a combination of existing city resources, federal stimulus funds, partnerships with other local governments, and the private sector. By using existing funds, leveraging other funds and building new partnerships, we can bring this investment to Santa Fe's economy, without raising taxes. We must use today's resources to position ourselves for tomorrow's economy.
It is important that we are pursuing alternative forms of energy to decrease electric bills, reduce the city's carbon footprint, and help local businesses and home-owners to use solar energy and decrease electric bills. These initiatives have the capacity to create high paying, good jobs and reduce the city's carbon footprint. We also want to retrofit homes with energy efficient materials and make water conservation cost-effective for local families. These are Santa Fe values. We can draw on them to revitalize the economy, innovate, and get Santa Feans back to work.
A key component of our blueprint is helping local Santa Fe businesses to be ready to expand. That means capacity building for small businesses so they can grow smartly and sustainably, so that small local business have the capacity, for example, to bid for local contracts to be providers of alternative energy.
Also key, is ensuring the types of good jobs that give young people interesting employment opportunities in Santa Fe – so they stay here, buy homes here, and contribute to our community and our local economy.
Over the next several months I will be meeting with leaders in the proposed sectors to refine the blueprint and develop detailed plans to create jobs. There are opportunities that can be acted on immediately such as parks & trails and affordable housing initiatives, and plans that can be drawn to lay a strong foundation for future job growth that will benefit all Santa Feans and bolster our local economy.
I welcome community input as we move this important initiative forward. We can revitalize Santa Fe's economy, and New Mexico's economy, together.
This is a guest blog by Santa Fe Mayor David Coss. You can download "4,000 jobs in 4 years: A blueprint for our economy" at his campaign website.
To submit a piece for consideration as a guest blog, contact me by clicking on the Email Me link on the upper left-hand corner of the page.
February 12, 2010 at 08:05 AM in 2010 Santa Fe Municipal Election, Economy, Populism, Energy, Environment, Guest Blogger, Jobs | Permalink
Comments