« NM Lt. Gov. Candidate Lawrence Rael Announces Tribal Endorsements | Main | DEMOCRATIC Sen. Tim Eichenberg Effectively Kills Domestic Partnership Bill »
Tuesday, February 02, 2010
Rep. Joe Campos: Saturday Night Check-In with DFNM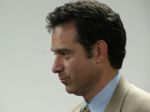 Rep. Joe Campos knows the DFNM blog is the place to put out his message, so it was no surprise when he called the other night to check in and tell us what he has been doing.
Just to let you know, this is Mary Ellen writing this blog post. Barb has a backlog of posts that she is methodically going through and she's up to her neck in work. All of a sudden everyone wants to do a guest blog, and with many events being covered, I decided to pitch in and help.
I'm happy to do a post about Rep. Joe Campos -- the Energize NM candidate for lieutenant governor! Joe was excited about the GA Solar company picking his neighborhood for installing a massive billion dollar solar field. This is extremely exciting news for the state of NM. Joe was the legislator who introduced the RETA bill which would allow wind and solar fields to be placed in NM because the Renewable Energy Transmission lines would transport the energy to AZ or CA.
Why was the plant sited in Guadalupe County, where Joe was a County Commissioner some years ago, outside of Santa Rosa, the city where he serves as Mayor, in House District 63, which Joe represents? One main reason is because there's a huge PNM transfer switch located there that the new company can use to carry their solar-generated power on existing lines. And, when the new RETA lines are constructed, GA Solar will be able to move the energy generated onto the new transmission lines. Something like that at least! All in all a huge win for the state of NM.
One of the events I attended this weekend featured Operation Free, a group of Iraqi and Afghanistan vets who are touring the country under the banner of ... Energy Independence Equals National Security. Sen Tom Udall spoke at the event which, unfortunately, was sparsely attended. This event really moved me. The testimonials by the young vets were very powerful, explaining what they saw and how important they believe their mission is of getting the message out that energy independence equals national security.
The event made me think of the huge solar field near Santa Rosa, the new wind farm sited in the eastern part of the state and the new bio-algae farm sited in the south. How freakin' exciting that we have all three new industries investing here in New Mexico with their 21st century products. This is the future. It is happening. The passion Joe shows regarding energizing NM is palpable.
OK, so what else did Joe tell us he has been doing in the first full week of the legislative session? He has introduced three bills as of Saturday night.
First bill = HB 118, which was crafted with the help of Think New Mexico. It would stop lobbyists and certain contractors from making campaign donations.
Second bill = HB 99, the EMS and trauma services surcharge bill that would improve funding for such services. Rep. Campos said the room was packed with EMS personal when this bill was introduced. It was strongly supported, and was passed by the House Health and Government Affairs Committee on a 7-0 vote.
Third bill: HB 98: revisions to the original RETA bill related to adding the RETA to the public project revolving fund and authorizing renewable energy transmission bonds.
Last but not least, Rep. Campos expressed his worry over the state budget. Joe said he is a firm believer in revenue enhancements (raising taxes) on people making $150,000 or more, maybe by 1%, 2% or 2.5%, depending on how other things go. Instead of cutting things like education and Medicaid, he said we have to have everyone paying their fair share. In my humble opinion, this is the way to the future. We must raise taxes on those who have done so well for the last eight years or more. Thanks for saying this Joe, and for fighting for the average Joe!
February 2, 2010 at 12:43 PM in 2010 NM Lt. Governor Race, Energy, Ethics & Campaign Reform, Green Economy, Healthcare, Joe Campos, National Security, NM Legislature 2010 | Permalink
Comments
Though going to the Taos Democratic Party straw poll probably swung the House-Senate basketball game to the Senate.
Posted by: Matt | Feb 2, 2010 12:55:19 PM
Damn
Posted by: barb | Feb 2, 2010 1:15:31 PM
No doubt he was missed in the game. No doubt he was needed for the win, but Joe is out energizing New Mexico! I'm sure when he is Lt. Governor they will let him back in the game....uh but would that be on the House or Senate side, they may have to flip a coin!
Posted by: MMares | Feb 2, 2010 1:47:10 PM