« DEMOCRATIC Sen. Tim Eichenberg Effectively Kills Domestic Partnership Bill | Main | You're Invited: Howard Dean to Visit New Mexico February 9 »
Tuesday, February 02, 2010
Guest Blog: USDA Offers Funding Opportunities for NM Projects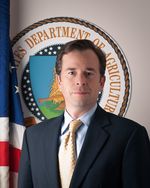 This is a guest blog by Terry Brunner, State Director of the New Mexico Office of USDA Rural Development.
We are at a critical juncture in New Mexico's history as we approach our Centennial in 2012. Of great concern to us all should be how our rural communities will fare over the next 100 years. Will they continue to struggle or will we make the investments and decisions now to allow for their renewal and prosperity during the century ahead?
Before us lies an extraordinary opportunity, through the American Recovery and Reinvestment Act of 2009 (also known as the Stimulus), to make immediate and necessary investments in our rural communities.
The United States Department of Agriculture New Mexico Rural Development office saw funding increases in many of its programs as a result of the Stimulus. USDA Rural Development in New Mexico almost tripled its regular programmatic spending for dozens of new projects in Fiscal Year 2009 to $354 million. We hope to have another banner year in FY 2010 before the Stimulus expires in September.
As we see tight budgets at the state and local level in New Mexico there is no better time for New Mexico's communities to consider USDA funding for their projects. USDA Rural Development offers programs in three areas: Community Development, Business and Housing.
Businesses and value added agricultural producers in New Mexico communities with a population less than 50,000 are eligible for our Business Programs. Most types of new or existing enterprises qualify -- manufacturing, wholesale, retail or service. We offer up to a 90% loan guarantee for bankable projects as large as $10 million and can provide smaller guarantees on proposals as high as $25 million. It is our goal to guarantee at least $29 million in business loan guarantees around New Mexico this fiscal year.
We also offer programs to help businesses and agricultural producers save on energy costs. Our Renewable Energy for America program allows USDA to cover 25% of any renewable energy or energy efficiency project for a rural business or an ag producer. If your farm or business hopes to install a new water heater, upgrade swamp coolers or even take advantage of solar, wind power or biodiesel; USDA would like to help with that investment.
For those producers that add value to an agricultural product, we provide up to $100,000 in grant funding for planning costs and up to $300,000 for working capital. Value added projects can include a wide variety of efforts such as turning tomatoes into salsa, carving wood products, and making a popcorn product from locally-grown corn.
On the community side, the stimulus program enhanced greatly our ability to loan and grant to communities less than 20,000 in population for community facilities. USDA Rural Development can invest in community facilities, such as: health care facilities, community centers, libraries, roads, emergency services, and community greenhouses -- just to name a few.
Water and Wastewater infrastructure is of tremendous importance to rural communities in our state. In communities under 10,000, USDA offers loans and grants to help with water and wastewater systems. Hundreds of New Mexico communities have participated in this program over the years and we are prepared to help many more.
To be competitive and innovative, rural communities need access to modern telecommunications. The stimulus set aside billions to increase broadband access in rural America and USDA Rural Development spent $199 million alone in rural New Mexico last year for broadband and telecommunications infrastructure. Not only do we invest in the first, middle and last mile of telecommunications infrastructure but we are very interested in supporting distance learning, telemedicine and other efforts that connect rural communities to the power of the internet.
When we talk about the sustainability of our rural communities, nothing says sustainability more than providing families the ability to make their home in rural New Mexico. In communities under 10,000, USDA provides home loans, home loan guarantees and grants for the construction, purchase or renovation of a home. More than 6,500 New Mexicans currently use our housing programs.
This is just a sample of the many programs USDA Rural Development has to offer. The Stimulus presents New Mexico with unprecedented opportunities to improve the quality of life in rural New Mexico and give rural communities the tools they need to prosper. The time to act is now, while federal agencies like the USDA have the resources to make more investments than ever. If you are interested in any of these programs, I hope you will contact the USDA Rural Development office in New Mexico at 505-761-4950.
This is a guest blog by Terry Brunner, who was appointed by President Barack Obama on September 3, 2009 to serve at State Director for the New Mexico Office of USDA Rural Development.
To submit a piece for consideration as a guest blog, contact me by clicking on the Email Me link on the upper left-hand corner of the page.
February 2, 2010 at 06:57 PM in Agriculture, Broadband, Business, Energy, Finance, Investments, Housing, Obama Administration, Rural Issues, Water Issues | Permalink
Comments