« Rep. Harry Teague Announces Recovery Funding for NM Green Jobs Training | Main | Eldorado Dems to Host Town Hall Meeting with Sen. Wirth, Rep. Egolf on Jan. 12 »
Wednesday, January 06, 2010
Happy Birthday New Mexico: 98 Years of Statehood!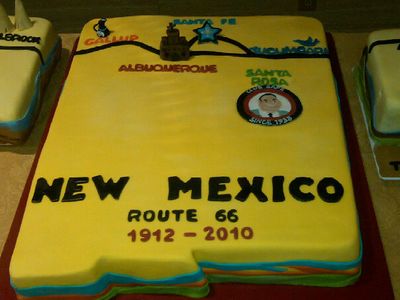 NM birthday cake at celebration in Roundhouse rotunda today
Today, the State of New Mexico is celebrating its 98th birthday with a commemorative event in the rotunda of the Roundhouse in Santa Fe. Brian Colon, who serves on the New Mexico Centennial Task Force, attended the event and posted the above photo of one of the celebratory cakes on Facebook and Twitter. Looks delicious!
New Mexico was granted statehood as the 47th in the Union on January 6, 1912. Of course New Mexico's history stretches back many centuries from the early Sandia, Clovis, Mogollon and Anazazi cultures to the Pueblo tribes, Spanish exploration and settlements, governance as part of Mexico when it declared its independence from Spain and as a U.S. Territory before achieving statehood. Click for a timeline of New Mexico history. New Mexico Magazine offers a monthly timeline of historic New Mexico events.
The New Mexico Centennial Task Force is organizing events to celebrate New Mexico's 100 years of statehood in 2012. Visit www.nmcentennial.org/ to learn more about planned activities and events related to the centennial. You can learn about service learning or volunteer opportunities here. There are plenty of ways to get involved and help in the celebration.
January 6, 2010 at 12:27 PM in Events, History | Permalink
Comments