« Tomorrow: Help Celebrate Lt. Gov. Candidate Brian Colón's Birthday | Main | Rep. Heinrich Signs Letters to Obama, Uganda President, Opposing LGBT Punishments »
Monday, January 25, 2010
Danny Hernandez Announces his Candidacy for Bernalillo County Commission District 3.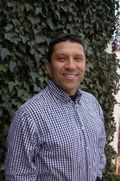 Danny Hernandez, another Democratic candidate for the District 3 Bernalillo County Commission seat, has officially announced his entry into the 2010 primary. The seat is currently held by Maggie Hart Stebbins, who was appointed to the post last May, when Deana Archuleta gave up her seat to take a job in Washington. The law requires her to run for the seat this year, the first election after her appointment. This election is to fill the last two year's of Archuleta's term. Hart Stebbins officially announced her candidacy this Saturday.
Here's the announcement statement released by Danny Hernandez for Bernalillo County Commission:
After more than 20 years of dedication and service to central Albuquerque communities, Danny Hernandez is proud to announce his candidacy for the Bernalillo County Democratic primary race in District 3.
Hernandez just began his twelfth year of service on the Albuquerque Metropolitan Arroyo Flood Control Authority, serving as AMAFCA chair for two of those years. Hernandez won his first election in 1999 as the first Hispanic elected to the board, and subsequently re-elected in 2002 and 2008.
Because water issues are so important in our desert environment, Hernandez has been an active and informed member of the Middle Rio Grande Water Assembly and the Mid-Region Council of Governments Water Resources Board, where he became one of the authors of the Middle Rio Grande Regional Water Management Plan. This has allowed Hernandez to delve into diverse water issues like water harvesting, conservation, quality and drainage.
In addition to serving on the AMAFCA Board of Directors, Hernandez has been a neighborhood association president, was a founding member of Bike ABQ, was a community organizer in the Trumbull and La Mesa neighborhoods, has been an advocate for alternative transportation, held various official positions within the Democratic Party, has worked as a KUNM Reporter, Chairs the graduate student government at UNM and serves on the Albuquerque Pride Board of Directors - among other things.
"My life revolves around serving communities important to me. It is my passion," he explained.
Hernandez has a long record of officially and unofficially working with other governmental agencies. As an AMAFCA Director and Chair, he's collaborated with various City of Albuquerque departments, various New Mexico State Agencies the U.S. Army Corps of Engineers, the Middle Rio Grande Conservancy District, the New Mexico Department of Transportation, and, of course, Bernalillo County. As a neighborhood association president and as a community organizer in the Trumbull and La Mesa neighborhoods, he's also worked closely with the APD Southeast Heights Substation and has had a relationship with all its commanders. He will continue to collaborate with other governmental agencies when elected County Commissioner.
More than 20 years of experience in working on campaigns and as a community organizer gives Hernandez a unique skill set that has led to an exemplary track record. Experience and outstanding community service has made him a popular candidate who has won every election he has run in. His most recent win came with nearly 67 percent of of the votes. Hernandez says, "I've remobilized my supporters from the 2008 AMAFCA re-election campaign as the kernel for this County Commission race and I'm excited at the prospect of being able to help my communities."
Hernandez is currently working on dual masters degrees in Public Administration and Community and Regional Planning at UNM.
You can reach Hernandez or learn more about his candidacy on Facebook.
January 25, 2010 at 03:20 PM in 2010 Bernalillo County Commission Races | Permalink
Comments